Last year, we made cookie plates for our families, but due to poor planning on my part, I only managed three kinds of cookies. This year, I got an earlier start and did a little bit better job. But for whatever reason, that just wasn't enough. Thanks to all the charcuterie fun I've had this past year, we decided to make gifts of meat for our families as well.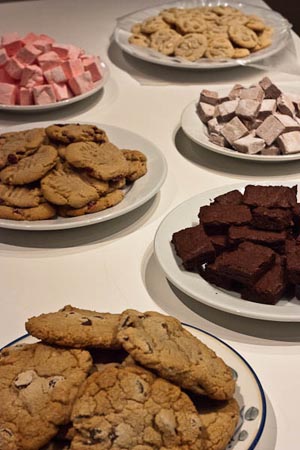 The cookie plate really should be called a cookie and candy plate this year. We had two kinds of flavored marshmallows, peppermint and chocolate chipotle, and homemade peppermint patties (hooray, I tempered chocolate for the first time ever). The most successful cookie on the plate was a macadamia nut butter cookie with dried cranberries. These were rounded out by some recipes I had done in the past: Bacon Brownies, Chocolate Chip Cookies, and Pignoli.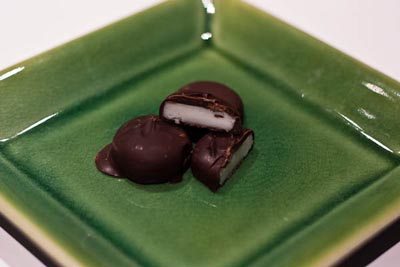 For meats, we put together sausages and two flavors of bacon. A heavily seasoned chorizo was my favorite of the creations. We've tried making it before, but I was suffering with a manual grinder at the time, and it didn't go very well. This time, with the KitchenAid grinder attachment, it was smooth sailing. Because chorizo is normally crumbled and cooked, we packaged it loose.
The other sausage we made was a very garlic and sage-heavy duck sausage. I bought duck legs from the local Asian market and spent an embarrassingly long time skinning and boning them. And at the end of all that, nearly seven pounds of duck legs didn't wind up having enough meat for a full batch of the sausage. The up side is that I now have in the freezer not quite two pounds of nice duck skin to render the fat from and a handful of duck bones to add to my growing collection of poultry bones for stock.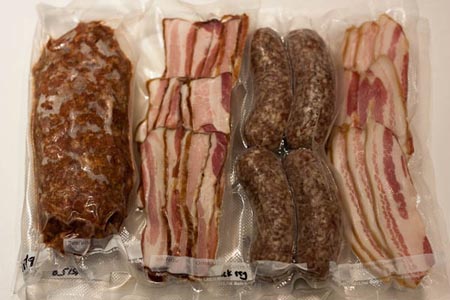 The two types of bacon we made this time were the same garlic bay pepper bacon we made last time and a brown sugar enhanced bacon. The brown sugar did an impressively good job of tempering the salt in that batch of bacon. For the garlic bay pepper batch, my test piece was, I felt, still overly salty, so before we smoked that hunk of belly, we left it to soak in cold water in the refrigerator for about an hour. Then we dried it off and let it air-dry in the refrigerator overnight (to develop a nice tacky surface for the smoke to adhere to). Then all the belly pieces were smoked and chilled and packaged … the day before we left on vacation.
By the time this post goes up, all the families will have received their goodies. So far, the meats have been met with a combination of interest and wariness. I'm eager to receive reports back once everyone starts trying their goodies.