I love making things from scratch that seem like they should only be purchased. It was with particular pleasure that I made homemade marshmallows last year. This year for the holidays, we tried out some flavored marshmallows.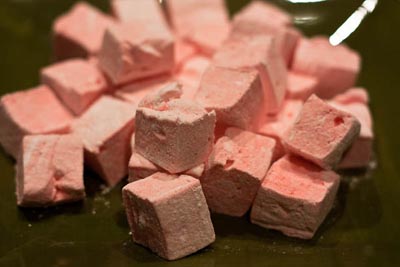 First up were these lovely (okay, actually a little flat) chocolate chipotle marshmallows. I essentially followed the Homesick Texan's recipe for cinnamon chocolate marshmallows except minus the cinnamon. Mine don't look very pretty, but they were absolutely delicious. The chocolate flavor is rich accented nicely by the heat of the chipotle powder.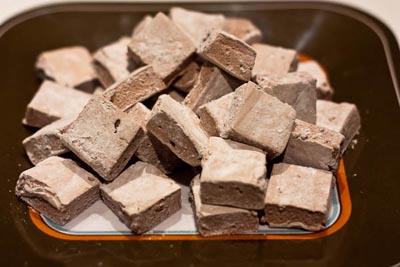 Next up, I altered the plain marshmallow recipe from last year to produce peppermint marshmallows. The coloring isn't necessary, but I figured it would distinguish it from the regular vanilla marshmallows if I got around to making those. These are nice on their own, but are especially delicious half-melted in a big mug of hot chocolate.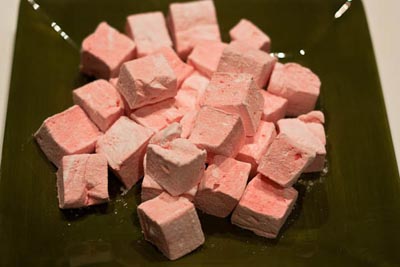 PEPPERMINT MARSHMALLOWS
_adapted from [Molly Wizenberg and Bon Appetit](http://www.epicurious.com/recipes/food/views/Homemade-Marshmallows-242701)_
1 cup cold water, divided
3 ¼-ounce packages unflavored gelatin
2 cups sugar
2/3 cup light corn syrup
¼ teaspoon salt
1 teaspoon peppermint extract
1 teaspoon red food coloring
½ cup potato starch (or corn starch)
½ cup powdered sugar
Measure out and cut parchment paper to cover the bottom of a 13" x 9" x 2" metal baking pan. Coat pan with oil, place cut parchment in the bottom of the pan, and coat that with oil as well.
Dump ½ cup water in the bowl of an electric mixer (or just a large bowl, if you'll be using a hand mixer). Sprinkle the gelatin over it and let sit for about ten minutes.
While the gelatin absorbs the water, heat sugar, corn syrup, salt, and the other half cup of water in a heavy 2- or 3-quart pot over medium-low heat till the sugar is melted. Increase the heat and bring to a boil. Continue to boil till sugar mixture is between 240 and 250-degrees.
With the mixer running on low speed, slowly pour the sugar mixture into the gelatin. In stages, increase the mixer speed to high and whip the sugar-gelatin mixture till very light and fluffy, about ten minutes. Add peppermint extract and food coloring and beat slowly to mix, maybe 20-30 seconds longer.
Transfer marshmallow mixture to your prepared pan and smooth the top with a lightly oiled spatula. Let it stand, uncovered, for about four hours to allow the marshmallows to set properly.
Whisk together potato starch and powdered sugar in a small flat bowl or pie plate. Dust a cutting board thoroughly with the sugar-potato starch mixture and carefully turn the marshmallow slab out onto it. If it won't immediately come out on its own, work around the sides of the pan with a plastic spatula, gently prying the slab out as you go.
Sprinkle more of the sugar-potato starch mixture on the newly exposed surfaces. Oil a large knife and cut marshmallows into roughly one-inch squares. Toss each marshmallow in the sugar-potato starch mixture to coat sufficiently for the surface to no longer be sticky. Shake to remove excess coating and store in an air-tight container for up to two weeks.