In hunting for and testing holiday cookie recipes, I stumbled across this understated gem in an old issue of Cooking Light. I personally love peanut butter cookies, but Sean is not a fan. We have found a happy medium in macadamia nut butter cookies.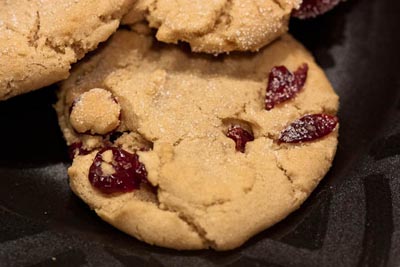 One of my favorite things about this recipe is the making of the macadamia nut butter. Roasted salted macadamia nuts are chucked in the food processor and ground to a paste. The rich, buttery aroma that hits you full in the face even before you manage to remove the lid from the food processor would be enough to bring a tear to any fan of the macadamia's eye. It is heavenly.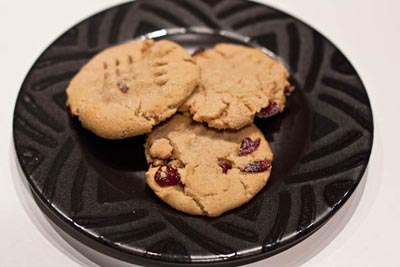 MACADAMIA NUT BUTTER COOKIES
_adapted from [Cooking Light](http://find.myrecipes.com/recipes/recipefinder.dyn?action=displayRecipe&recipe_id=394648)_
2/3 cup macadamia nuts
½ cup plus 1 tablespoon sugar, divided
½ cup packed light brown sugar
1 teaspoon vanilla extract
1 large egg
1 ¼ cups all-purpose flour (about 6 ¾ ounce by weight)
½ teaspoon baking soda
¼ teaspoon salt
½ cup dried cranberries
Preheat oven to 375 degrees (F).
Place nuts in food processor and process till smooth, scraping down sides of bowl as necessary. I found that even if I didn't get the macadamia nut butter perfectly smooth, the cookies still came out just fine.)
Combine macadamia nut butter, ½ cup white sugar, and brown sugar in a large bowl and mix till well combined. Add vanilla and egg and beat to combine.
Whisk together flour, baking soda and salt in a small bowl. Add flour mixture to sugar mixture and beat until just combined. Stir in the dried cranberries. Chill the dough for 10-30 minutes so it will be easier to shape.
Scoop dough out in roughly 2-tablespoon measures. (I used a #40 disher, which is slightly less than that.) Roll each into a ball and press that ball into the reserved one tablespoon of white sugar. Place each ball on a parchment-lined cookie sheet, sugar-side up.
Press a fork into each cookie. Then, press it into each cookie again in a criss-cross pattern.
Bake cookies for nine to ten minutes until they are just starting to brown. Cool on wire rack before serving.