The last of the wrapping paper has been cleaned up. The punchbowl has had it's last meager cup of eggnog extracted. The gifts are being quietly examined and enjoyed. And the cookies have all been distributed.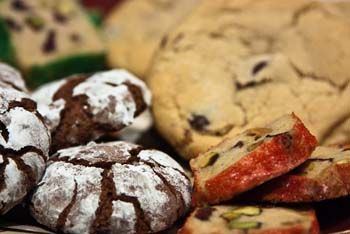 Due to an unfortunately timed illness, I was not able to make all the goodies I had intended for the holiday cookie plates I was building. You already know about the peppermint bark (which needed refrigeration) and the pignoli (which were all gone before Christmas ever arrived). The cookie plates I managed to distribute this year had only three kinds of cookies.
First, at the suggestion of a fellow blogger, I made chocolate crinkles. They're very easy to make, and the finished product is beautiful. I used a recipe from Gourmet magazine for chocolate hazelnut crinkles and then, knowing folks' preferences, politely omitted the hazelnuts. These were a chocolaty delight with a rather cake-like consistency and a pleasant powdered sugar tinge.
Next, I made some pistachio and cranberry icebox cookies. I love icebox cookies because you can mix up the dough ahead of time and get it shaped into logs and refrigerated. Then, as time permits, you simply slice up the log and the slices. My little square cookies oozed a bit, but their flavor was very nice.
Finally, Sean and I both really loved the New York Times chocolate chip cookies (you know, the ones you mix and then let sit in the refrigerator for 36 hours before baking) so much that we wanted to share the goodness with our families as well. So we anchored our cookie plates with big, luscious, flavorful chocolate chip cookies.
There's not a cookie in the bunch that I wouldn't happily make again. Everything was tasty and managed to be interesting while still pleasing the crowd. As we polished off the last of the sugary, buttery, chocolaty treats, I couldn't help but have visions of the vegetables and lean proteins we were going to need to re-stabilize our diets.