I'm a dyed-in-the-wool chocolate chip cookie lover. I know it seems strange for me to be fond of something so normal when my eating habits are often times so odd, but I love them. However, holding a steady second place is a cookie I fell in love with on a visit to Brooklyn a couple years ago. The friends we were visiting were on a grad student sleeping schedule (waking roughly at noon, staying up till 5am) while Sean and I were on a go to a regular job every day schedule. We'd fill those hours in between our waking and theirs by strolling around Brooklyn. We happened into a little bakery / cafe one morning and true to form, I picked out something I hadn't eaten before. That something turned out to be pignoli.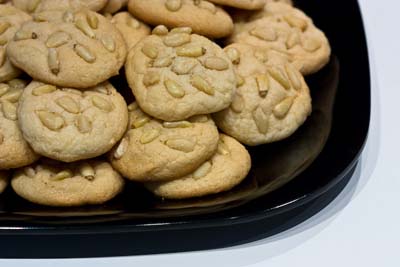 Pignoli (pronounced peen-YOH-lee) are southern Italian pine nut cookies (pignoli are also the pine nuts themselves). The word pignoli is actually the plural form of pignolo, so calling these cookies pignolis is actually a little funny (though I catch myself doing it constantly). The pignoli, whose primary ingredients are almond paste and powdered sugar (and, of course, pine nuts) are wonderfully moist and sweet and gently almond flavored. I could eat them every day forever and not get tired of them.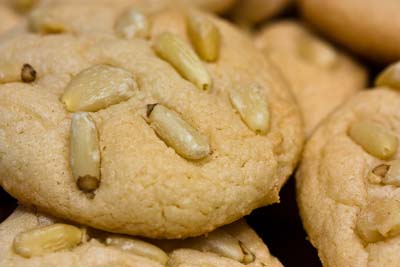 PIGNOLI
(adapted from [this recipe from Gourmet](http://www.epicurious.com/recipes/food/views/Pignoli-Cookies-107447))
16-oz [almond paste](http://www.thehungryengineer.com/cooking/ingredient-almond-paste/) (in the cans rather than the plastic tubes if possible - the canned paste is more moist and easier to work with)
1 ½ cups confectioners sugar
½ teaspoon salt
2 large egg whites
2 tablespoons honey
½ cup pine nuts (pignoli) _note: Gourmet calls for more, I figure it's a personal preference thing_
parchment paper
Position racks in the top and bottom thirds of the oven. Preheat oven to 350 degrees (F).
Break almond paste up with your fingers and add it to the bowl of a food processor. Pulse it till it's broken into smaller bits. Add the confectioners sugar and the salt and pulse till the mixture resembles coarse meal.
Transfer the almond paste mixture to a large mixing bowl. Add the egg whites and honey and beat with a hand-held mixer until smooth. The mixture will be very thick and tacky.
Line the bottom of two half-sheet pans with parchment paper.
(Gourmet recommends spooning into a pastry bag – feel free to try this if you like – I found the dough to be too dense to work with this way).
Spoon tablespoon-fulls of the dough onto the parchment lined sheets, approximately 24 to each sheet. (I had great success using my #40 disher [approx 1 oz] and cutting each dished piece in half.) Once all your cookies are dished out, top them with the pine nuts. Make sure the press nuts into the tops or they won't adhere properly.
Place baking sheets on the racks and cook from 12-16 minutes, swapping the pans and rotating back to front about halfway through the cooking time. You're looking for your cookies to brown just a little bit and to firm up when cooled.
Allow the cookies to cool completely on their parchment paper on wire racks. Once cooled, they can be peeled from the parchment paper and enjoyed fully.