After this incredibly inspirational post by the folks at Bacon Today, I really and truly had no choice but to make my own rendition of bacon brownies. If you've been reading for a while, you already know that our house loves the salty bacon + sweet chocolate combination, so this was required baking for us.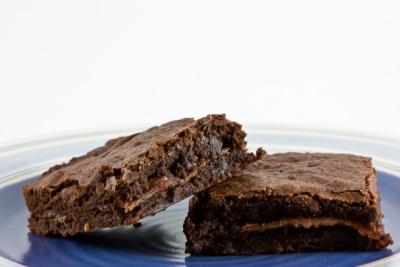 I'm sort of particular about my brownies. I like them thin and sort of chewy. I don't care for cakey brownies and I'm not nuts about the ones that taste like I'm just eating a hunk of fudge. And ordinarily, I really don't need anything but the brownie - no powdered sugar, no nuts. Evidently bacon is the exception to this rule. These brownies were glorious. That salty-smoky tang from the bacon was exquisitely sandwiched between layers of chewy chocolate goodness. I had one for breakfast this morning (in fact, it took a herculean effort not to have two).
BACON BROWNIES
_adapted from [this recipe](http://www.taunton.com/finecooking/recipes/chewy_brownies.aspx) by Fine Cooking_
4 oz unsweetened chocolate
4 oz (8 tablespoons) butter
vegetable shortening or more butter for greasing the pan
1 ½ cup sugar
¼ teaspoon salt
2 teaspoons vanilla extract
2 large eggs
4 ½ oz flour (about 1 cup)
2 tablespoons natural cocoa (not Dutch-processed)
6 strips bacon
Preheat the oven to 350 degrees (F).
Prepare an 8" x 8" or 9" x 9" metal pan (I prefer 9" x 9" because I like my brownies nice and thin) as follows. First measure out a length of parchment paper whose width matches that of the pan and whose length is roughly twice the width. You're going to make a parchment sling for your brownies. Once the parchment is measured, grease the pan with vegetable shortening, lay in the parchment making sure some of it is hanging out either side of the pan, then grease the parchment paper.
Heat a large skillet over medium high heat. When the pan is hot, carefully lay in the bacon strips and cook on each side until just slightly less done that you'd normally want them for eating (assuming you're like me and you like your bacon extra crispy). When the bacon is sufficiently cooked, transfer it to a paper towel lined plate to drain a bit.
Coarsely chop chocolate and butter and place in a microwave safe dish. Carefully microwave for approximately 1 minute (depending on the power of your microwave) stopping every 15-20 seconds to give the mixture a good stir. It's perfectly acceptable, and probably even preferred, to melt the chocolate and butter via a double boiler type method, but I was going for expediency when I made these.
Let the chocolate-butter mixture cool slightly then whisk in the sugar, salt, and vanilla.
Once that is suitably mixed, add the eggs one at a time, combining thoroughly after each addition.
Sift the flour and cocoa into the bowl, taking care to remove or thoroughly break up any lumps. Stir to combine.
With a rubber spatula, carefully place half the brownie mixture into your prepared pan, taking care to level it and smooth it out to the edges. Lay the bacon strips on top of that, mashing them a bit into the brownie batter. Then top it with the remaining batter, again taking care to get it leveled out and to get the bacon completely covered.
(I gilded the lily a bit by sprinkling some smoked salt on top of the brownies, but I assure you, they're just as delicious without it. The bacon provides plenty of its own salt and smokiness, which is why smoked salt is not in the ingredient list).
Bake the brownies for roughly 30-40 minutes. They're finished when a paring knife inserted in the middle comes out free of anything but brownie crumbs.
Let the brownies cool in their pan for a few minutes, then use your parchment paper sling to carefully transfer them to a cutting board. Allow them to cool a bit more before attempting to cut them - it'll be easier, and in my opinion at least, they'll taste better.