Of the two of us, my husband Sean would certainly be the one to describe himself as a chocoholic. I enjoy the taste of chocolate, but it's rarely something I actively seek out. He has agreed to help me compile a couple of Top 5 lists for chocolate bars that he loves. We're starting today with chocolate bars that are flavored or have some sort of additive in addition to just the pure chocolate.
Vosges Red Fire Exotic Candy Bar – This is Sean's number 5 pick. Its flavor is multi-layered, beginning with sweet cinnamon flavor that melts into near-perfect chocolate flavor briefly before rounding out at the end with nice smoky chile pepper spice (courtesy of the chipotle and ancho peppers). At 55% cacao content, the chocolate is a bit milkier than Sean would go for in a plain chocolate bar, but it works really well with the piquant chiles.
Chuao Chocolatier Chinita Nibs – The number 4 choice is a bit darker with its 60% cacao content. The real interest in this bar is the texture. It is mixed with cocoa nibs which add bitter crunch to an otherwise sweet chocolate. Nutmeg adds a floral note to the chocolate for a very unique blend of tastes and textures.
NewTree Renew Dark Chocolate with Blackcurrant and Cassis – Choice number 3 has the darkest chocolate of our selections at 73% cacao content. The chocolate body is sensuously rich and ever-so-slightly bitter. The blackcurrant and cassis add a bit of tartness that provides an interesting contrast to the impossibly smooth chocolate.
Dolfin Chocolat Au Lait Hot Masala – Sean's 2nd favorite flavored chocolate is curiously also the most milky at 32% cacao content. It's also potentially the most difficult to adequately describe. Imagine taking chai or curry or something like it with its heady blend of fragrant Indian spices – make sure at least one of those spices provides a bit of heat. Now imagine that you have a thin bar of very sweet milk chocolate infused with those flavors. Having this intricately flavored chocolate bar is a soul-warming and satisfying experience. (Note: Dolfin's website wasn't working properly at the time of this post, so I've used a link to a seller of Dolfin Chocolat instead so you can see the packaging and other details for this bar.)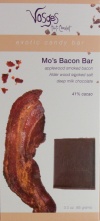 Vosges Mo's Bacon Bar – It is not difficult to figure out why this is Sean's very favorite flavored chocolate bar. For many people, it's difficult to find foods that aren't made better with the addition of bacon. Sean falls squarely into this category (and I'd be lying if I denied leaning a bit that direction as well). This chocolate bar may give you pause, but fight the urge to dismiss it as a gimick. The sweet 41% cacao content chocolate provides a smooth and gentle backdrop for substantial applewood-smoked bacon chunks. There are many sweets that benefit greatly from having a bit of salt added to them. This is the epitome of that notion and then some. The smooth, sweet chocolate and the smoky salty bacon are positively a match made in heaven. This is also the second chocolate from Vosges on our list. If you've not looked at their chocolates before, check them out. They have a knack for combining unconventional flavorings with chocolate and producing greatness.
This is by no means an all encompassing list. Truffles were not included, though there are many fine examples of truffle flavors that Sean might have included here. We skipped over things that were more like candy bars, though there's no doubt there are probably some fine entries there as well. Our next task will be to liberally taste test pure chocolate bars, a more difficult task than this one, so be looking for that post at some point as well. I would be interested to know what other flavored chocolate bars people are keen on, and I expect Sean, connoisseur that he is, would be interested as well.