You know how Sean and I are shameless devotees of the Uchi restaurant here in Austin? The mastermind behind that restaurant, Tyson Cole, branched out and partnered with John Cassimus to open a fast-service sushi joint in the Birmingham, Alabama area called Maki Fresh. Well, it just so happens that during our recent holiday visit with Sean's family, we had a chance to try it out … and now I'm sad that there isn't one in Austin.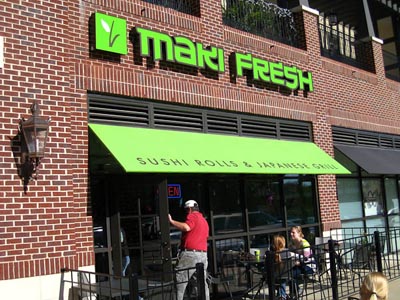 Let's be realistic. We can't afford to eat at Uchi nearly as often as we'd like. Admittedly, Maki Fresh is not the same restaurant – it doesn't try to be. What it does offer though is a pleasant environment in which to enjoy reasonably priced, incredibly fresh and flavorful sushi.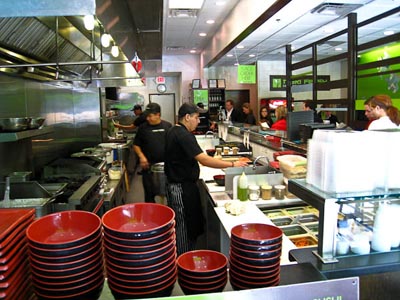 The interior, with its bold apple-green color and crisp geometric patterns, manages to be modern and casual. Service is a nice middle ground between fast food and sit-down. Food is ordered and paid for at the counter and then brought to your table as it's prepared. And the prices were reasonable. For about $25, we split a bowl of miso soup, a bowl of edamame, and three different sushi rolls, one of which was considered "signature."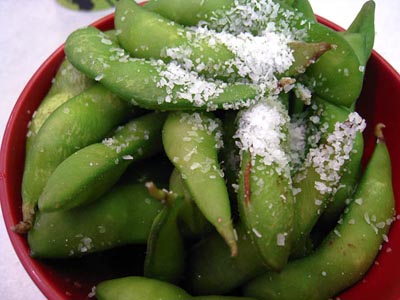 The plump edamame were perfectly crisp-tender, and their sweetness was enhanced by the perhaps too generous snowfall of salt. A would-be standard bowl of miso soup is elevated by tender slabs of fresh shiitake mushrooms.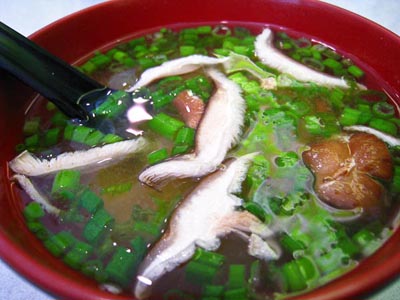 Our rolls were delicious as well. The Spicy Tuna roll, a version of which is available at nearly every maki roll joint in the country, was really good. The fish was fresh, and the flavors were in balance. The rice held together without being gummy, and the spicy sauce was bold.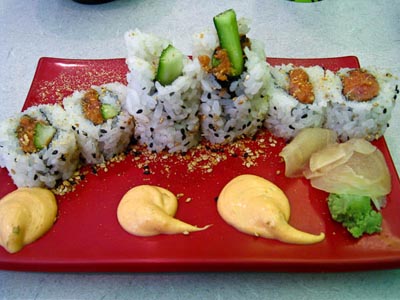 Next up was a roll called the Vulcan: sake grilled chicken, yellow bell peppers, sun-dried tomatoes, and cream cheese. This was … all right. Honestly, I was kind of ambivalent about it. The chicken was a little plain, and to be fair, it wasn't what I was looking for out of a sushi joint. However, others at the table enjoyed it very much, so maybe I should learn not to order cooked chicken when what I want is raw fish.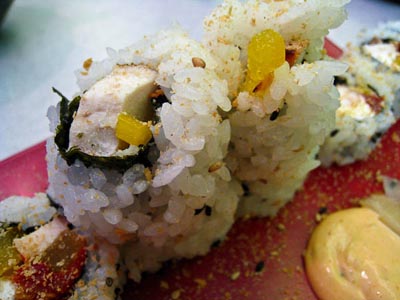 Finally, our favorite of the three, the Kyoto roll: spicy crab, fresh salmon, avocado, Japanese spicy sauce. Sweet and spicy were in perfect balance with this roll. A whole slew of flavors and textures gently marauded the taste buds: creamy avocado, crunchy sesame seeds, clean cool fish. I could have eaten two of these by myself.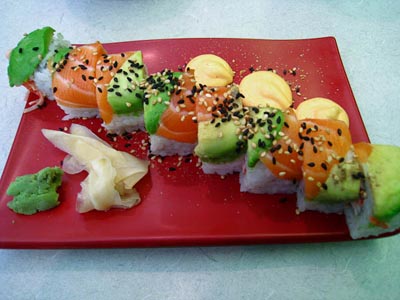 Were it up to me, we might have bought a few more of these rolls to pack in our cooler for the rest of our road trip. The price was acceptable and the rolls were fantastic. If you're in the Birmingham area and find yourself with a sushi craving, you could certainly do much worse than Maki Fresh. Recommended.