I'm going to commit a blogger sin and write about the same restaurant twice. And I'm going to do so with relish. This past May, my husband Sean and I had our first experience with the wonder that is Uchi. He enjoyed it so much, that we visited again for his birthday last week – and this time, we brought our camera. Are any of you visiting central Texas anytime soon? If you're food-lovers, this is the place to visit.
We arrived at about 6:30 on Wednesday and opted to sit at the sushi bar instead of waiting for seating. This option terrified me a little because my chopstick kung fu is pretty darn weak, but I sucked it up and sat there anyway – it was Sean's birthday after all – no time for me to get bossy about my insecurities. Just as last time, we opted for the tasting menu. It's expensive, but tough to pass up. You get to try 9 savory courses and dessert all in one meal – it's a food-lover's dream. I again acquired a menu to tag what we were served during the course of our meal (or I'd never have remembered).
We were first served an amuse of melon and bell pepper sorbet – two flavors which apparently, in the right hands at least, combine beautifully. We began with hirame usuzukuri (thinly sliced flounder, smoked sea salt, yuzu zest, daikon, quinoa candy), which we had last time as well. Light and tangy and full of the flavor, it was the perfect way to wake up the old taste buds.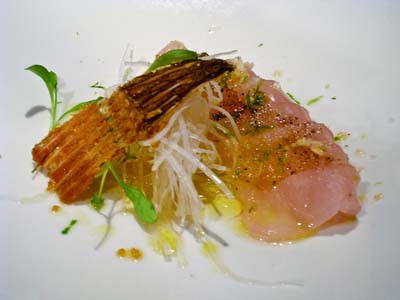 The second course, the buri nuta (Japanese winter yellowtail, negi, miso, golden tomato, red radish, jalapeno, olive oil, myoga) was sweet an intense and incredibly rich. And of course, the fish was wonderfully fresh.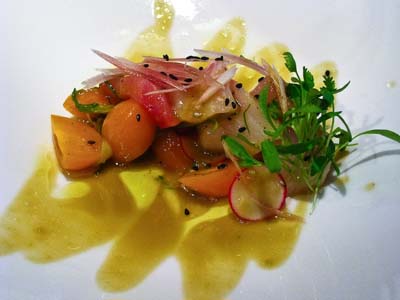 The third course was hotate kaban (seared diver scallops, roasted parsnips, mache, rosemary, and vanilla. I'm a complete freak for seared scallops and these were better than any I've ever eaten. Perfectly caramelized (Maillard-ed?) on the outside and raw in the middle, they were an absolute treat to consume.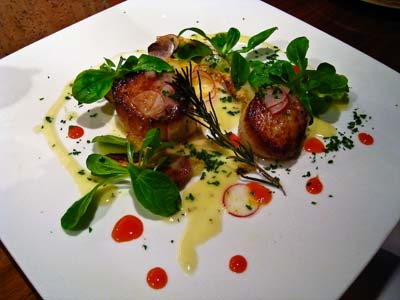 The fourth course was the nigiri special. There were three nigiri. Shredded lobster dressed in its own tomalley was sweet and succulent. The hefty chunk of winter yellowtail ws brightened by healthy dose of wasabi that accompanied it. The last was the most interesting – monkfish liver (they called it a monkfish foie gras). Its taste was extremely mild, but its dense, unctuous texture was pretty fascinating.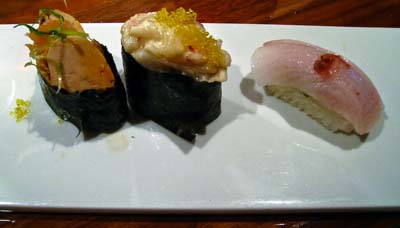 Fifth course: shun no sakana (arctic char, saikyo miso, lime, dill, ume, jalapeno). This one is definitely in the running for our favorite dish of the evening. The skin on the char was crispy and sweet and the meat was tender. The jalapeno added pleasant zing to the dish that was tempered somewhat by the lime supremes. You'll notice from the photo, that we were both so into this dish that we actually had already started digging in when Sean remembered that we still needed a photo!
Next came our nearly vegetarian course – kinoko no mori (wild mushrooms, onion beef jus [which kept it from being vegetarian], yuzu kosho miso, roasted baby fennel, sunchokes, shungiku). The mushrooms in the beef jus were incredible.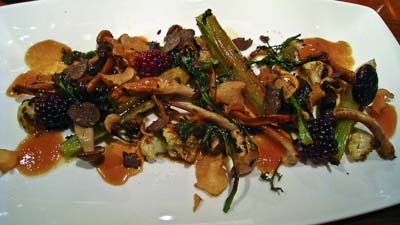 The next course was perhaps our most inventive: hamache cure (maplewood-smoked baby yellowtail, yucca, asian pear, garlic brittle). The very lightly smoked fish was still blissfully uncooked, and the smoke combined brilliantly with the succulent pear. Topped with little chunks of garlic brittle (which I swear I'd make for my Christmas cookie tray if I could figure out how), it was all delivered to our mouths on yucca chips. The combination of flavors and textures was fascinating and of course, absolutely delicious.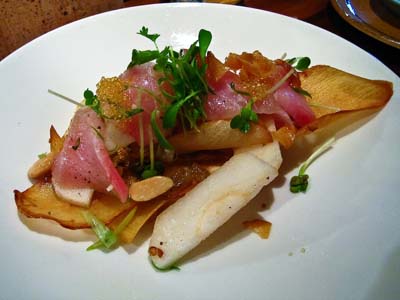 Course number eight was probably Sean's favorite – omaaru ebi maki (maine lobster, brik dough, diver scallops, smoked char roe). Imagine tender pieces of lobster in a diver scallop mousse, wrapped in dough and fried till crispy then topped with smoked roe. It was divine.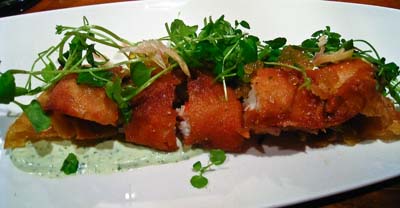 Our final savory course was utter luxury – foie kuri (seared foie gras, roasted chestnut, 20th century pear). If you love foie gras, this likely embodied everything you love about it. The foie gras was seared, creating that wonderful crisp crust that contains an utter heaven of melting fatted liver. The foie and the sweet pears were a match made in heaven.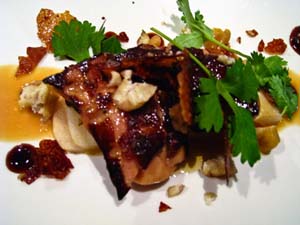 The dessert course was very refreshing after our big meal. It consisted of Texas grapefruit sorbet, avocado mousse, lime, and fennel. The sorbet was the epitome of refreshing. The avocado mousse was actually tastier than it sounds. And the combination of the flavors was reminiscent of an elaborately constructed sweet tart – you know, in a good way.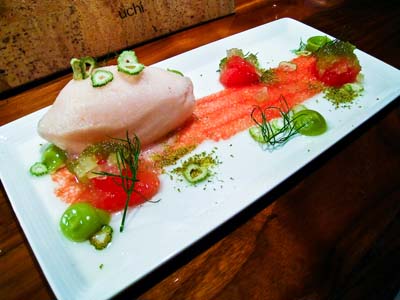 The service this time was good, but disjointed. When we were seated, we were told we'd be served by the fellow prepping sushi. Instead we were randomly served by 3 or 4 of the servers at odd intervals. We received all our food, and it was all explained to us in detail (and again, my questions were answered), but it did seem a bit less personal than the time before.
From our vantage point, we were able to watch the food as it came out of the small kitchen. I had a good time watching Chef de Cuisine Paul Qui expediting. I know I'll never work in a professional kitchen, but I can't but get a bit of a vicarious thrill out of watching a chef at work.
In other news (in case my fellow Austinites didn't already know), Uchi's exective chef is slated to open a restaurant in the W Hotel (when it opens in 2010) called Canteen, that features the flavors of Spain (as they might be combined with those of Japan). And apparently, he's opening a second Uchi location a bit further north of the current location (good news for those of us in the 'burbs). The complete story can be found here.