Earlier this week, I had the great fortune to attend a food blogger tasting event at Uchi, and while I'd like to make a joke about how all the food bloggers tasted fine, I won't. Instead of indulging my wrong, wrong, wrong sense of humor, I'll take yet another opportunity to gush about my favorite restaurant in Austin, and the wonderful people with whom I continue to have the opportunity to interact.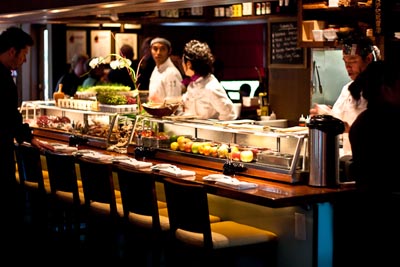 The Food Blogger Tasting was an interesting event. There were literally dozens of various food bloggers and food writers packed into a small corner of the restaurant. (One fellow blogger joked that we were the gauntlet the customers had to run to get between the rest of the restaurant and the restrooms.) Over and over again, beautifully constructed platters of the most fascinating food were brought out for us to share. With all the cameras pointed in its direction, Uchi's perfect little nigiri got a taste of what Lindsay Lohan must feel like (though I expect the nigiri were more civilized about it).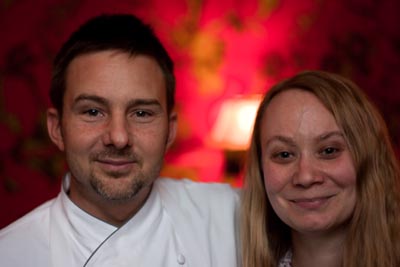 The highlight of the evening was getting to meet Uchi's Exective Chef, Tyson Cole. Apparently, even at my age, I can get a little star-struck. This is the man who has helped create food that I've found to be, in its way, life altering. I was chatting amiably with the man who I had discovered only that morning had held his own against Morimoto (warning - video stream) on Iron Chef America (you know, the show hosted by my hero Alton Brown). And he's up for a James Beard Award this year for Best Chef: Southwest.
Chef Cole, to his credit, was incredibly personable and gracious. He took time to talk and joke with us, and gave us a bit of the scoop on his Iron Chef experience (he described how they were told in advance that it could be any of three possible "secret" ingredients, and that going in blind would have been preferable to weeks of mental and physical torture endured as he and his team practiced for the event). And the poor man was nearly as photographed as his nigiri!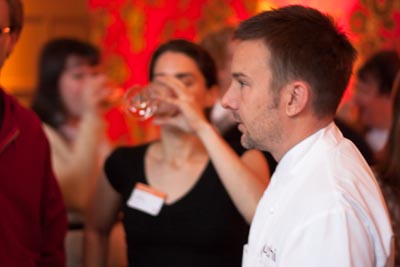 It's been fascinating learning more about this chef. While working at Musashino, widely considered to be one of Austin's best sushi restaurants, he completed "an intensive traditional apprenticeship" and even went so far as to learn Japanese in his effort to further his knowledge of Japanese cuisine. His dedication to his craft is obvious. It is heartening to be around someone who so clearly wants to understand the food he serves.
This was my third visit to Uchi in less than a year, and each time, I've had a completely different culinary experience. The food is always exquisitely prepared, but each time the experience is new. As mentioned above, the food and sake were brought around on communal platters, and everything was gorgeous.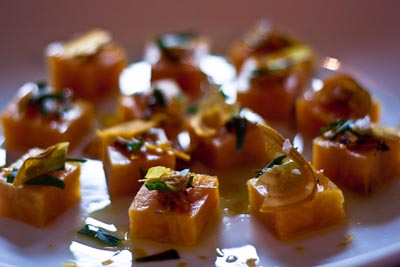 The yellow beet terrine with charred orange and tarragon showed that a winter root vegetable can be transformed into a bite of sunshine.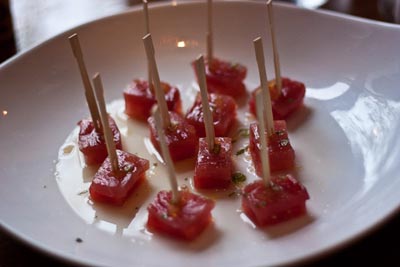 Next up, big eye tuna and compressed watermelon skewers were a sweet, spicy, and fruity explosion of flavor – an unlikely combination that absolutely worked.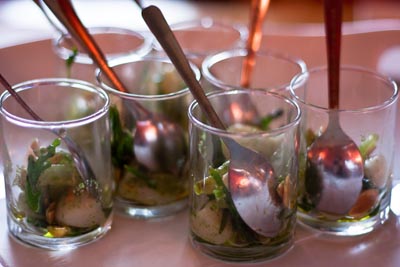 A little glass of nantucket bay scallop crudo with mint and almond provided a crazy interplay of flavors and textures – salty almond, sweet grapes and scallops, a dollop of crème fraiche, bright and pretty sea beans.
The braised pork belly with fennel and apples (not photographed) was a crowd favorite. Pork fat is indeed the perfect fat, and is exemplary in the hands of skilled cooks. It was the perfect balance of crispy exterior to meltingly rich interior and the fennel and apple provided a fresh, clean contrast. That's right, pork belly isn't just for bacon anymore!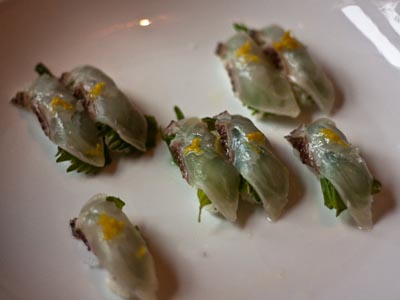 I really enjoyed the madai nigiri with spanish olive oil and meyer lemon. After some of the more elaborate flavor pairings, it was a clean and fresh relief. The tastes were simple and yet their combination was new.
It is always a pleasure to try new things, and the grilled satsumaimo with ginger and sake (not photographed) provided just such a treat. The delicious sweet potato-like vegetable were allowed to develop a good char that enhanced the excellent sweet-but-not-too-sweet-flavor.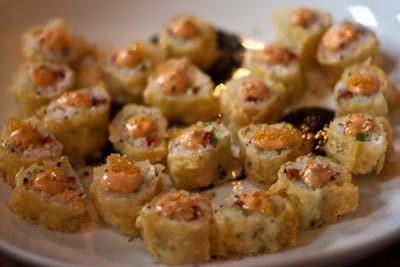 As if all that weren't enough, there was even a bonus dish – a lightly fried shag roll. While it was beautiful and delicious, it didn't offer the thrill of surprise flavors and new textures that the other dishes did. That said, I hear tell that there was a squid ink sauce served with it (that I missed) that was pretty fantastic.
For dessert, there was the sorbet tasting: white corn and brown butter with maldon tuile (not photographed). Here savory meets sweet in perfect balance – particularly the brown butter sorbet with the tuile. The rich and nutty brown butter flavor is king in that sorbet, and the salty tuile was an excellent accompaniment. It's almost like the chef wanted to turn kettle corn into a frozen dessert.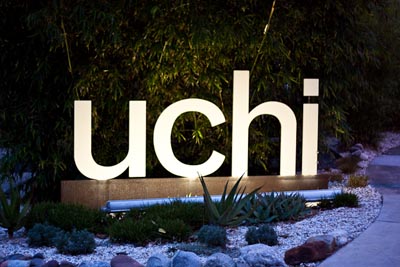 The Uchi food blogger tasting was a great experience – and that's saying something given my healthy dose of social anxiety. The food (naturally) was outstanding. Meeting and talking with Chef Tyson Cole was a lot of fun. And I was amazed yet again at the outstanding food-blogger/-writer community here in Austin. Each time I attend one of these events, I get to meet new and fascinating people who don't mind chit-chatting about food!! Much thanks to Uchi for the incredible food and for hosting the event, and to Addie Broyles for doing such a remarkable job bringing the food-writers of Austin together.
In homage to my fellow bloggers, here are links to their stories on this event as well:
[Apron Adventures: Uchi](http://apronadventures.blogspot.com/2009/02/uchi-thre-w-complimentary-food-blogger.html)
[Boots in the Oven: Uchi Drops a Little Blogger Dap](http://www.bootsintheoven.com/boots_in_the_oven/2009/02/uchi-drops-a-little-blogger-dap.html)
[Eating in a Box: Food Blogger Event: Uchi](http://www.eatinginabox.com/2009/02/food-blogger-event-uchi.html)
[Fun With Your Food: Uchi Food Blogger Tasting](http://funwithyourfood.blogspot.com/2009/02/uchi-food-blogger-tasting.html)
[Gastronome: Uchi Means House](http://austingastronome.blogspot.com/2009/02/uchi-means-house.html)
[Maggie's Austin: Uchi](http://www.maggiesaustin.com/2009/02/17/uchi-2/)
[Tasty Touring: Uchi Food Blogger Tasting](http://www.tastytouring.com/2009/02/uchi-food-blogger-tasting.html)
[This is Life in Austin: Olivia, Uchi, and Weddings](http://thisislifeinaustin.com/2009/02/17/olivia-uchi-and-weddings/)
Note:_ If I've missed your write-up and you'd like to be included, please drop me a line at: april AT thehungryengineer DOT com._