Ah, sausage. Ruhlman entitles the sausage chapter of Charcuterie: The Craft of Salting, Smoking, and Curing
, "The Power and the Glory: Animal Fat, Salt, and the Pig Come Together in One of the Oldest, Divine-yet-humble Culinary Creations Known to Humankind." And no, I don't think there's any misplaced glorification. Turns out though that making decent sausage is easier said than done (at least for me … at least so far).
This sausage madness really started on a trip to Italy a couple years ago. We had stopped in Bologna for lunch and had a large plate of cheeses and cured meats. The range of flavors was incredible. Rich and meaty sausages, salty-sweet prosciutto, exuberantly spiced salamis – I could eat like that forever. And several times since then, we've picked up a variety of cured meat products and cheeses, baked some bread and had our own feast in remembrance of our Italian meat adventure.
And of course, in my addled mind, it only made sense for me to try to make some of these things myself. There's been a fairly natural progression thus far. Step one – duck prosciutto. Cure a whole muscle (albeit a small one) in salt then dry it sufficiently to preserve it, slice, and serve. Step two – bacon. Cure and smoke a huge hunk of pork belly, slice, fry, and serve. So far, so good. Everything has been delicious, and I haven't poisoned anyone.
Time for "the power and the glory." First up – loose ground uncured sausage. And if that went well, then cased uncured sausage. And finally, the pinnacle – cured sausage. At every step of my sausage making adventure (so far), I've encountered some degree of difficulty, owing mostly, I'm guessing, to lack of experience and/or skill. First there was my stubborn insistence that I didn't need to buy a KitchenAid mixer. For years I've held out, kneading countless piles of bread dough and stubbornly stirring stiff cookie dough till my arms by rights should have made Popeye jealous (except that I eat lots of bread and cookies so instead Popeye just rolls his eyes). What could cause me to finally buy one? Yeah, grinding meat for sausage.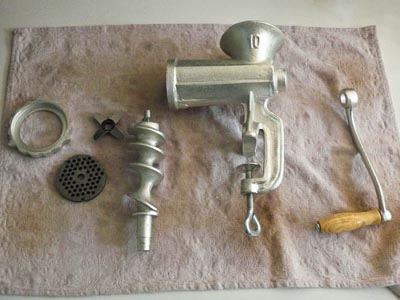 But as mentioned, I was stubborn. I started with the old-school, clamp-to-the-table, April-powered model. Per Ruhlman and Polcyn's instructions in Charcuterie, I diced up and seasoned the pork ahead of time, mixed it with all the seasonings for chorizo, froze all metal parts of the grinder, and partially froze the meat. Then I set about grinding my first sausage. My assumption was that I'd have to work a little harder to crank out the ground meat, but that otherwise I'd have no problems. I was mistaken. I ground through about half a pound of meat before the blade was so seized up with what I'm assuming were sinews, that what came out of the grinding plate was chorizo flavored meat paste rather than actual ground sausage.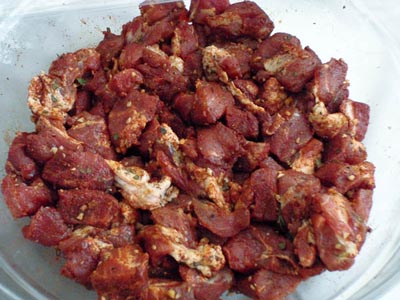 Everything was heating up (which is not conducive to a properly textured sausage) as I struggled with the manual grinder, so I decided to regroup and figure out what to do next (in the meantime adding some water and dried beans to the beautifully seasoned pork cubes and slow cooking for about three hours – a delicious mistake, to be sure). At this point, I would either need to figure out how to better de-sinew meat. Or I could buy a more powerful grinder. (Or, better still, both.) After a fair amount of deliberating and fussing almost ceaselessly about the cost, I went ahead and acquired a big, powerful KitchenAid mixer and the required sausage attachment.
For the next trial, I cut up about three pounds of pork and some hatch chiles for a nice pepper-flavored sausage. I'm pretty good at getting all the silver skin off a pork loin before I cook it, but apparently, I really and truly suck at recognizing the sinewy parts of a pork shoulder. So, while I might have done a better job than the first time at getting the meat cut properly, it still wasn't right. Fortunately, that KA has a decent motor and had essentially no problem bullying the meat through the blade and grinding plate. It wasn't till the very end of the process that the meat started smearing a bit as it came out of the grinder. The hatch sausage turned out wonderfully.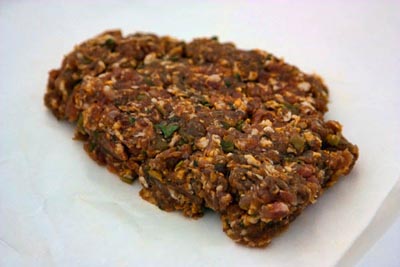 A few weeks later, I wanted to try another sausage – and this time I wanted to case it. At our local Central Market, the butchers sold me a length of natural hog casings (or as it's known here at home, pig guts on a stick). I bought some chicken thighs, some pork back fat (from the fine folks at Richardson Farms) and a variety of flavorings and went to work making the chicken-tomato-basil sausage described in Charcuterie. It sounded like the perfect sausage for stuffing into casings and grilling, so I was really excited to get started.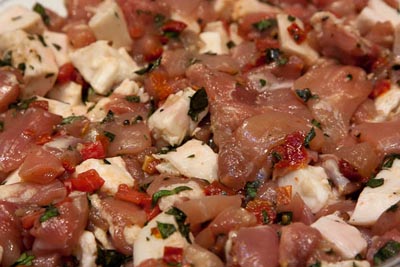 I bought bone-in chicken thighs so I could save the bones for soup stock and spent an embarrassingly long time processing enough chicken thighs to make three and a half pounds of meat. I augmented this with a pound and a half of frozen back fat (and for the record, I think it's actually easier to cut this stuff up when it's frozen than when it's thawed) and the aforementioned seasonings.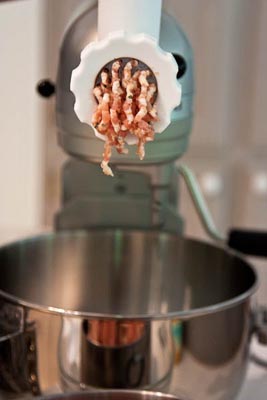 The sausage ground up nicely and I was feeling pretty good about things. And then I tried to stuff it. The casings were actually relatively easy to work with – at least as they were sold to me. They came fed onto this plastic stick, so it was a painless process to pull off the requisite amount of casing and cut it. I didn't even find it all that difficult to feed back onto whatever I was using to stuff.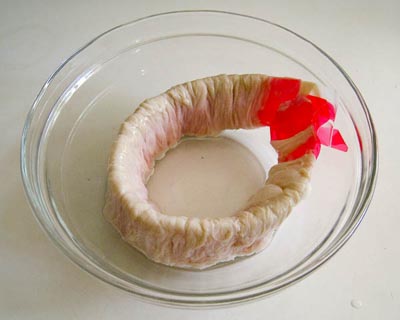 But after that, unfortunately, things started to fall apart. First I tried using a piping bag, but that didn't work out too well. I'm guessing my bulk sausage wasn't fluid enough for that mechanism.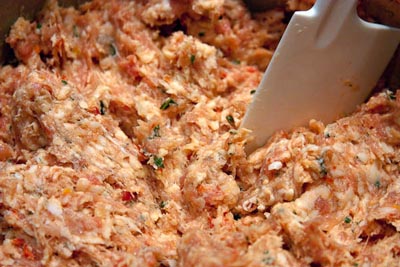 Next, we purchased the stuffing attachment for the KitchenAid. We had heard that it didn't work very well, but it was inexpensive (about $10), so we figured we'd try it out. I stuffed while Sean tried to keep the sausage compressed as it fed out the stuffing horn. There were issues on both ends of that operation. Here's the thing. Raw sausage is sticky. I was trying to feed it through the grinder with the help of the included plastic tamper. The sausage stuck to everything – my fingers, the hopper, the tamper. Also, it liked to sneak up around the tamper instead of letting the worm part of the grinder push it through to the stuffing horn. The tamper would stick horribly as I tried to pull it out to get the rogue sausage back into the hopper, and then as I would try to maneuver the tamper again, I'd wind up pushing a little sausage and a lot of air down into the mechanism. On Sean's end of things, a tiny dab of sausage and a whole lot of air would squish out. Let me paint a picture for you: we were making gory intestine balloons with little nuggets of beautiful (though by this point somewhat wounded) sausage bobbling around inside.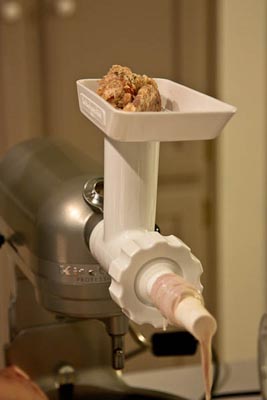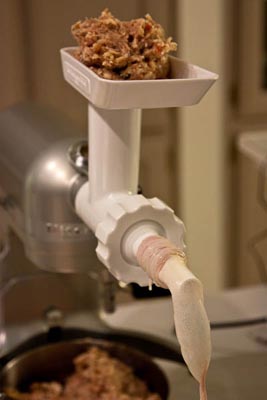 We've since been advised to prick holes in the casings as they're being stuffed to allow the extra air to escape, but even at that, I'm not sure how to get around the issue that the sausage was much more interested in ignoring the tamper and climbing up and out of the hopper than it was in flowing through the grinder and into the casings. In the meantime, I've been looking at purchasing a dedicated sausage stuffer. Unfortunately, the kind I'm interested in is expensive, so I may bludgeon my head against the wall for a while longer to see if I can figure out how to accomplish what I want with the tools I have.
At any rate, the uncased chicken-tomato-basil sausage was wonderfully rich and flavorful. So far, we've crumbled and sauteed it and used it as a pizza topping (along with a parmesan sauce, homemade mozzarella cheese, and chunks of sun-dried tomatoes). We've also treated it similarly for pasta dishes and are considering working it into a lasagna dish as well. But I still hold that that sausage wants badly to be cased and grilled, so that's definitely still my goal.
I know there are lots of you out there that successfully make your own sausage. As always, any suggestions or advice The Internet would like to offer to make my sausage endeavors more productive, I'd be happy to hear it.