I have mentioned before that we don't always take the time to cook dinner. However, to me that doesn't mean we necessarily have to suffer with fast food. Yesterday evening, our chosen method to avoid cooking was to acquire fancy cheeses and cured meats and artisan bread – and wow were they ever tasty.
We went to Grapevine Market (of lunch and liquor store fame) to stock up on our nibbles for the evening. They have a really fantastic gourmet and deli section and some interesting goods can be found there.
Our cheeses for the evening were Tour de Marze Brie and Rogue Creamery Smokey Blue. The Tour de Marze Brie is a French cow's milk cheese that is soft and spreadable and has a white rind that is completely edible. The flavor of the cheese is mild and buttery and was a nice complement to our meats. The Rogue Creamery Smokey Blue, on the other hand, was incredibly assertive, even for a blue cheese. The salty blue flavor was augmented nicely with a gentle sweet smokiness. According to the Rogue Creamery web site, they cold smoke the cheese for 16 hours over hazelnut shells. It was fantastic.
Our meats for the evening were Pamplona Chorizo, Bresaola, and Prosciutto di Parma. The chorizo is the dry cured kind and is beautifully flavored. It strikes the perfect not-too-mild, not-too-spicy note and has a heavy smoked paprika flavor. And unlike some cured chorizo on the market, this one is very easily sliced and consumed. The bresaola was, as always, quite nice. It is air-cured beef, which isn't something we commonly eat a whole lot of in the US. The flavor is relatively mild but still possesses a complexity not often associated with beef. Plus, while I know this is no reason to buy cured meat, the color is wonderful. There's not much to say about prosciutto di Parma that's not already been said. It is wonderfully complex and extremely tasty and when sliced thin, you barely have to chew it – it just melts in your mouth.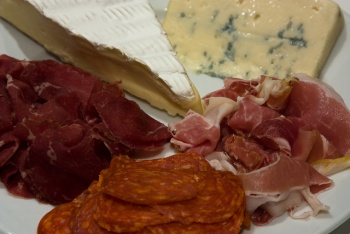 We bought a La Brea Bakery sourdough baguette as well. The La Brea Bakery is a California bakery founded by Nancy Silverton in 1989. It is known for its incredibly high-quality artisan breads, and they have found a way for us to experience that fresh-baked bread even if we're not in southern California. The loaves are baked to roughly 80% completion, cooled, and then flash-frozen before being shipped. For the baguette, I had to bake it for about 10 minutes at 400 degrees (F) once I got home, but what we got to enjoy was crackly-crusted, soft-interiored, richly-flavored sourdough bread, piping hot from the oven. I wanted to have something I could easily spread brie on and also top with some roasted jalapeno pesto we picked up from the farmers market recently, so after the baking was finished, I sliced the baguette into ½ inch-thick rounds, brushed them lightly with olive oil, and toasted them under the broiler till they were lightly crispy and brown. The meal was fantastic, and we even had leftovers. Of course, even though I stuck the leftover bread in a zip-top bag, we have a certain kitty cat in our house who really likes bread (or anything yeast-leavened, for that matter). I was sad to find when I woke up this morning that she had knocked the bag from the counter and completely chewed it open. I'd be lying if I didn't consider eating the bread even though it was stale and had been on the floor and had likely been nibbled on by a creature capable of licking its own behind – it really is that good. In the end though, I threw it away. Fortunately, I know where to get more.