Every once in a while, we indulge in a caloric splurge and have a plate full of wonderful cheeses and cured meats for our dinner. It reminds us of some of the most enjoyable meals we had in Italy last fall and gives us an excuse to sample a variety of food items without having to commit to figuring out how to use them in a recipe.
Austin is, of course, not Italy, but there are a variety of establishments around town that offer a very good selection of Italian cured meats and fascinating cheeses. This time we made our selections from the deli and cheese counter of our local Central Market grocery store. Here's what we wound up with: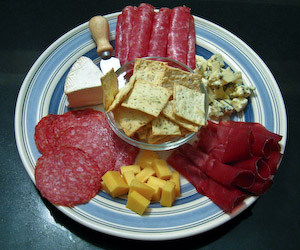 The Cheese (clockwise from bottom) –
Vlaskaas is a hard cheese with a cheddar-like texture and bite that still managed to taste mellow and smooth.
The Pierre Robert rouzaire is a wonderful triple-cream brie. It was decadent and buttery and had an unobtrusive rind (a plus for all you rind-haters out there).
The Rogue Creamery Rogue River Blue was DIVINE. The blue cheese tang was so crisp it was nearly effervescent. Its salty edge and creamy texture were heaven-sent.
The Meat (clockwise from top) –
The Sorpessata (from Citterio) was peppery and unctuous, and had a fantastic flavor that lingered on the tongue.
The Bresaola (also from Citterio), which is a cured beef, was cut paper-thin, and had an unobtrusive but complex flavor. It was especially delicious eaten just after the Vlaskaas cheese.
Finocchiona Salami (from Molinari) is a salami flavored with fennel seeds. It's a comparatively mild sausage with a unique flavor.
As a foil for all the heavy meats and cheeses, we had Stonewall Kitchen Rosemary Parmesan Down East Crackers. These crackers were tender-crispy with an every-so-slight hint of parmesan and rosemary.
The meal was a stunning success.