I know you wind up seeing a lot of blather about curing bacon, grinding sausage, and cutting up meat, but Sean and I actually eat vegetarian meals more often than you might imagine. Among our favorites are saag paneer with naan and tomato soup with grilled cheese sandwiches, however a new love has entered our life, and curiously, it features another kind of grilled cheese. Well, grillable, anyway. Thanks to Lisa of Lisa is Cooking, I have been routinely making Braised Chickpeas with Greens and Haloumi Cheese for the past couple months.
I made this the first time shortly after she posted, doing the whole thing, from soaking dried chickpeas to lightly topping with fried shallots. Then I realized we loved it, both of us, and that I'd be making it a lot. From then on, the corner cutting began. What we're left with is still multi-textured and delicious, but it takes really only about an hour to prepare. These days, I tend to make a double batch so we have leftovers. They freeze and reheat beautifully.
The original recipe calls for spinach, but I've used whatever greens I happened to have on hand. The version photographed for this post used a big bunch of curly purple kale I had received in my CSA box. We've also made it with dandelion greens, collards, and even beet greens. Just remember, the tougher the greens, the earlier you should add them to the pot with the chickpeas.
Haloumi (or halloumi, if you prefer), has a relatively high melting point, so you can throw it on the grill to brown, or as I do, you can sear it on a hot griddle coated with just bit of oil. Around here, it is generally sold pre-packaged in 7- to 10-ounce portions. At around $8-$10 per package, it's a little spendy, but remember, you're not buying any meat and the other ingredients are inexpensive, so for my part, this is a reasonably economical meal.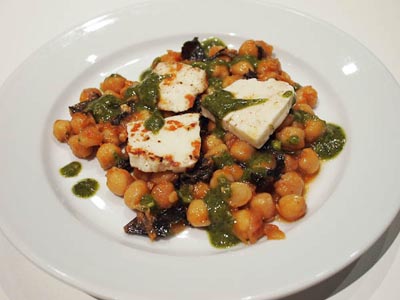 This dish is brilliant. The tender chickpeas and greens are in a tomato-cumin-garlic flavored broth with tantalizing heat. Atop that are lightly browned, bracingly salty slabs of haloumi cheese. Tying it all together is a vibrantly-green, tart splash of mojo verde. We eat this a lot.
BRAISED CHICKPEAS WITH GREENS, SEARED HALOUMI, AND MOJO VERDE
_adapted from _[_Lisa is Cooking_](http://lisaiscooking.blogspot.com/2010/03/braised-chickpeas-with-spinach-haloumi.html)
_(serves 4)_
_chickpeas:_
½ yellow onion, diced small
2 tablespoons olive oil, plus extra for searing cheese
4-6 cloves garlic, finely chopped
1 tablespoon crushed red pepper
2 teaspoons ground cumin
2 tablespoons tomato paste
2 cans chickpeas, drained and rinsed
4-6 cups spinach or other greens, cut into strips and tough stems removed
1 package haloumi, cut into ¼-inch slices
salt and pepper to taste
_mojo verde: _
3 cloves garlic, rough chopped
1 teaspoon cumin
1 teaspoon salt
½ cup tightly packed cilantro
2 tablespoons sherry vinegar
¼ cup olive oil
1. In an enameled cast iron dutch oven, heat olive oil over medium heat. Saute onions till soft.
2. Add garlic, crushed red pepper, and cumin and saute for an additional minute.
3. Stir in the tomato paste and add the drained chickpeas and two cups of water. Season lightly with salt and pepper. Simmer till most of the liquid has evaporated.
4. Add the spinach and stir till the greens are cooked. NOTE: If you add tougher greens such as kale or collards, add them earlier in the process. When greens are cooked, taste again and adjust seasonings as needed.
5. (Or perhaps 3.5) While chickpeas are simmering, prepare the cheese. Heat a nonstick griddle or saute pan over medium high heat. Once hot, brush with olive oil and quickly sear the haloumi slices. Do not walk away during this step. The heat may take some adjustment. If the griddle is too cold, the cheese will melt, too hot and you run the risk of burning your cheese. Brown on both sides and remove to a plate to cool. This may need to be done in batches.
6. (Or perhaps 3.75) While chickpeas are still simmering, prepare mojo verde. Combine garlic, cumin, and salt in a food processor and pulse to finely chop. Add cilantro, vinegar, and olive oil and process again until smooth. I have also successfully doubled the batch and done this in a blender as well.
7. Arrange plate as follows. Spoon about a cup of the chickpea-greens mixture onto a plate. Top this with a few slabs of browned haloumi. Drizzle with the mojo verde and serve.