I have heard before that the secret to being a good cook is to get the very best ingredients that you can and then try not to screw them up. That's what was going through my head as we browsed through the Sunset Valley Farmers Market this past weekend.
It has been miserably hot this summer. I realize that in Texas, every summer is miserably hot, but this one has been exceptional. Given that, I must admit to some skepticism when my friend Sharon suggested going to the farmers market on a humid, already-90-degree Saturday morning. But I'm a slave to really great produce, so I was game to go along, and boy am I glad I did. The market was chock full of a wonderful array of goods. I purchased more today than I ever have before and wound up leaving without buying everything I'd have liked because I was worried I wouldn't be able to cook it all while it was still at the peak of perfection. I did leave with some beautiful items and have been working to not screw them up ever since.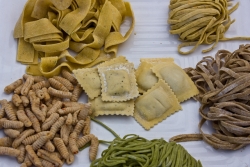 For lunch the very day we went to the market, I used our little bunch of oak leaf lettuce to make a simple side salad. I gently sauteed half of the yellow oyster mushrooms I acquired in some olive oil, garlic, and some of the market's Texas 1015 sweet onions. Then I tossed that with the market fresh pasta (a red pepper cavatelli from Pasta & Co.)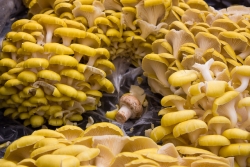 and some freshly shaved parmigiano-reggiano. Finally, I cut up some of the exquisitely ripe Texas peaches we bought from the market to have on the side – they were wonderful – it was like taking a juicy sweet bite of summer itself. Our lunch was divine – everything was so fresh and delicious. (The mushrooms were maybe a little too tender to saute in oil, so I included the remainder of them in that evening's miso soup where they were abused a little less and got to retain their beautiful shape and color).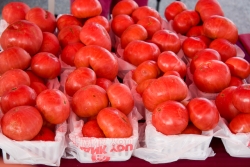 I had also picked up some brandywine tomatoes. They were perfectly ripe and sitting on my window ledge, they were rapidly approaching over-ripe, so I wanted to use them as soon as possible. You may remember that my husband Sean is a fresh-tomato-hater, and I struggled to think of what to make that would really let the tomato flavor shine but still process them to the degree that Sean would eat them. Then it occurred to me – tomato soup. We both really love pureed soups, so that was my approach. However, because I had just made super-decadent chocolate chip cookies that weekend, I was also aiming to prepare a creamy-tasting tomato soup that wouldn't wreak havoc on our already fat-saturated veins and arteries. Here's what came of it:
ROASTED TOMATO SOUP
3 medium tomatoes, halved laterally
½ large onion, quartered
5-6 cloves garlic, unpeeled
½ c chicken stock
1 cup milk
½ c shredded parmigiano-reggiano cheese
1 T olive oil
½ T balsamic vinegar
salt and pepper
6-7 fresh basil leaves, cut in a [chiffonade](http://www.drgourmet.com/techniques/chiffonade.shtml)
Preheat oven to 400 while prepping your ingredients.
Lightly oil a rimmed baking sheet and spread tomatoes (cut side up), onion, and garlic in a single layer. Bake these till soft 30-60 mins, keeping watch over the vegetables and removing them as they're softened (the garlic will be done first, then most likely the onion, and finally the tomato).
Pour the cooked tomato mixture into a blender. Pour chicken stock into the hot baking sheet and work a bit at the caramelized spots with a rubber spatula (you may not be able to get it all – that's okay). Pour this mixture into the blender as well.
Add the milk to blender and puree the mixture till smooth. Add the cheese, oil, and vinegar and blend until thoroughly combined. Taste and adjust seasonings as necessary.
Depending on the strength of your blender, you may need to pour the soup through a fine-mesh strainer to filter out any errant solids. Transfer the pureed soup to a pot and heat through. Garnish with basil leaves and serve immediately.
We also brought home some really nice summer squashes. There was zucchini and yellow crookneck squash and what seems to be a yellow zucchini (it was beautiful and golden-yellow, and I wish I had had the presence of mind to ask, but it was crowded and I was mostly interested in buying my squash and getting out of the booth). My approach to summer squashes is extremely straightforward. I generally cut them into a large dice (½"-¾") then saute them in a bit of olive oil and season with salt and pepper. That's how I elected to prepare the yellow zucchini for our dinner Sunday evening. (Don't tell Sean, but I will probably bread and fry the green zucchini. I almost never fry anything, and he really loves it when I do!)
I nearly forgot! We also acquired the most interesting concoction at the market. It is a very thick pumpkin chipotle pesto. My initial approach was to dip some store-bought grissini into it and enjoy its creamy-spicy-smoky flavor straight-up. But for Sunday's dinner, I tried something a little different. I had some leftover meat from the chicken I had roasted earlier that week. With it, I made a simple chicken salad by adding some mayo, diced celery, and roasted almonds. I cut whole wheat buns in half and buttered the cut sides with the pesto and then topped it with the chicken salad. It was actually pretty darned good. The creamy chicken salad was offset nicely by the spicy pesto.
So there it is. We had quite a haul from the farmers market. Even with all the items that made it home with us, there were still several more I'd have been interested in. Many of the stands had beautiful figs. And several of the stands had perfect little watermelons that I would have loved to dig into. Oh and then there were all the fantastic peppers – bell peppers, jalapenos, New Mexico green chilis, etc. The list goes on and on. The abundance that was available for purchase on a smoldering hot August day was incredible, and I will happily brave the heat to go again next weekend.