I have never liked creamed spinach. In fact, I've never had much use for cooked spinach at all, preferring instead to eat it fresh. I started to bridge the gap when Sean's parents introduced me to wilted spinach. Then I had lightly sauteed spinach a few times and thought that was pretty good. But it wasn't until I started visiting the Indian restaurants around town that I fully made my peace with cooked spinach. It was in visiting these restaurants that I discovered perhaps my favorite spinach dish: saag paneer.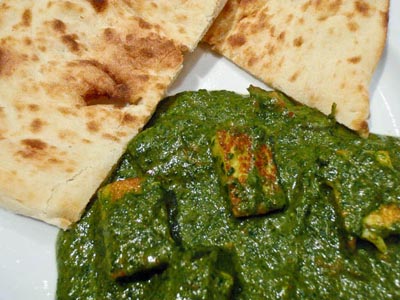 Saag paneer (or similarly, palak paneer), is a smooth, exotically spiced Indian cooked spinach dish whose best versions are sprinkled liberally with sizable chunks of a cheese called paneer. I have tried to prepare this dish a few times over the years and never succeeded in producing anything all that interesting to eat. Thankfully, saag paneer was one of the dishes taught at Chaya Rao's cooking class.
There are several things I've been doing wrong. First, I had often – at the instruction of recipes, mind you – used frozen spinach. Fresh spinach is the only way to go here. Second, as mentioned in my earlier post, I didn't use nearly enough of the wonderfully fragrant and flavorful Indian spices so intrinsic in their cooking. And finally, I didn't brown the paneer before adding it to the spinach. Paneer takes on a rich, nutty aroma when browned, and an equally complex flavor.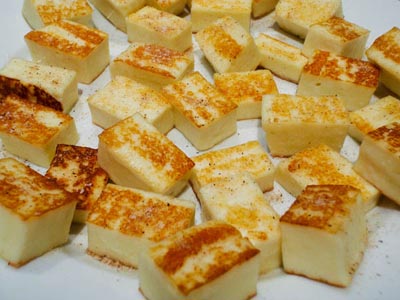 This would also be a good time to mention my new favorite ethic grocery, Apna Bazaar. It's in North Austin, and the people that work there are incredibly kind and helpful. I've been to a variety of ethnic grocery stores around town and generally felt avoided and even occasionally unwelcome. At Apna Bazaar, I didn't have to beg for help and even got bonus cooking tips and serving suggestions. Oh, and they also had all the ingredients I needed for this and various other Indian cooking projects.
The recipe as Chaya presented it to us is much bolder with the chile powder than I am here and includes a big wad of serranos as well. I am not as tough as James, so I've adapted the recipe a bit to suit my tastes. If you prefer a spicier blend, add a chopped serrano or two and/or increase the chile powder, or better yet, attend one of Chaya's classes and learn to make the unwussified dishes directly from the source.
SAAG PANEER
_adapted from [Chaya Rao](http://www.vegicurean.com/Vegicurean/Home.html)_
5 tablespoons oil (canola or similar), divided
½ to a whole 14-ounce block of paneer, cubed (Chaya prefers "Nanak" brand – it's the only brand I've tried so far, and is very good)
3 whole cardamom pods
½-inch stick cinnamon
1 teaspoon chopped ginger
1 teaspoon chopped garlic
1 small onion, large dice + 1 small onion, sliced
¼ cup chickpea flour (aka garbanzo bean flour or farina di ceci)
16-20 ounces fresh spinach, by weight
2-4 ounces frozen fenugreek leaves (methi), by weight
½ teaspoon turmeric
1 teaspoon cumin seeds
2 roma tomatoes, large dice
½ to 1 teaspoon India chile powder (these vary widely, so you may have to play with the amount here)
1 tablespoon ground coriander
1 tablespoon ground cumin
2 teaspoons salt
Add 2 tablespoons of oil to a large nonstick pan or griddle over medium heat. When the pan is hot and the oil shimmers, add the paneer cubes in a single layer. Check regularly to see when the sides have browned. Flip and brown the other side as well. Once two sides are browned, move to a plate and sprinkle with a bit of salt.
Either in the same nonstick skillet or in a large wok or pan, heat 2 more tablespoons of oil. Add the cardamom and cinnamon and toast for a few seconds. Add the ginger, garlic, and cubed onions and saute till the onions are translucent. Add the chickpea flour and stir continuously. The flour will brown slightly and give a nutty aroma when done. Transfer to a small bowl to cool.
In the same pan, add spinach, fenugreek leaves, and ¼ cup of water. Cover and cook till the greens are all wilted. With this much spinach, it may have to be added in stages. It's finished cooking when all the greens are just wilted down but haven't cooked so much that they lose that pretty bright-green hue. Let this cool slightly.
Add the onion-chickpea flour mixture to a blender and blend till completely smooth. With cardamom pods and chunks of whole cinnamon, this may take a bit. Next add the cooked greens. You do not want to puree the greens, so use your blender's pulse function. My beloved Vitamix doesn't have such a thing and is so powerful that it transforms cooked greens to smooth green soup entirely too quickly. What I do to avoid that is dump all the greens in, switch the blender on while it's in its lowest variable-speed setting and then using the variable-speed dial, turn it up to higher speed and back down to it's lowest in a pulsing manner. Using this method, I've thus far avoided having saag soup.
Back in the original pan, add the last tablespoon of oil over medium heat. Add the turmeric and cumin seeds and toast until aromatic. Add the sliced onions and sautee for two minutes. Add the tomatoes and toss to combine. Next add the browned paneer cubes, chile powder, cumin poweder, and coriander powder and cook for two or three minutes. Add the blended spinach mixture, ½ cup of water, and the salt and stir to combine. Simmer for a few minutes to let the flavors combine. Taste and correct the seasonings as necessary.
We've fallen in love with Deep brand store-bought Naan bread. They're stored frozen and you just have to plunk them into a 400-degree (F) oven for a few minutes. (I'm sure I'm violating some rule by saying this, but we've tried the Deep brand parathas with the saag paneer as well and been happy with the results.)