Several weeks ago, I had planned a pleasant little Thanksgiving meal for four – Sean and I plus our good friends Jeff and Sharon. On the years when we're all in town for Thanksgiving, we'll have lunch at their house and dinner at our house. It works out perfectly. Over the week or so preceding the holiday, the count climbed its way up to ten, and so I eagerly planned out a much more ambitious meal.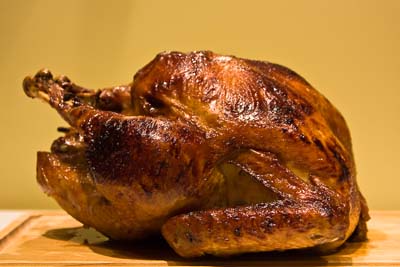 Sean and I did nearly all our shopping on Sunday, and I started cooking on Monday. Monday brought turkey stock. I recently decided that since I was home most of the time, there was absolutely no reason not to make my own stock. After the success of a nice, dark beef stock a couple weeks ago (and the apparent lack of turkey stock in my grocery store on Sunday), I decided to use Bon Appetit's recipe for golden turkey stock. The smell was heavenly, and I wouldn't have believed this to be true, but I think it was even richer and more flavorful than the beef stock.
Tuesday brought dessert. I made an oatmeal crusted pecan pie courtesy of Cooking Light. It was tasty enough, and I didn't feel my teeth screaming like they normally would at the outrageous sugar content of so many pecan pies. However, it was maybe a little heavy on the molasses flavor for our taste. Were I to make it again, that's something that would need to be adjusted. Also on Tuesday, I attempted to make a cranberry steamed pudding. I had made one several years ago using a Martha Stewart recipe that turned out wonderfully. This one was made with a different recipe … and was not so good. I back-peddled on the steamed pudding plan and went back to the drawing board on the second dessert.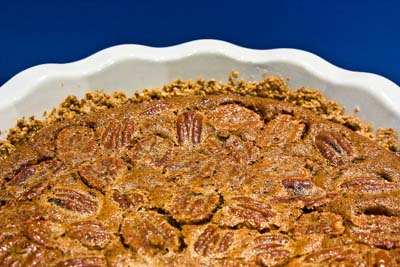 Wednesday was crazy prep day. I cut up essentially all the vegetables (at least the ones that wouldn't suffer for it) that I would need for the food the next day, carefully portioning them out and stacking them in the refrigerator. This was also the day to salt the turkey. Yes, I said salt, not brine. According to Bon Appetit (who borrowed the trick from the Zuni Cafe's roast chicken), rubbing the bird down with salt draws the moisture from the turkey where it mixes with the salt (and other seasonings) and is eventually reabsorbed into the bird (over the 18-24 hour salting period). This allows for a moist and flavorful bird that has a rich, dark crust. I chose to go with the salt roasted turkey with chipotle glaze and caramelized-onion gravy. I also made the filling and rolled out the puff pastry for my mushroom and farro pie (which, due to availability issues, became a mushroom and spelt pie). My final act of food preparation on Wednesday was to carefully scrub a-a-a-ll the sweet potatoes, russet potatoes, and red potatoes.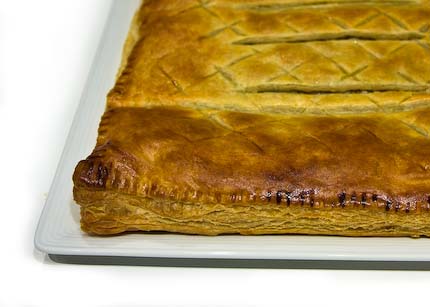 Thursday really couldn't have gone better food-wise. I got up nice and early and baked the cornbread for the southern cornbread dressing. In lieu of the steamed pudding, I decided to make mini pumpkin bundt cakes with dried cranberries and a Cointreau glaze (3T Cointreau, 2t water, 1/3 cup sugar, 1T butter, 1/4t orange oil - in a small pot, melt down everything but the orange oil and bring to a boil for 30-60 seconds, then remove from heat and cool slightly before adding the orange oil - glaze as required), so I took care of those next. I got the dressing assembled such that it only needed to have broth added before being baked, and just squeezed in getting the flaky dinner rolls (the ones I tried out last week) baked before we had to rush off for lunch.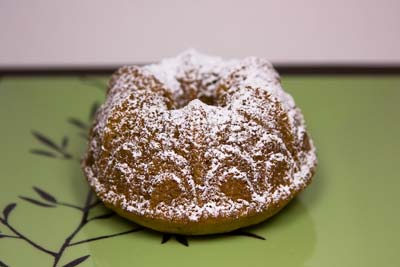 Lunch was a grand affair with a big smoked turkey from Rudy's (a local barbecue joint) and all the fixin's (including a cranberry relish that I would really love the recipe for).
When we got back, I quickly rinsed all the salt from my turkey and dried it as thoroughly as I could. Riddle me this, Internet. How does one spread softened butter onto the skin of a cold turkey without it hardening right back up again? At any rate, the turkey was stuffed with some vegetables, appropriately contorted, coated in butter, and slapped on a rack in a roasting pan with turkey parts (neck, heart, gizzard) and turkey broth. Once this was in the oven, I set about preparing potatoes. The sweet potatoes were relatively easy. They were peeled and cut into ½"-thick slices, then coated in a paste of olive oil, garlic, and salt and stored in a ziploc bag for roasting later. The rest of the potatoes were for simple garlic mashers, recipe courtesy of my favorite culinary personality, Alton Brown (though I augmented his recipe with a bit more milk and some butter also). The russets were peeled and cubed while the red potatoes were simply de-eyed and cubed, and all of them were tossed into a big pot of cold water to await boiling and mashing.
I won't bore you with the rest of the details, but suffice it to say that with the exception of one little kink in my plan (my oven was not able to hold both the turkey and the dressing to cook at the same time – this was sort of integral to my timing), the food was all well prepared and table ready only about 45 minutes later than I had intended. Sean did a beautiful job of carving and arranging the turkey while I frantically prepared everything else.
Oh, I nearly forgot about the deviled eggs. Sean's sister and her roommate were coming into town to celebrate Thanksgiving with us, and the only request that was made was that we have deviled eggs. In fact, his sister, Darci, said she'd happily make them herself as long as she could have them. So on Wednesday I boiled her eggs and refrigerated them. Due to some delays suffered while on the road, she'd be coming in late, so Sean peeled her eggs for her and she was set. The only issue left was that I had nothing to serve them on. And then I remembered my madeleine pan. It looked a little silly but it held the eggs nicely. You know what this means? This means that my madeleine pan is no longer a unitasker. Alton would be so proud (according to him the only unitasker allowed in his kitchen is a fire extinguisher).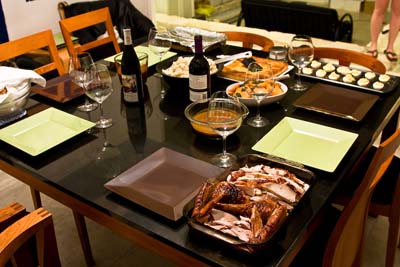 The final twitch in my perfect Thanksgiving came when my guests arrived. Instead of the eight guests we had originally planned on feeding, only four showed up. I was so deflated that I didn't even bother making one of my dishes (broccolini with pecan brown butter). But alas, the meal was delicious regardless. That salted turkey may well have been the best turkey I've ever eaten. I have a strong preference for the dark meat on turkey, but even the breast meat was moist and flavorful. My gravy turned out nicely (though I didn't put all the caramelized onions in). Everyone seemed to be enjoying themselves – there was no shortage of laughter and chatter to go with our dinner.
THANKSGIVING MENU RECAP:
Salt Roasted Turkey with Chipotle Glaze and Caramelized Onion Gravy
Southern-style Cornbread Dressing
Garlic Mashed Potatoes
Roasted Sweet Potato Rounds with Garlic Oil and Fried Sage
(would have also been Broccolini with Pecan Brown Butter, had all my guests shown up)
Mushroom Spelt Pie
Flaky Dinner Rolls
Deviled Eggs
Oat-crusted Pecan Pie
Pumpkin Mini Bundt Cakes