For many people, the food they remember most fondly is the food their mothers cooked. Without saying anything mean about my mother or the way she cooked when my brother and I were growing up, let's just say that I can't really share in this sentiment. My husband, on the other hand, falls comfortably into the no-one-cooks-like-Mom category.
He has one dish in particular that he has to have when he visits his parents, and he harassed me for a long time to figure out how to make it. This mythic dish is Cornbread Dressing. So, one year we were visiting over the holidays, and I asked his mother, Helen, if she had the recipe. Naturally, there is no recipe. She just makes it sort of by feel, and the only way I'd get to learn how to make it too was by watching her and hoping I caught everything. I've heard this referred to as "till it's done" cooking. You add sage till it tastes right. You add onions till it looks right. You bake it till it's done. At any rate, the dressing preparation seemed pretty straightforward – break cornbread up in a pan, dump in some vegetables and seasonings, cover it with broth and bake it for a while.
Not long after we were home from our holiday travels, I decided to give it a shot for myself. I made the dressing as I had seen it prepared and proudly served it to my excited husband. He took a bite. And he chewed. And he took another bite. By this point, I couldn't stand it anymore, so I asked how it had turned out. He graciously told me that it was pretty good. Me being me, I couldn't just take the semi-compliment and let it drop, so I stupidly asked him if it was as good as his mother's. He was very diplomatic in his response, but the long and short of it was that no, it was not.
I tried again and again and again, constantly adjusting proportions and methodology, each time getting more frustrated at my lack of "correct" results. The frustration had gotten so intense, that I decided to quit making it all together. He was looking for something in his cornbread that I simply could not offer and it would be best to move on.
Some time later, I decided to go for it again as a side to roasted meat I was preparing. I mixed the now-familiar ingredients as I saw fit and baked it up and plunked it on the dinner table. And lo and behold, it was proclaimed "correct". I had learned quite a few things over the years about how to make this dressing, but I couldn't place my finger on exactly what I had done differently, but my dressing has been reasonably "correct" ever since. You know how some people tell you that you must always remember to add that special ingredient to everything you cook … and then they smile dreamily and say "love"? Well, I think I have learned what special ingredient you must cook without – pressure to live up to someone's childhood ideal.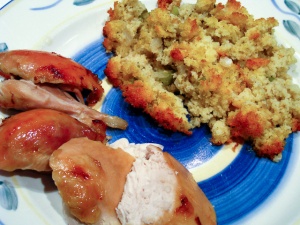 (Cornbread Dressing shown with Cider-Roasted Chicken)
Out of necessity I had developed Helen's habit of making this without a recipe – sort of by feel (dump ingredients in till it just seems right). I had also gotten into the habit of simply making the cornbread from the recipe on the back of the White Lily Cornbread Mix package. I've attempted to measure out the dressing ingredients here, and since I currently have no cornbread mix, I have now made several pans of cornbread in an attempt to replicate that wonderful flavor and texture as well. (Helen, if you read this, please know that my dressing still isn't the same as yours – I've found that the trick is to not serve mine right after he's had yours!!)
CORNBREAD DRESSING
shortening to grease the pan
1 recipe savory cornbread (see below)
2 stalks celery, diced
1 cup diced onion
1 T poultry seasoning
1 T dried rubbed sage
5-7 cups chicken stock, preferably homemade
salt to taste
Preheat oven to 350-degrees (F).
Grease a 13" x 9" glass baking dish with shortening.
Crumble the lightly cooled prepared cornbread into the pan.
With a fork, stir in onion and celery to combine.
Sprinkle with the poultry seasoning and sage, and again mix with the fork until evenly distributed.
Next pour in the chicken stock until the cornbread is thoroughly soaked and you can see a bit of standing chicken stock amongst the cornbread crumbs and vegetables. It can be a little off-putting, but here's where you taste to see if the mixture needs any last bit of salt. Try to ignore the unpleasant texture and temperature and pay attention only to saltiness and season as needed.
Next chuck it into the middle of the preheated oven and bake … till it's done. (Generally speaking, this should take roughly an hour) You'll know it's done when the top is golden brown and the dressing has soaked up the liquid (I check this by poking the dressing with a fork all the way through to the bottom of the pan and gently pulling a bit of it aside to see how well the liquid is absorbed all the way through. You're looking for a dressing that is moist but not watery).
SAVORY SOUTHERN CORNBREAD
shortening to grease the pan
1 ½ cups buttermilk
¼ cup vegetable oil
1 egg
1 ¾ c cornmeal (white, if you can find it, but yellow will certainly work)
¼ cup all purpose flour
1 t baking powder
½ t baking soda
1 teaspoon salt
Preheat the oven and a shortening-greased 10-12" cast iron skillet to 425-degrees. (It is acceptable to substitute an 8x8" or 9x9" metal baking pan for the skillet if you prefer.)
In a medium-sized bowl, whisk together dry ingredients.
In a larger bowl, whisk together wet ingredients.
Add the dry goods to the wet, stirring just to combine. The mixture will still be a bit lumpy at this point, but don't fret about it – it'll all come together as it's baking.
Carefully take the hot pan out of the oven, and pour the cornbread mixture into it, smoothing it out with a rubber spatula so that it bakes evenly.
Cooking times will vary depending on what vessel you've used – estimate 20-30 minutes. It's finished when a pick inserted comes out clean.
I am partial to using a cast iron skillet because it will produce a moist and tender interior and a flavorful crusty-brown exterior. I am so fond of that crusty brown exterior, that I actually use a 12" skillet almost exclusively for this (which increases the crust to cornbread ratio). I've found that in the large skillet, it takes about 23 minutes in my oven to get the cornbread to a state that I'm happy with. Another note about the cast iron skillet – this pan is the epitome of oven-proof, however, your natural reaction once the pan is out of the oven will more likely than not be to grab the handle without thinking about it. And empirically speaking, grabbing a 425-degree handle with your 98-degree hand is an incredibly uncomfortable and long-lasting experience. (Amusingly enough, I assumed that once I had done it the first time, I had met my learning curve requirements – but no, I've done this to myself over and over again). Here's my method for avoiding the large burns that result from this. They make these little potholder sleeves that are roughly handle sized. I have a couple of them in my potholder drawer, and the moment I take a handled pan out of the oven, I will slide one of these potholder sleeves over it. Sometimes, to be extra-certain that I'll remember to do this, I'll lay one of the sleeves out on the counter after I put the pan in the oven. I am completely convinced that I've avoided dozens of burns in doing this. (I won't tell you about the dozens I've gotten otherwise in ever-more-creative ways while cooking).