You'd think that since I've been trying to bake better bread here lately, that I'd want to have a nice loaf or two with our Thanksgiving dinner, and I may. But the table just wouldn't be complete without some nice buttery rolls. I've tried making them before, but this year I have a recipe that produces roll that I like on their own, rather than just as a vehicle for sopping up gravy.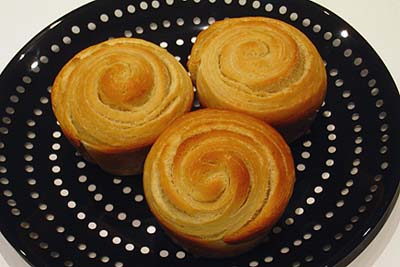 Going through old issues of Cooking Light yielded this little gem: Flaky Dinner Rolls. They're sort of like entry level croissants (which I've never tried to make from scratch – laminated pastry scares me a little). You make an enriched yeast dough, roll it out, spread it with butter and fold it. Then you freeze it a few minutes to firm it up and then roll out and fold again. After one more iteration, you finally roll it out, roll it up (jelly-roll style), and then slice off the individual rolls. After letting them rise, you bake them till they're beautifully browned. They were indeed flaky and just a touch buttery and delightful to consume. Delicious on their own, they were even better with a smear of caramel pear butter (and I bet they'd be really nice with some turkey gravy soaked into them). I'm thinking I could get the dough ready in the morning, then do the final rolling and slicing just before dinner's to be served. According to the recipe, these could also be fully baked, cooled and frozen, then reheated the day of the event, but I'm not sure I want to do that.
The rest of the dinner is still (sadly) a bit of a moving target. I had a pretty good plan when it was going to be 4-6 of us eating dinner. Now that number has risen to 10 and I'm back to fussing about what I will cook. I pick up my 8-12 lb organic turkey on Sunday (now hoping it's closer to 12 than 8), which be prepared according to this Bon Appetit recipe: Salted Roast Turkey with Chipotle Glaze and Carmelized Onion Gravy. We'll have cornbread dressing on the side – my spouse would disown me if I didn't fix his dressing on Thanksgiving. I'm going to make some Roasted Sweet Potato Rounds with Garlic Oil and Fried Sage for one side. I have about 5 candidates for my "green" side dish, and I'd be lying if I said I wasn't considering making those collards in chipotle and peanut butter again. For dessert, I'll make a pecan pie of some variety – I'm leaning toward this recipe for Oat-crusted Pecan Pie. And with that many people, I'm tempted to try to make a second dessert - maybe a steamed pudding.
At any rate, it will be nailed down today and shopping will most likely be completed on Sunday. Nothing dampens my holiday glee like trying to deal with the grocery store the day before Thanksgiving. Cooking for several days and feeding 10 people, on the other hand, is fun and exciting, and I'm raring to go.