I found it useful to refer back to my Thanksgiving post from last year when planning this year's meal, so I figured I'd recap our Thanksgiving meal again this year … you know, for posterity. This year Sean and I had seven guests (though to be fair, the littlest one brought her own food) over to the house for a very pleasant feast. It was so pleasant, in fact, that we didn't remember to take very many pictures.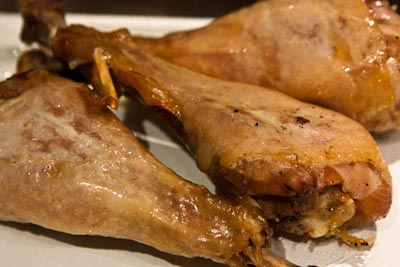 As mentioned last week, we decided against roasting a turkey this year, and chose instead to serve homemade turkey-cranberry sausage and two kinds of confited turkey legs. We made both of these the weekend before the big day, the legs stored in the refrigerator submerged in the fat they were cooked in, the sausages stored tightly covered (and also in the refrigerator).
When it came time for cooking, the legs were drained of fat and laid out on a broiler pan. They were then baked in a relatively hot oven till the fat sizzled and the skin crisped slightly. The sausage was cooked very slowly in a large saute pan set over medium-low heat. The idea was to try to get their skin browned but not bleed them dry of all their lovely fat and flavor.
The meats were served with homemade onion-cranberry chutney (adapted from the onion raisin chutney in Charcuterie: The Craft of Salting, Smoking, and Curing
), sliced pickled shallots (more on these in another post), and store-bought Dijon mustard. From the moment I decided on the sausage and confit, I fretted over whether our guests would enjoy them. Everyone expects roasted turkey, and for most of the folks that came over, this was the only Thanksgiving meal they were having. Luckily, everything turned out nicely. The legs were incredibly tender and richly flavored. For my taste, the skin could have been crisper, but otherwise, they were really good. The sausages, despite not having browned as much as I'd have liked, were warmly received and almost entirely consumed.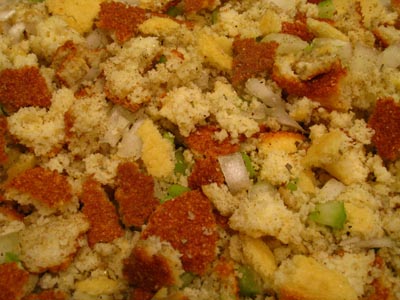 Sean wouldn't have forgiven me if I hadn't served his mom's (grandma's? great-grandma's?) cornbread dressing. My plan of attack on this is the same every year. On Wednesday, I cut up the veggies and store them in the refrigerator. On Thursday morning, I bake the cornbread, tear it into bits, and mix it with the vegetables and seasoning then seal and store in the refrigerator. Then just before I baking it, I douse it in the required chicken stock and away we go.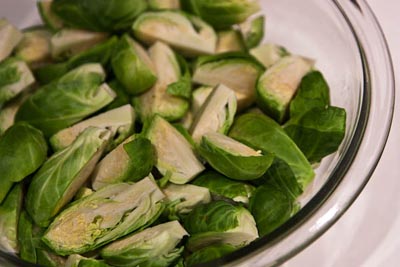 I wanted butternut squash. I never get butternut squash because Sean doesn't like it. This year, we compromised. I made him Creamed Brussels Sprouts (courtesy of Molly at Orangette), and made for myself Parmesan Roasted Butternut Squash (woo-hoo! Gourmet recipe). The creamed sprouts we've made before, and they turned out as nicely as they normally do. The roasted squash, while not quite what I was expecting, was still quite tasty. Unfortunately, neither of these dishes was all that photogenic.
I baked what were called Bakery Dinner Rolls. They were … all right. The texture was nice, but the flavor was a little muted, especially for a dinner that featured no gravy to soak them in. Luckily, I did make some roasted garlic paste to spread on them with a little butter. And even luckier still, one of our guests is a baking expert and brought along some of her homemade sourdough bread.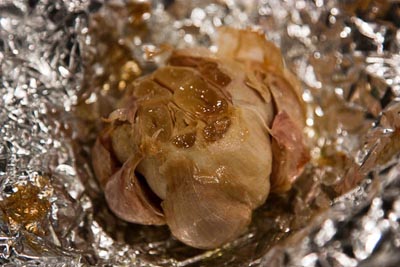 One of my favorite things from this meal was the dessert. I attempted to make a very pretty Apple Tart. While the one in the magazine was prettier, it still turned out very nicely. I followed the recipe instructions to the letter, and even took advantage of the fact that the tart could be largely assembled the day before and baked early and served at room temperature. The apples were sweet and tender but not mushy. The puff pastry crisped up nicely, even under the weight of all those apples. The preparation was maybe a touch fussy for my taste, but it's fun to do something special for a holiday meal.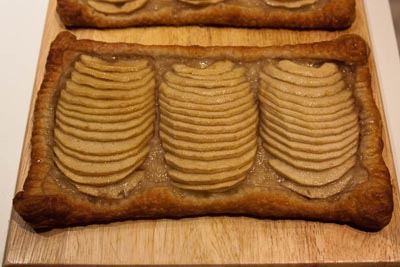 Our friends supplemented the meal with spicy cheese grits, butternut squash dip, homemade sourdough bread, and pumpkin cake. Our wine offerings multiplied as friends showed up to the house and everyone seemed to have a very good time.
THANKSGIVING MENU RECAP:
Turkey and Cranberry Sausage
Confited Turkey Legs
Onion Cranberry Chutney
Pickled Shallots
Southern Cornbread Dressing
Creamed Brussels Sprouts
Parmesan Roasted Butternut Squash
Apple Tart
along with:
Spicy Cheese Grits
Butternut Squash Dip
Homemade Sourdough Bread
Pumpkin Cake