In another case of (incorrectly) judging a book by its cover, I had watched as Cover 3 was built over by my beloved Alamo Drafthouse. As it developed into the very large, seemingly misplaced sports bar that I presumed it to be, I learned to simply not see it anymore as we drove past it to watch movies and drink beer. Recently, we were invited to experience Cover 3's food. And I humbly admit, it's some of the best food I've had the pleasure to eat recently.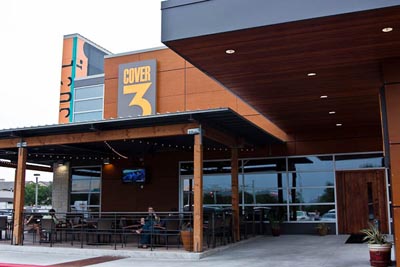 The restaurant is, indeed, immense. There's a gigantic bar off to the left as you walk in the door, nice dinner seating off to the right (fear not sports-lovers, we were rarely out of view of a flat-screen television), and a whole upstairs filled with cushy couches and ambiance. Off to the back, lay a well-stocked wine room and beyond that, meeting facilities. This is a full-service kind of place, and I wanted to have a grudge for its seeming lack of intimacy, for the absence of that cozy feeling that the small converted house restaurants in the city have. In the end though, I just couldn't.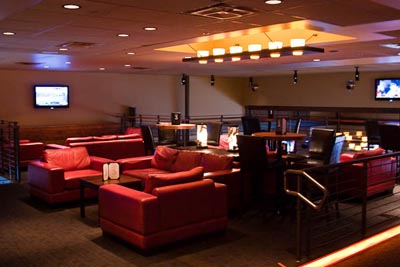 As I mentioned, the food was first-rate. The menu offers a wide variety of dishes to suit a number of tastes. The drinks were fantastic. I cannot stress that enough. Even Sean enjoyed them, and he's really not much of a drinker. And on top of all that, the service was incredible. Sure, that may have been because they were trying to wow a small group of food writers, but from what I've heard from other folks who've just dropped by, everyone's been treated very nicely. I truly am all about the food when I go out to eat, but bad wait-staff do have the power to tarnish a culinarily perfect meal. These folks made an already fantastic meal even more enjoyable.
One of the things I came to admire over the course of the evening is the Cover 3 chef's apparent restraint when dressing and augmenting his dishes. A light sprinkle of pistachio here, a tiny dollop of sriracha-spiced sauce there. The ingredients were fresh and as the old adage goes, he did a very nice job of not screwing them up.
While the chef understands restraint, the restaurant does not. Cover 3 was out to prove that they were more than beer, pretzels, and a football game on the screen. When we first arrived, printed menus were lying on the tables. As is standard, they were sectioned off by course: starters, greens, entrees, dessert. Sean and I set about choosing which items we'd like to try in each section, making sure we didn't overlap. Turns out,we needn't have bothered. We got to try everything.
Over the course of a couple hours we were plied with all manner of delicious food and drinks. And the grievous error we made was stopping at a different restaurant for a quick snack before we went to the big event (we're food people, after all, we're supposed to be able to do that).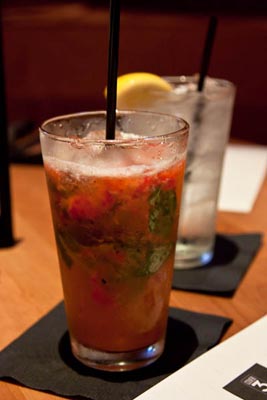 The drinks we tried were perfect. Sean doesn't really drink too much, but he couldn't say no to the Strawberry Basil Lemonade. As he's repeatedly described it to anyone who'll listen, it's like the best strawberry lemonade except loaded with liquor, and it doesn't taste like there's any liquor. I know the food folks (or at least the drink folks) are going to shake their heads at me, but despite repeated efforts to taste and love gin, I've never quite managed it. Despite that, I let myself get talked into trying the Cover 3 Press, a mix of Hendrick's gin, lemongrass, muddled cucumber, soda, and Sprite, it was incredibly smooth, temptingly herbal, and just the tiniest bit sweet.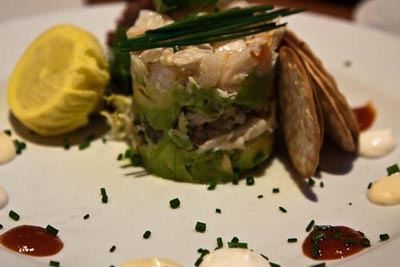 First out was the Chilled Shrimp and Crab Tower. Shrimp and crab were layered with slabs of avocado and served with little dabs of three difference sauces: horseradish, honey mustard, and a spicy sriracha-laced sauce (which was my favorite). I find tower shaped food – intimidating. As graceless as I tend to be, I never know quite how to go about eating it. My approach tends to be Godzilla-like destruction first, and carefully scooping and consuming second. However, since this dish was brought out family-style for the table to share, I was on my best behavior. The flavor of the seafood tower was good, especially when paired with the spicy sauce. But for my preference, it could've been a little less dense.
Calamari is always an iffy proposition. Too often it comes out overly greasy and/or rubbery textured. These were neither. The calamari were tender and the light and crispy coating was in no way overly-oily. Paired with a spicy salad, it was a solid appetizer.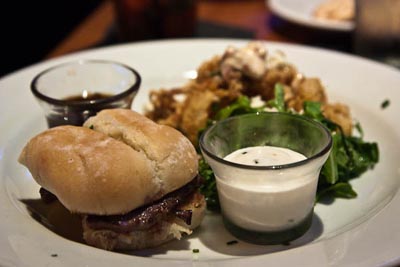 Unfortunately, I'll probably never order the calamari again. Not because it wasn't good but because Cover 3 also offers Beef Tenderloin Sliders. Sounds boring, right? Nope. Ho-lee-gawd, those sliders were good – like making-up-words good. The meat was, of course, ridiculously tender. With a little spread of horseradish on the meat and the slightly sweet, pillowy-soft bun, the flavors were incredible. But the ante was upped by offering a roasted onion jus to dip the slider in "French dip style." I know that finding words to describe how good that sandwich was is kinda what I do, but I'm here to tell you, no words I come up with will do it justice. Suffice to say, it's death-row worthy.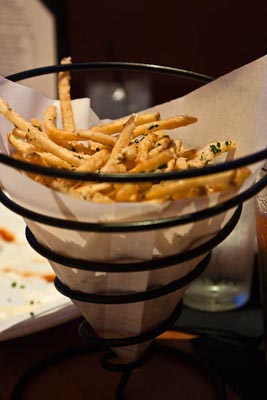 The sliders were served with parmesan fries. To be honest, these were all-but-ignored in the face of the beef / bun / horseradish / jus goodness of the sandwiches, but they were very tasty in their own right. The fries had that crisp on the outside, fluffy on the inside consistency that only the best fries manage to achieve. And the parmesan sprinkling on the outside lent a breath of salty cheese flavor to the fries without weighing them down.
The Allandale salad was a crazy melange of all sorts of nice ingredients. Spinach and mixed greens with brick chicken (chicken flattened out and partially cooked by a heated brick), smoky bacon, dates, avocado, chopped egg, the mild bite of red onion, luscious chunks of blue cheese, and candied walnuts all lightly dressed in a honey balsamic vinaigrette.
We were all starting to feel battle-weary by the time the plate full of entrees came out. It's a testament to how good the food was that we all kept eating with the gusto that we did. Here they are in order from simply darned delicious all the way up to wow-this-is-as-good-as-those-sliders.
The Filet Mignon topped with Gorgonzola Butter was a very solid dish. The meat was cooked to a perfect medium, with a perfectly browned and seasoned crust. Topped with a salty smear of the gorgonzola butter, it was a delicious, if tried-and-true, flavor pairing.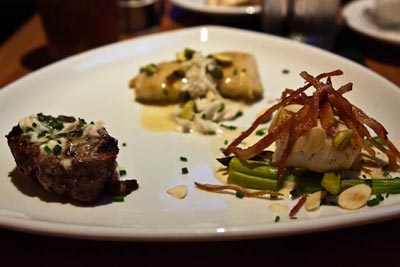 The Jumbo North Atlantic Scallops were, as everything else, perfectly cooked. The salty bacon and roasted almonds provide a pleasant crunch, and the thin goat cheese sauce added the tiniest hint of tang.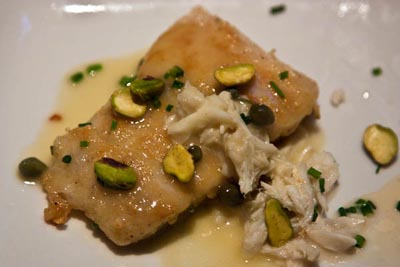 The Sauteed Gulf Snapper topped them all though. The fish was tender and flaky and the impossibly light crust added mild crunch but in no way detracted from the fish's flavor. The crab added a gentle sweetness to the dish. A sprinkling of pistachios provided a light green splash of color and another dash of crunch. The lemon caper butter was decidedly refined, assertive, but never overpowering the other flavors.
I know you're all dying of fullness and sensory overload by this point, but too bad! Dessert's on the way out! The White Chocolate Black Cherry Bread pudding was maybe a little dense for my taste, but the rich texture and flavors of the white chocolate and black cherry added an almost an exotic feel to what is generally considered a fairly mundane dessert.
The Mixed Berry Short Cake tasted like a plate of summer – the sunny, bright, and bursting with life kind, not the sweltering 100-degree kind. The berries were ripe and fresh and so flavorful that to me, they were the highlight of the dessert. The short cakes were lightly sweet and airy-textured and held up well against the onslaught of whipped cream and berry juice.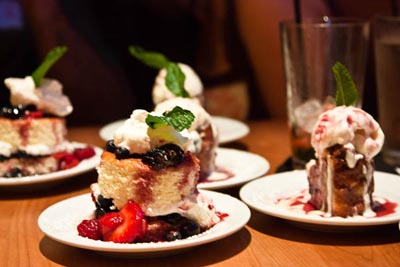 We had an excellent meal, and in fact, have gone back since then on our own dime and been served food that was every bit as tasty with the same excellent service we received as "media people." Highly recommended.