I'm guilty. Guilty of discriminating based on appearance. Guilty of snap judgment stemming from misperception. Don't get me wrong. I have room in my heart for strange divey little joints tucked into strip malls. Wouldn't think twice about eating at a place whose staff didn't speak English. Best burger is in the back of a biker bar? Bring it on. But for reasons I can't fully explain, I had always thought of Kenichi as one of those trendier-than-thou, see-and-be-seen kind of places, and I wouldn't go. From everything I've learned recently, that is not necessarily the case, or if it is, it doesn't matter because the food they serve is incredible.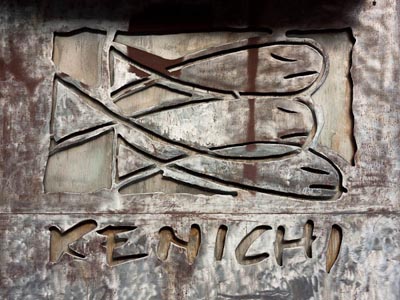 Kenichi hosted the small crowd of food bloggers to reintroduce us to their restaurant and to kick off their extended happy hour. They offer their "50 for $5 Happy Hour" in the bar and sushi bar areas Sunday, Monday, and Tuesday from 4:30 till 10 and on Wednesday, Thursday, and Friday from 4:30 till 7.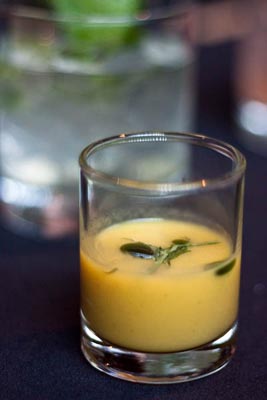 We began our afternoon with a chilled melon soup with yellow curry and thai basil. I've not met too many cold soups that I like, but this would certainly be one of them. The savory curry meets gently sweet melon is a wonderful flavor combination.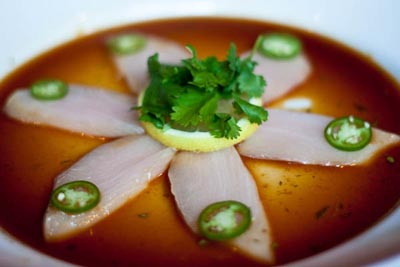 The next dish, Austin style sashimi, was everything I love about sushi here in central Texas. Wonderfully fresh yellowtail swimming in a little pond of ponzu sauce topped with the tiniest slice of mouth-searing serrano was clean and fresh, and the ponzu did a nice job of tempering the serrano's heat.
suzuki confetti – striped bass sashimi in citrus vinaigrette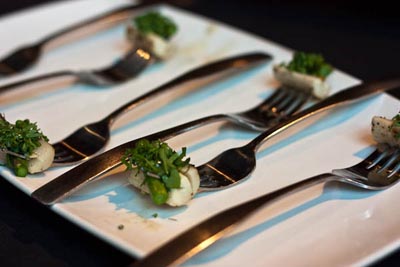 The hearts of palm salad was one of my favorite dishes of the night. The roasted goodness of the hearts of palm paired beautifully with asparagus and mizuna, and the beautifully floral vanilla-mitsukan that dressed the salad provided for one of the more interesting flavor combinations I've experienced in a while.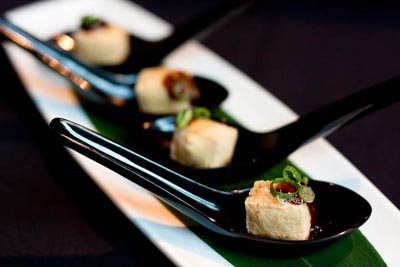 crispy tofu – ten-tsuyu broth and spicy garlic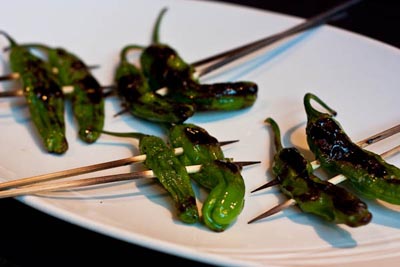 The grilled shishito peppers were the evening's best example of starting with a really good ingredient and trying not to screw it up. Dressed simply in olive oil and Hawaiian sea salt, then grilled, these peppers were rich and smoky and almost meaty tasting.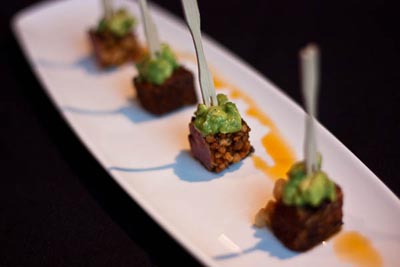 tuna tataki – avocado, japanese mustard, white balsamic, and crispy yuzu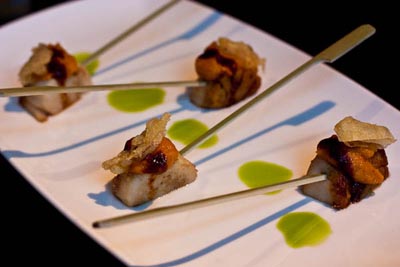 The seared sea scallops were the other favorite of the night for me. You may remember my tale of bloodied knuckles back when I tried to cut up and prepare a lovely kabocha squash? Well, the perfectly cooked scallops were paired with a sweet and floral kabocha puree. A hint of heat from the ginger made for a nice flavor contrast.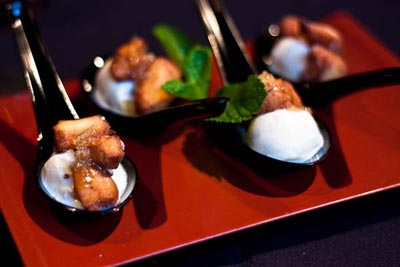 The gluten-free tofu beignets with vanilla ice cream and local honeycomb was a tasty capstone to a very pleasant meal. The beignets were crispy and light, the ice cream sweet but not too sweet, and the little hunk of honeycomb was smooth and sweet and delicious.
My perception of Kenichi has been altered (though to be honest, they were probably unfair to begin with). The food was wonderful – inventive flavor combinations, beautiful presentation, and so much variety.