The concept: world-famous French chef provides a multi-course dinner's worth of recipes on his website and invites us mere mortals to prepare the meal as well. We intrepid home cooks strike out into the world and throw our dinner parties, and then we all congregate back at the chef's site to share our photos and experiences. This is what chef Eric Ripert is currently doing with the Market Table Dinner Social at his very elegant website, Avec Eric.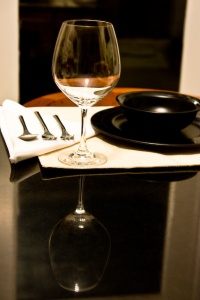 Chef Eric Ripert is, among many other things (cookbook author, entrepreneur, culinary community leader), executive chef and part owner of Le Bernardin restaurant (a restaurant I'd love to dine at someday), which has often been heralded as the best restaurant in New York City. His site, Avec Eric, to my knowledge began just this summer with a series of video posts featuring the chef himself whipping up uncomplicated but flavorful fare with an accompaniment of very detailed written instructions. When he announced his "dinner social" concept last month, my interest was piqued, but I was rather noncommittal. To be honest, I didn't want to be saddled down with a laborious dinner when the Thanksgiving holiday was so close. However, on the posting of his recipes a week later, any doubts about whether I would prepare the meal were quickly dissipated. Chef Ripert created a menu filled with relatively simple-to-prepare recipes that showcased a delightful array of flavors. Plus, in addition to recipes with well-worded instructions, the good chef also supplied a detailed planning guide to help us get as much prepared ahead of time as possible and supplemented that with a very complete shopping list. A week later, suggested wine pairings were posted, and the wheels were set in motion.
I began chipping away at the menu only a day ahead of time (the planning guide has you beginning your preparations a week ahead), but I still found the workload manageable and was able to put together a decent dinner for four (which would have easily served 6 to 8). Our dinner was made even more enjoyable by the fact that we had a friend in from out of town who we hadn't seen in several years.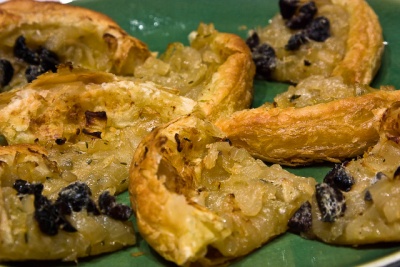 Our evening began with two different canapes. The Caramelized Onion and Olive Croustade was a decadent puff pastry base topped with caramelized onions, black olives, and parmesan cheese. It was salty and sweet and wonderfully rich. My puff pastry went a little crazy and puffed up a lot more than I expected it to (based on the photos that accompany the recipe on Ripert's site), but it was delicious nonetheless. In appeasement of my olive-hating-husband, I made one croustade with olives and one without, and was told that even the olive-free version was quite tasty. The Endive Spears with Blue Cheese and Duck Prosciutto couldn't have been simpler to put together. The only complexity, in my opinion, was seeding the pomegranate. I absolutely adore the flavor and crunch of fresh pomegranate seeds, and strangely enough, I generally tend to find prep work really relaxing. But seeding pomegranates is, to me, a tense and frustrating affair. I do a decent job and get lots of seeds, but it requires a finesse that I don't often take the time to employ. Also, I was unable to locate the duck prosciutto, but the regular pork prosciutto stood in as a perfectly acceptable substitute.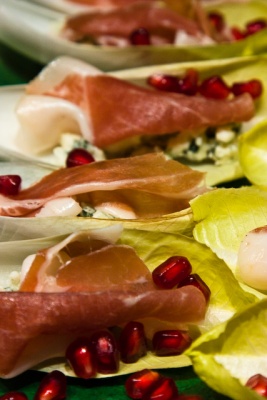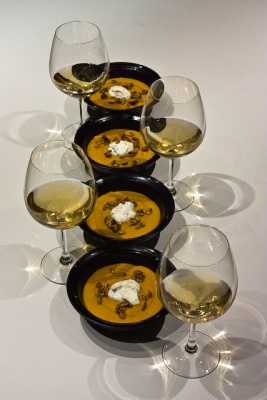 Next up was the soup – probably my favorite part of the meal. Fall Pumpkin Soup with Spiced Pumpkin Seeds was made with kabocha squash (also known as Japanese Pumpkin) – an ingredient that I've never worked with before. The recipe callede for peeling, seeding, and dicing the squash, and then cooking it down with onion and garlic in butter. As I balefully rocked and hammered and stuntingly sliced that incredibly hard shelled creature, I was reminded yet again that I should really think about buying a cleaver. Peeling that squash was very nearly a deal-breaker for me. Fortunately, I am very stubborn (and we have bourbon), so with an iron will, bruised and bloodied knuckles, and the help of a few nips of bourbon, I finished peeling and dicing the squash. Its aroma was incredible. Imagine pumpkin, only more floral. I don't know about the other folks who made the soup, but mine turned out to be incredibly thick. I actually used proportionally more chicken stock than Chef Ripert instructed in an attempt to make the soup more … soupy. (I'm wondering if the squash managed to dry out some over the length of time it took me to break down the thing.) In the end, it was still probably thicker than I'd have liked, but the flavor was rich and comforting. The soup was gently sweet, and the butter, cream, and aromatics definitely made their presence known. The garnishes were perfect (except I didn't fool with roasting a pumpkin just to use it as a serving vessel). The sweetness of the soup was beautifully offset by the spicy roasted pumpkin seeds (I'm not sure if this was the chef's intention, but I opted to purchase pumpkin seed kernels rather than dig the seeds out of a pumpkin and roast them as they were) and the slightly sour tang of the herbed crème fraiche.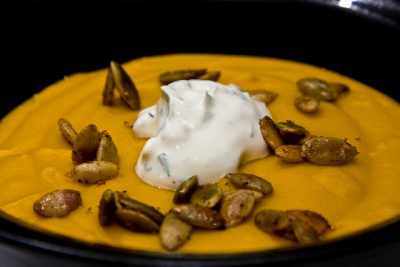 The main course was Roasted Leg of Lamb with Fingerling Potatoes and Marinated Market Vegetables. I had never prepared leg of lamb before, and was really excited for the opportunity. For the cost and convenience, I opted to use a boneless leg of lamb picked up at my local Costco, and it turned out wonderfully! Part of the preparation was to sort of slit the surface of the lamb and stuff the slits with garlic and rosemary and thyme. That simple bit of extra attention to the meat prep resulted in a wonderful smelling kitchen and an exquisitely flavored hunk of lamb. Per Chef Ripert's instruction, I routinely spooned the buttery lamb jus onto the roast throughout the cooking to keep it nice and moist. Even after holding it for a few hours in the refrigerator and reheating it later, it was still incredibly juicy. The fingerling potatoes were prepared the way I nearly always prepare them – tossed with a bit of olive oil, salt, and pepper and baked at a relatively high heat till tender, lightly browned, and utterly delicious. The "market vegetables" were a little tricky. The grocery store that I frequent didn't seem to have the baby root vegetables required. Add to that my husband's profound hatred of beets, and I wound up settling for carrots, parsnips, and turnips, all mature. The carrots and parsnips roasted up like a dream, but the turnips were horribly bitter. I don't know if that's true of all turnips, or if I just got extra lucky. Augmented with some boiled green beans and Brussels sprouts and dressed with a wonderful mustardy vinaigrette, our "market vegetables" were bold enough to stand up to the flavor of the lamb.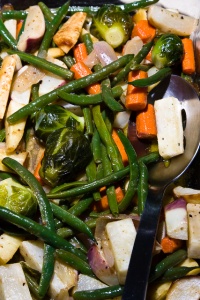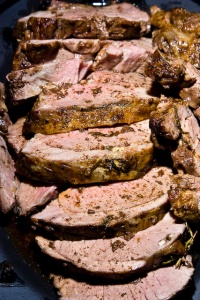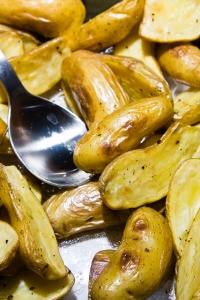 The dessert course, Maple Roasted Pears with Bourbon Chocolate Sauce, was absolutely incredible and ridiculously easy. The pears are gently roasted in butter and maple syrup until tender. The sauce was nothing more (and nothing less) than cream, semisweet chocolate, and bourbon (yes, I still had some left after peeling that blessed squash). Maple Roasted Pear + Bourbon Chocolate Sauce + Vanilla Ice Cream = Bliss. I couldn't get over how well those flavors combined – it was perfectly decadent yet light enough to not overwhelm after the many courses preceding it.
Chef Ripert offers up some generalized wine pairings. As suggested, we had a white burgundy with the canapes and soup. Crisp and not-too-sweet, it held up well to the richness of the food. For the lamb course, the chef suggests a good Bordeaux, but we instead decided to have an incredible Napa Valley pinot noir that we happened to already have on hand. And finally, for the dessert, the chef recommends a Moscato D'Asti, however, we opted instead to serve a nice rich port that we picked up during our Willamette Valley visit last year. The wines worked well with their respective courses, and were heartily enjoyed by all the dinner party participants.
The dinner was a success. Eric Ripert offered up some very elegant, accessible recipes and a solid plan for pulling the event together. And I am pleased to report that this is not the last of these events. He also has planned a Holiday Cocktail Party in December (menu to be posted on 12/1) and a Cozy Winter Dinner in January (menu to be posted on 1/5). For my part, I can't wait to see what he comes up with.