Every time I turn around, it seems I'm hearing about some fancy new trailer eatery that simply must be experienced. And darn it to heck if they aren't all down in the city – not where a traffic-phobic, parking-inept, awful suburbanites like me would typically journey for lunch. In fact, until this past Saturday, the only trailer eatery I had tried was Flip Happy Crepes. What happened Saturday, you might be asking? (When is she going to get to the point, you might also be asking?) Jodi of Tasty Touring fame hosted the South Austin Food Trailer Tour.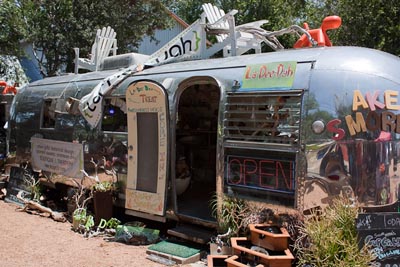 This was not the first Tasty Touring trailer tour, but it's the first one I've been on. It was meant to be a bicycling affair, but since we were coming in from way up north anyway, and since temperatures were supposed to hit 100 degrees that day, Sean and I and our friends Jeff and Sharon elected to drive.
The tour began with a few South Lamar trailers. (The hip kids call it "Slammo." I, being unburdened with hipness, still call it South Lamar.) The loose tour group more or less stayed together for the first three stops (Chris' Little Chicago, Taste No Evil Muffin Co., and Lulu B's), but after that, there were options. Most of the group went on the South Congress leg of the tour (hip = So-co), which covered: Hey Cupcake, Cornucopia, Crepes & Paninis, Vaquero, Cocina, Mambo Berry, Armadillo Coffee & Tea, Roppolos, The Mighty Cone, and Crepes Mille. We (and a few other stragglers) opted for the South First (hip = So-fi) leg of the tour: El Primo, Torchy's Tacos, Shuggies, Treat, Izzoz Tacos, and Holy Cacao.
Turns out, even with our air conditioned car to save us from the appetite-sucking heat, we lacked the gastrointestinal stamina to try every place on our route. We wound up skipping Shuggies, Treat, and Izzoz Tacos. Here's the run-down.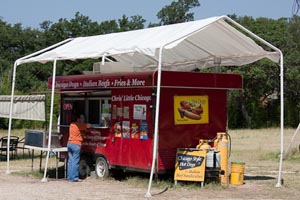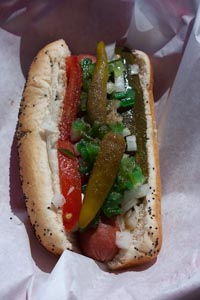 We got off to a pretty good start at Chris's Little Chicago (3600 S. Lamar / 78704). The Slaw Dog wasn't my favorite, but the classic Chicago Style dog, complete with tomato wedges, pickle spear, that crazy blue-green relish, onions, mustard, sport peppers, and a sprinkling of celery salt, was salty, spicy, messy, delicious. Also on the menu, among many other things, are Italian beef sandwiches. If we didn't need to conserve space, I'd have tried one of those as well.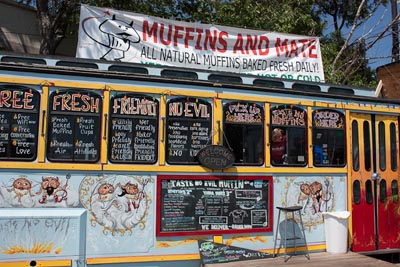 The Taste No Evil Muffin Company trolley is parked just outside the Taco Xpress on South Lamar. It is a feast for the eyes. The trolley is beautifully painted and the folks working there are warm and inviting. The ingredients that go into the muffins are all-natural and organic. Were I interested in satisfying my sweet tooth, I'm not sure these muffins would be my sin of choice. However, for breakfast or a snack, for me they'd be perfect. They aren't overly sweet, but taste beautifully of their feature ingredients. We tried the Blackberry Peach, The Chocolate Sinsation, and the Blueberry Buttermilk, and especially the first two were moist and delicious.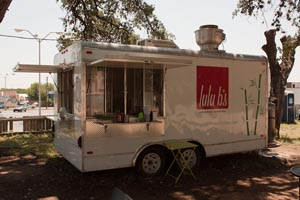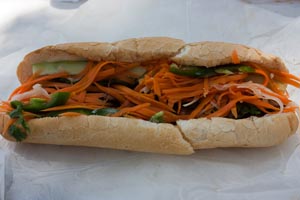 Lulu B's was one of my favorites from the tour. They serve up Vietnamese sandwiches, vermicelli bowls, and summer rolls from a tiny little trailer under a gigantic tree. We ordered sandwiches and oh holy god were they good. The sweet grilled pork met the pickled veggies, cool cucumber, and searing hot chiles on a wonderfully light and crispy hunk of French bread. (I've since been working to re-create this masterpiece at home, but no love. I think the deal-breaker is the bread I keep trying to use.)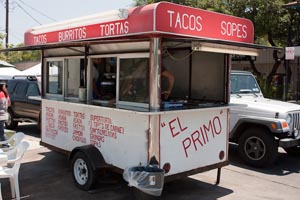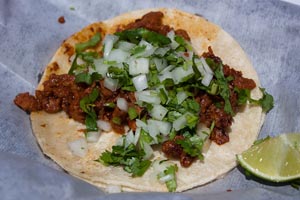 El Primo (2101 S. First St. / 78704) was also one of my favorites. When we walked up to the hot little trailer plunked right out in the unforgiving sun and surrounded by black asphalt, all we noticed was how good it smelled. They were churning out tacos to order, and Sean and I couldn't resist ordering a taco for each of us (we had been splitting our food to conserve space). The Tacos al Pastor, served on freshly grilled corn tortillas and topped with a healthy sprinkling of chopped onion and cilantro were incredible. The dribbles of sweat that accumulated on my face and neck did nothing to dampen my taco euphoria.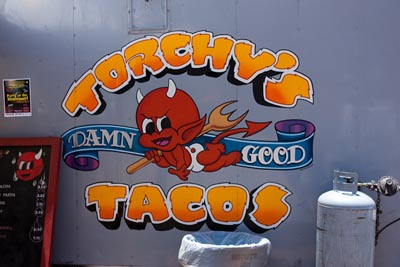 We had to try Torchy's. Interestingly enough, this was largely the reason we chose this leg of the trailer tour. However, I have to confess myself disappointed. The setting was wonderful. Big trees, lots of seating, many trailers all in one place (Torchy's, Shuggies, and La-dee-dah/Treat all occupy what is affectionately known as the South Austin Trailer Park and Eatery). But … I found my taco, the fried avocado to be overpriced and not all that spectacular. Too many people whose opinions I trust have raved about this place, so my guess is that I just ordered the wrong thing.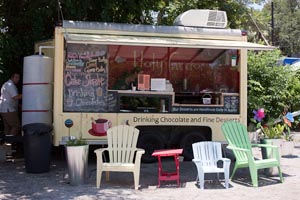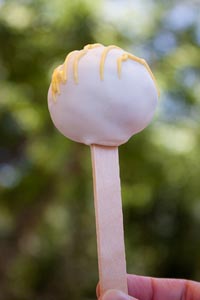 At this point, we were pretty full, so we skipped ahead to Holy Cacao. This dessert trailer is also on a fairly large, tree-shaded lot (shared with the big blue bus that houses Izzoz Tacos). This was my first cake ball. I went there planning to try the red velvet (easily one of my favorite cake flavors), but let myself get talked into trying the lemon cake.
For those of you who don't know what a cake ball is, they bake cake, crumble it up, mix it with some frosting to bind it, form a ball, then coat the ball in icing. My lemon cake ball was delicious. Dense and moist and served on a stick, it was the perfect snack with which to end a hot summer day filled with decadent eating.
Sean ordered the Frozen Hot Chocolate, and had he not already been so full by that point, he would have been beside himself with chocolate madness. As it happened, I had the pleasure of finishing his drink for him. I'm a big hot chocolate fan, and apparently now, I'm also a big frozen hot chocolate fan. Holy Cacao serves what they call drinking chocolate. This is the real deal - they use no prepackaged mixes or syrups. I whole-heartedly recommend it.
All in all, our little band of four had a great time. We went home a little too full for comfort, but it was worth it to try several different types of food in a single outing. And, of course, Jodi did a fantastic job of organizing the event. Looking forward to future touring events!