I had been wanting to eat at Flip Happy Crepes for a while. I don't remember how I stumbled across the place exactly, but it always looked interesting. Sweet and savory crepes are made-to-order and served out of what is apparently an old Avion trailer (thanks Food Network, I thought it was an Airstream) to adoring fans that sit around outside on plastic chairs and picnic tables happily enjoying their food. This is the kind of place I love - low key, small menu, unpretentious. Despite the oppressive Texas heat, this is where we decided to go for lunch today.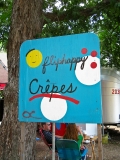 When we got there around 11:20a or so, the place was ridiculously crowded. The line was very long, and after we hadn't been in it for very long at all, one of the Flip Happy folks came out and warned us that they were backed up, and it'd be 45 minutes from the time we placed our orders to the time we'd get our crepes. I don't know if it's always been this crowded or if Flip Happy is enjoying the results of some recent publicity on the Throwdown with Bobby Flay show. The friends who went with us today to lunch, Jeff and Sharon, have the episode recorded for us, but we haven't gotten to watch it yet.
The food was so good that I'm guessing the lines may always be like this, especially on weekends. We decided to each try both a savory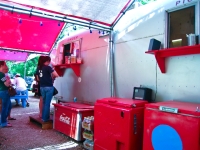 and a sweet crepe. My husband Sean ordered the shredded pork, cheddar, tobasco, pickle, and mustard crepe along with the day's dessert special: a whipped peanut butter, banana, almond, powdered sugar, and dark chocolate crepe. I went with the day's savory special: a smoked chicken and roasted veggie crepe with spicy harissa sauce, and feta dressing. My dessert crepe was predictable for me - lemon curd with blueberry sauce. These were all absolutely delicious and more substantial than I would've expected. The pulled pork crepe, with its odd zing from the pickles, was a fascinating combination of flavors that balanced each other perfectly. The harissa crepe was smoky-spicy and full of perfectly cooked vegetables and chicken. Our dessert crepes were also great. My lemon curd was wonderfully tart and tempered nicely by the sweet blueberry sauce. Sean's monstrously large crepe was a work of art, though my favorite part of it was probably the whipped peanut butter - so light yet so very very rich - delicious!




We unanimously decided that next time we would likely do two things differently. First, we would try to call in our crepe order ahead of time. And second, we'd almost certainly only order one crepe per person. We were struggling at the end to finish our desserts.