After a brief cold snap, the weather has returned to its early-spring-in-central-Texas glory. The sun is warm, but not yet blistering, and we still have the pleasure of a breeze stirring the air. The weather is back to being perfect, in fact, for hanging out on a restaurant patio nibbling on a pleasant array of tapas-style dishes and sipping some very intriguingly flavored cocktails. And that's just what we did recently (before the cold snap) at FINO, a restaurant that is described (since it's on the second story and occupies a corner) as having "a charming tree house feel."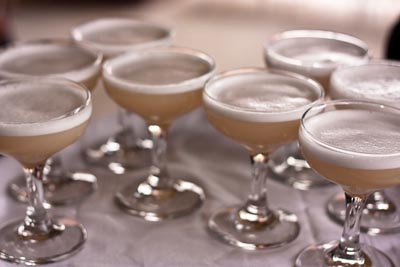 Paloma Flower
The menu was extensive, and the fine folks at FINO were very generous with their food. Endless plates of beautifully presented little morsels arrived from the kitchen in a steady stream. This onslaught of culinary delights was bested only by their hospitality. In fact, general Manager Brian Stubbs and Chef Jason Donoho were amongst the staff bringing out platters of food and drinks and carefully describing each new offering to us. And despite the very complete menu, it seems they just couldn't resist supplementing with additional items.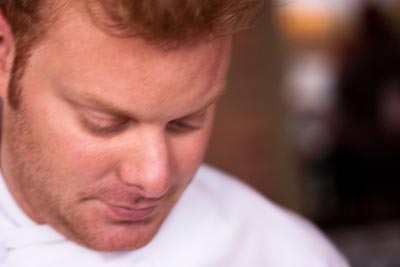 Chef Donoho
The Menu (as written):
Fried Anchovy Olives
Tomato Gazpacho
Fried Goat Cheese, Onion Jam & Honey
Scallop & Blood Orange Crudo
Crab & Avocado Bruschetta
Pork Belly, Spring Onion & White Bean
Coriander Crusted Tuno, Mint Tatziki
Fried Littleneck Clams, Paprika Aioli
Za'atar Braised Lamb, Celeriac Puree
Strawberry Semifreddo, Rose Water Coulis & Pistachio Tuile
They were every bit as forthcoming with their drinks. Four different exquisitely crafted cocktails were proffered throughout the early evening, and all four were distinct and delicious.
The Drink Menu:
Strawberry & Mint Sangria (Poteet Farm Strawberries & Fresh Mint, Can Fiexes White Wine, Brandy & Trevisiol Prosecco)
Bee Sting (42 Below Honey Vodka, Black Pepper Syrup, Lemon-Orange Juice, Sauza Blanco Tequila Rinsed Glass)
Paloma Flower (Pepe Z Reposado Tequila, St. Germain Elderflower Liqueur, Grapefruit & Grapefruit Bitters)
Irish Monks (Jameson Irish Whiskey, Chartreuse, Earl Grey Syrup & Lemon)
Here are some of the highlights (note: I've included as many photos as I could and went on to describe the dishes I was particularly fond of).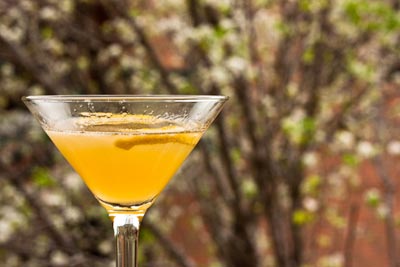 The decision (amongst the two of us) was unanimous - our favorite drink of the evening was called Irish Monks. For me, it was followed very closely by the Paloma Flower and the Bee Sting, but I think Sean is standing by those Monks. Bartender Bill Norris is now, in my mind, the master of unexpected but highly drinkable flavor combinations. The bitters, juices, and syrups are all made in house and used to great effect in these cocktails.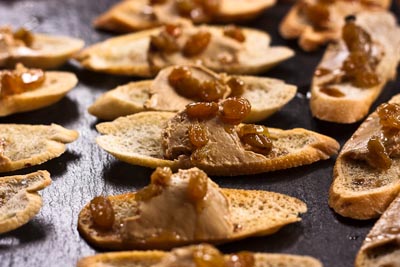 Bar none, my favorite dish of the night was the toast slathered with foie gras and sweet golden raisins, and it wasn't even on the menu. The plump brandy-soaked raisins were a wonderful sweet foil for the rich and savory foie gras.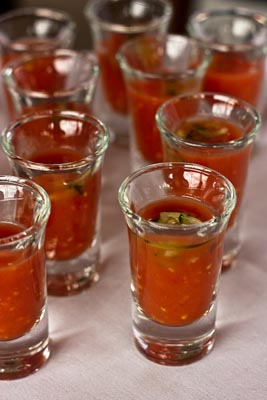 The tomato gazpacho was a tart and perky mouth full. Sean, who does not like tomatoes, even managed to enjoy his. Artfully presented in a shot glass, it went down as smoothly as the drinks.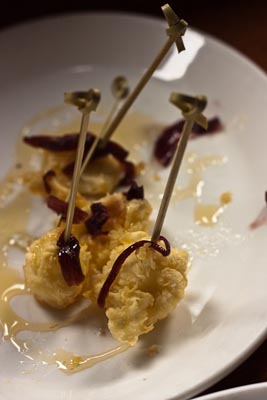 The fried goat cheese was simple, but darned tasty. I bet you're thinking something like: how could you go wrong with fried cheese??! And I'm with you on that one, except this little number, with its crispy outside and melty inside, was not at all oily, making it one of the best possible versions of fried cheese. Plus, the jam and honey stood as sweet counterparts to smooth the salty edges of the cheese.
The scallop and blood orange crudo was a fresh and clean bite. The raw scallop and sweet and ever-so-slightly bitter blood orange made for a cool and cleansing post-fried-cheese course. Playfully (and conveniently) presented in individual bites on spoons, I would quickly have become the lady hauling around 6 empty spoons if there hadn't been more food to try.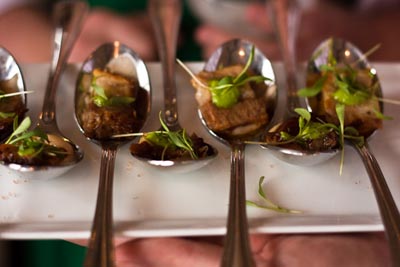 Pork Belly with Spring Onions & White Bean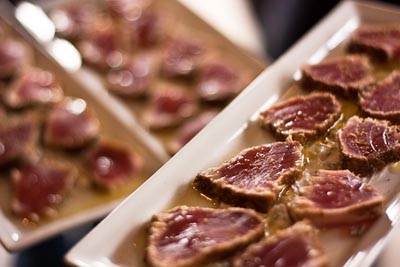 Coriander Crusted Tuna with Mint Tsatziki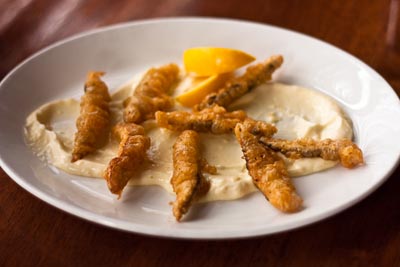 Another surprise item was fried anchovies served with lemon aioli. These were delicious. Anchovy is, in my opinion, one of those food items folks quickly dismiss. Too many memories of bad pizzas obscure the fact that these little fish, in the right hands, become a briny treat. (And in case it wasn't abundantly clear, Chef Donoho's hands appear to be the right ones).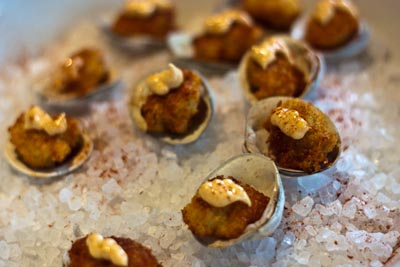 Fried clams were another favorite. Tender in their little golden-brown crusts, the clams were succulent and sweet and held up nicely to the zingy aioli.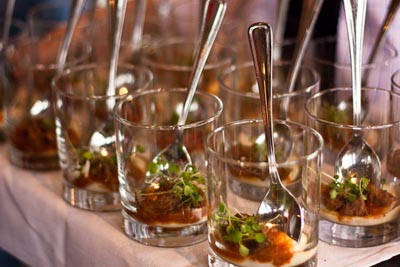 The za'atar braised lamb was, like many slow cooked meats, melt-in-your-mouth tender. The za'atar seasoning shifted it from comfortable to novel, and managed to wake up taste buds that were a bit tired from an evening of exuberant indulgence.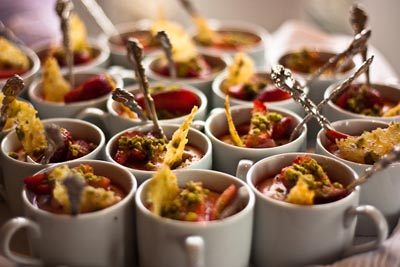 My favorite fruit is the strawberry. I could contentedly munch on strawberries fresh from the garden till I made myself ill, but the notion of a strawberry semifreddo felt sort of ho-hum to me. And then I tasted it. The bright strawberry flavor exploded in the mouth. With its rose water coulis and pretty pistachio tuile, it was the perfect ending to a very full evening.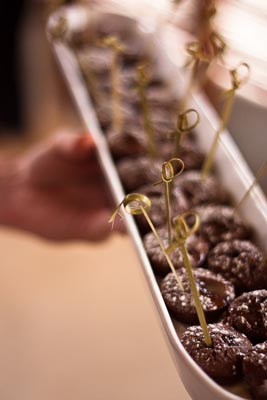 Except it wasn't the ending. Yet again, the FINO crew surprised us with an extra treat – tiny dulce de leche-filled chocolate cakes. I expect they would've been delicious on their own, but my senses were beaten into submission after the assault of the wonderful semifreddo. I had nothing left for the final dessert but a quiet utterance of "mmm, good cake."
I'm a little ashamed to say that we tried FINO once quite some time ago, and while we enjoyed it, hadn't been back. Certainly the patio, the great drinks, and the excellent food are great incentives to become a more frequent visitor. And the fine hospitality will have me grinning on my way in the door.
I had fun doing this last time, so I'm doing it again. Here are the posts of this event by my fellow bloggers:
[Apron Adventures: Feasting at Fino](http://apronadventures.blogspot.com/2009/03/feasting-at-fino.html)
[Boots in the Oven: Fino Mixes It Up for Us Blogger Types](http://www.bootsintheoven.com/boots_in_the_oven/2009/03/at-first-i-thought-me-and-the-lovely-wifey-had-accidentally-crashed-some-sort-of-badass-wedding-reception–classy-cocktails.html)
[Eating in a Box: Foodblogger Event: Fino](http://www.eatinginabox.com/2009/03/foodblogger-event-fino.html)
[Maggie's Austin: Fino: The Blogger Happy Hour](http://www.maggiesaustin.com/2009/03/11/fino-the-blogger-happy-hour/)
[Poco-Cocoa: FINO: The Blogger Happy Hour](http://poco-cocoa.com/?p=645)
[Tasty Touring: Oh So Fino](http://www.tastytouring.com/2009/03/oh-so-fino.html)
[this is life in austin: So you want to go to happy hour?](http://thisislifeinaustin.com/2009/03/13/so-you-want-to-go-to-happy-hour/)
Note:_ If I've missed your write-up and you'd like to be included, please drop me a line at: april AT thehungryengineer DOT com._