09 July 2008 – We got going relatively early today and stopped in to pick up breakfast malasadas at Leonard's. Malasadas (sometimes spelled malassada) are dough-nut-like creatures that are coated in sugar, and Leonard's is the place to get them. We got some that were filled (mine with lilikoi custard, Sean's with chocolate) and some that were not, and they were incredible.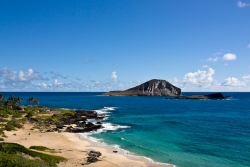 Fueled up on sugary, deep-fried goodness, we began our drive along the coastal route toward Kailua, along the southeastern edge of Oahu. Our first stop was Honauma Bay, a fantastic spot for snorkeling. Unfortunately, by the time we got there (around 8:30a or so), it was already packed to the gills and overflowing. We vowed to come back a different day and get here much earlier in an effort to beat the crowds and have a more enjoyable visit. Our next stop was around Makapu'u Point. We first drove past it and admired the fantastic view down at the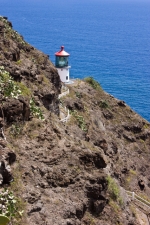 ocean and Rabbit Island and Makapu'u Beach. Then we backtracked and parked the car for a walk up to take a look at the Makau'u overlook and lighthouse. The hike itself is roughly two miles and all uphill on the way in. Also this part of Oahu is more arid than others, and consequently, with all the scrubby brush and prickly-pear growing, we'd almost have sworn we were walking through Texas for portions of the hike. The views were beautiful though – both as we were climbing up and once we got to the top. On the way up, we were treated to a fantastic view of Koko Crater rising from its surroundings. As the paved path took us around toward the sea, we got to watch the waves crash against the rugged black cliffs and were pleased to note that a cool breeze had picked up. Before we had gotten to the top, we got our first good view of the lighthouse. The Makapu'u Lighthouse is still functioning (since 1909), and while there's a path out to it, access is not permitted (apparently it was closed at some point in the '80s as an antidote to vandalism issues). From the top, you can see several miles of coastline and beautiful beaches.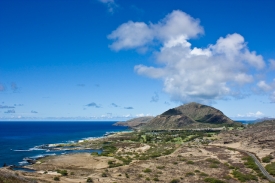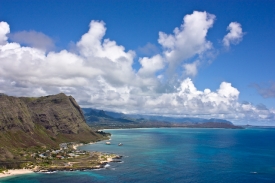 We had heard that Lanikai beach was supposed to be incredibly beautiful, so next we drove over to that area of the coast. Once we were there and figured out how to navigate the Lanikai area, we made our way down to the beach and sort of stopped short. It was much smaller than we had anticipated and had neither visible facilities to change in nor a bit of shade to relax under. So we instead got back in the car and drove the very short distance back to Kailua beach which was large and possessing of both facilities and suitable shade. Some of us swam and others of us sprawled out on our big beach towels and had a little snooze in the shade. It was a very pleasant way to kill a couple of hours.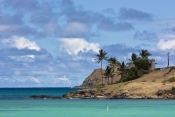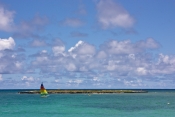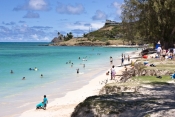 After our morning's adventures, we were too hungry to seek out an interesting place to eat, so we opted to simply stop at the first McDonald's we saw for a late lunch. Lunch was unremarkable, except for one thing. In Hawaii, McDonald's goes beyond the standard apple pie to offer up some more with fillings more at home to island palates. One that we tried was haupia pie. Haupia is a coconut custard type of thing that is a typical dessert on the islands. Wrapped in the flaky crust that would normally be surrounding apple pie filling, it was fast-food heaven.
We got back to our hotel and relaxed briefly before deciding that we had been in Waikiki for a couple of days now and we had yet to walk on the famed beach. So, off we went to wander a bit on Waikiki Beach. It was insanely crowded, and we were pretty tired from the day's activities, so our walk wasn't too long, but it was enough to give us a good dose of the Waikiki experience – lots of people occupying lots of beach all doing lots of different stuff.

We went back to our hotel to clean up for our event of the evening: dinner at Alan Wong's. After a lengthy dinner filled with laughter, diverse ingredients and flavors, and WAY too much food (which I've covered more fully here), we all made our way back to our rooms to sleep like the (very well-fed) dead for a few hours.