Up to this point, my fine dining experiences in the islands hadn't been meeting up with my expectations. This was so true in fact, that I very nearly canceled our dinner reservation at Alan Wong's. I am oh-so-glad that my wise spouse talked me out of it!
We showed up for our late evening reservations at the boxy little building that could have passed for a warehouse and let the valet take our car. We made our way up to the third floor and walked into an island oasis. The decor, sort of an understated blend of elegant and island, was warm and inviting. There were huge windows overlooking the city on the far wall from where we were standing. The restaurant was extremely full, and filled with conversation, but not overly loud. After a few minutes, we were shown to our table. Menus were handed out, and Sean and I were pretty convinced we wanted the seven-course tasting menu, though we did notice that everyone at the table had to order it. One of our party wasn't interested, so I went into backup-plan mode and chose an appetizer and main course that would satisfy my desire to try new ingredients and preparations. Our waiter came back and quietly informed our table that they were out of a few things. Naturally, those things included both items on my backup plan. In desperation we pleaded with the waiter to allow four of us to have the seven course menu and one to have something different. After he conferred with the chef, it was decided that that was okay. Hooray!
Our first course was Yellowfin Tuna and Kona Kampachi Sashimi "Four Ways". It was wonderfully fresh and inventively flavored and garnished. My favorite piece of sashimi was the Kampachi with coconut yuzu sauce that was served with this sort of pickled ginger blossom garnish. Our next course was the "Soup and Sandwich" course. The wonderfully fresh and creamy tasting tomato soup was served in a martini glass topped with a sheet of toasted parmesan cheese. The sandwich was a blissfully rich mixture of mozzarella, foie gras, and kalua pig, done up grilled-cheese style. The richness of that sandwich alternated with sips of the tangy soup made for a heavenly second course. Next was something sort of different. It was a Kabayaki Unagi Foie Gras Pork Hash Terrine (photo below). I have never had a warm terrine before, but this one was. This feels like a slight to the dish, even as I'm typing it, but imagine the most moist, sweet, and flavorful meatloaf you've ever had, and you'll almost begin to get the gist of what this terrine was like. The texture combination was phenomenal with the flaky unagi, the sturdy pork, and the positively unctuous foie gras, and that savory sweet flavor left a lasting impression. The next course was a Steamed Kona Kampachi, which came out served in a little cup with the perfectly steamed kampachi atop a dried scallop truffle risotto that had been topped with a creamy layer of flan. As in-your-face as the flavor of the previous dish had been, that's how subtle this one was. It was like high-end comfort food, warm and soothing and filling. It was here that I began to notice that I was getting full already. Unfortunately, this dinner was way too good to let common sense kick in at any point and urge me to quit eating. The next course was Kona Abalone and Lobster. The water-poached lobster was perfectly sweet and very tender. Since they were sliced thinly, the abalone, while still having a slightly rubbery texture, was actually quite delicious. The seafood and mushrooms were all sitting in this vibrant green sauce. After some quizzing of our server, I learned that this oil was flavored with negi, a sort of Japanese green onion. Our final savory course came out – Slow Poached Maui Cattle Company Rib Eye was what was listed on the menu, however, in addition to the poached rib eye, there was also a super-tender steak roullade. These were plated with roasted Maui onions, a crispy potato cake and a variety of steamed veggies. My very favorite thing on this plate was that roulade. I found the poached ribeye to be a little tough (but I was the only one at the table who had that complaint, so maybe I just got an unforgiving piece of meat) and the vegetables largely unworthy of my now-precious stomach real estate. The roulade though was wonderfully tender and soaked in this brown sauce that seemed to be the very essence of beef, only better. The roasted onion provided a nice sweet note to balance the flavor of the meat, and the potato cake offered up a good texture variation with it's crispy outer crust and almost fluffy interior.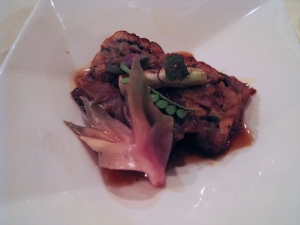 I heaved a big sigh and hoped (foolishly) that our dessert sampler would be small. I enjoy having coffee with my dessert (of course, after our active day, I was also hoping to enjoy sleep, so I ordered decaffeinated). They served Kauai coffee, which was light and smooth and exactly what I was looking for, and it came out in an individually sized French press. I was just settling into my coffee, when they brought the dessert plates. They … were … huge. I almost cried. There were four picture perfect desserts all lined up and looking just delicious. I thought about asking for a doggie bag, but most of them were made with ice cream. These weren't detailed on my menu, so here's what my food-addled memory was able to retain (from left to right): Crispy sugar-bowl filled with sweet tapioca and topped with fresh fruits (including very fragrant star-fruit / carambola) and (what I remember as being) lilikoi sorbet, Banana ice cream in a lumpia wrapper topped with vanilla ice cream topped with strawberry syrup, Coconut sorbet on shortbread cookie, and finally Chocolate cheesecake. I managed to at least taste each dessert and did a fair amount of damage to at least the first three, but I was in rough shape when I was finished. Shortly after I had proclaimed to the table that I literally could not consume another single bite of food, our waiter came by with little after-dinner chocolates for us to have. I grinned sheepishly and pocketed mine to for later.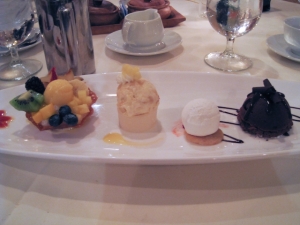 As we rolled ourselves uncomfortably back to the hotel to walk uncomfortably up to our rooms and crawl uncomfortably into bed, all I kept thinking to myself was this: It was totally worth it.