Last week was kind of crazy. Over the space of four days, The Hungry Engineer site has been given awards three times by fellow bloggers. I've been since trying to come up to speed on blog reward etiquette, and I'm guessing part of that is not sitting on those awards for as long as I have. (Humble apologies, Internet!) The first one, The Excellent Blog award, was turned around pretty quickly. At long last, here are the other two.
First, a brand new award, the 2008 Fabulous Food Blogger Award was given to me by Jessie at The Hungry Mouse. If you read my last award post, you already know that I love her blog. With beautiful new recipes every day, it's worth it to check in often.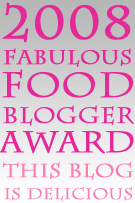 Here are the folks I'm delighted to pass this on to …
Doug at Hugging the Coast covers all manner of food topics on his site, the majority of which seem to be regional fare, which is fantastic. His Shrimp and Grits Tart is a creature of beauty.
Melissa at Alosha's Kitchen is an interesting one for me. What got me hooked on her blog was this post about her dealings with the folks responsible for Cook's Country – it was an eye-opener for me. However, what keeps me coming back is her earnest approach and her candor … oh, and her very lovely food!
Katie at Thyme for Cooking is a great storyteller. She draws you into her life and lets you feel her angst and joy. And then she colors her prose with wonderful and often very straightforward recipes.
Julie at Julie Jams is a riot! She writes in a conversational matter and has an excellent sense of humor. Reference one of her more recent recipes: Maverick Minestrone and Gotcha Foccacia.
Farina at Salt and Turmeric has a blog full of wonderful Malaysian recipes that are clearly explained and well photographed. This is an excellent site to visit if you'd like to learn more about this fascinating cuisine.
Next, the Arte y Pico award was awarded to me by Kang at London Eater. Again, you already know I love the London Eater site. Kang's well-written reviews and descriptions will having you wanting to visit London in October, even if you're comfortably tucked away in (relatively) warm and sunny Texas.
There are a few rules associated with this award:
> Pick 5 blogs that you consider deserve this award, creativity, design, interesting material, and also contributes to the blogger community, no matter of language.
> Advertise name of the author and also a link to his or her blog to be visited by everyone.
> Each award-winner, has to show the award and put the name and link to the blog that has given her or him the award itself.
> Award-winner and the one who has given the prize have to show the link of "Arte y pico" blog, so everyone will know the origin of this award.
> Share these rules.
Foong at The Food Site makes beautiful food. She also has a penchant for seeking out Penang street food and photographing it for those of us without such amazing access to enjoy as well! Heaven help me, she's even willing to eat bugs and worms … on camera!
Cenk's Cafe Fernando site is an absolute feast for the eyes. The site design is beautiful and the photography is second to none. As if all that weren't enough, his recipes are outstanding as well.
Jo at The Adventures of Kitchen Girl is a superhero. She cooks, she works, she takes care of her family. And, she finds time to write an excellent blog as well. Not only that, but she's marvelously involved in the food blogger community. How she finds time to pull all this off, I'll never know.
Lynn at Bentoism constantly plies the reading public with excellently prepared bentos of all shapes and sizes. For me at least, there is always some new food preparation technique or recipe to be learned when I visit her site.
Kelly at Flavor a Deux has an elegant site filled with lovely and delicious recipes accompanied by photos that make my mouth water. Her Chai Spiced Banana Muffins with Pistachios sound like they'd make for a heavenly breakfast.