It seems like ages ago now that I first subscribed to Gourmet. I wanted to learn how to be a better cook. I had graduated from college and learned a few basics, but at the time the Internet was kind of a sketchy resource, and I didn't have the experience to tell a good recipe from a bad one. My solution was to subscribe to a cooking magazine. One of the few I had heard of at the time was Gourmet, so that's the one I chose. From the first day, I was hooked.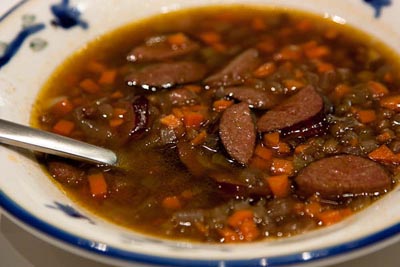 In my very first issue, I happened across this interesting soup recipe. I had never made soup from scratch before. The recipe for French Lentil Soup in my October 2001 issue of Gourmet was sort of a revelation for me. Its ingredient list and cooking method were amazingly straightforward, and it could be made in under an hour. Turns out it also reheats really well and can be considered a complete meal so long as it's served with a nice crusty bread.
I have now been making this soup for over eight years. My taste buds often miss out on subtle flavorings, so you'll notice that ingredient amounts have been altered a bit to make the soup's flavor more pronounced. Sean and I both enjoy it immensely. It comes together fairly fast, provides for some lunch leftovers, and can often be constructed of items we have around the house anyway … especially now that I've started smoking sausage of my own.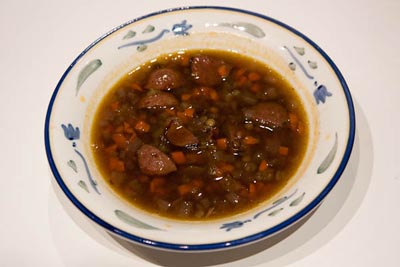 French Lentil Soup with Sausage
_adapted from [Gourmet](http://www.epicurious.com/recipes/food/views/French-Lentil-Soup-with-Sausage-105580)_
2-3 tablespoons olive oil
1 medium onion, finely chopped (shoot for 6-8 ounces by weight)
2 medium carrots, finely chopped (here again, about 6-8 ounces)
1 celery rib, finely chopped
1 ¼ cups French green lentils (you can use the regular brown ones, but they need more water in which to cook and to me, don't taste as good)
6 cups water (8 or more if you're using brown lentils)
1 ½ teaspoons salt (or to taste)
¼ teaspoon ground black pepper (or to taste)
6 ounces smoked sausage, sliced on the bias into ¼-inch- to ½-inch-thick slices, depending on your preference
2-3 tablespoons balsamic vinegar
Heat 1 tablespoon olive oil in the bottom of a Dutch oven or other heavy pot over medium-high heat. When oil is hot, sear the sausage slices on both sides till they're warm and a bit browned. Set aside.
Add the onion and cook, stirring occasionally till lightly browned, five minutes or so. Add another tablespoon or two of oil to keep the vegetables from sticking and add the carrots and celery. Cook these till they're softened, another five minutes.
Add the lentils, water, salt, and pepper and bring to a boil. Reduce heat and cook till lentils are soft, about thirty minutes. Add the sausage to the mixture about halfway through the lentils' cooking time.
When lentils are softened, add two tablespoons of balsamic vinegar. Taste the soup at this point. Alter salt, pepper, and vinegar to suit your preferences.
Serve with good crusty bread and, if you're so inclined, a glass of robust red wine.