This weekend I went on sort of a cooking binge. I went grocery shopping on Friday morning and have been cooking like a madwoman ever since. Here's a rundown with links to the recipes where relevant.
Friday during the day, I baked a really nice zucchini bread. It turned out to be a fairly nutritious loaf, given that the flour was at least partially whole wheat and that flax seeds were ground up and included in the mix. It's a nice moist loaf that's full of flavor and not awful for you. And it has served as a really handy breakfast and/or afternoon snack since I baked it on Friday.
Friday night, we had Fresh Corn and Scallop Johnnycakes with Green Onion Sauce. They were fun to make and really tasty – kind of our last grab at summer flavors before the fresh corn isn't worth buying anymore. Imagine little savory pancakes with a slightly crunch cornmeal body countered by the sweetness of fresh corn kernels and little chunks of scallop, all dolloped with a spicy-tangy green onion sauce. Yummmmmmm. Now, I will say that they weren't very pretty – they could've been, I'm sure (the picture in the Cooking Light I worked from is beautiful). To say my pancake flipping technique is abysmal is actually an understatement.
With these, we had some super-yummy, super-easy sweet potatoes. You basically, peel them, quarter them length-wise, toss them in a bit of salt and pepper and then bake them in a high-heat oven till cooked through on the inside and caramelized on the outside.
Saturday evening, we feasted with some friends of ours on some Thai Style Steamed Dumplings. These dumplings are a favorite of Sean's, and I've made them several times. They are consistently good and reasonably easy to make (though the folding of the wrappers takes a little practice, and I still don't claim to be terribly good at it). With them, we served Asian Slaw and Coconut Rice with Carrots from the Fish without a Doubt cookbook. As yet another veggie side, we also had edamame pods. The dinner turned our really well, and we had a nice evening. (Plus, Sean had leftovers for lunch the next day.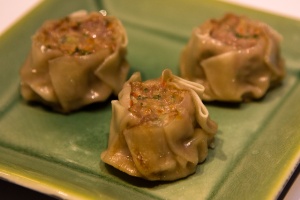 Yesterday during the day, I baked a really delicious walnut boule. I love this bread. It was easy to make and its flavor is mild but wonderful. My master plan was to serve it with the pear butter (more on that in another post) I was making, but of course, that took a little more time than I had accounted for. Nevertheless, the bread and pear butter turned out well.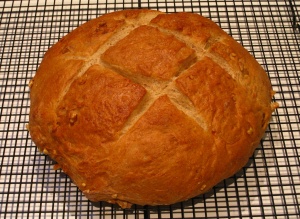 Finally, last night, I made a really great recipe for our Sunday supper. We had Soba and Slaw Salad with Peanut Dressing. It's a wonderful mixture of cooked and cooled soba noodles, red cabbage, shredded carrots, green onions, and shrimp all tossed together with a creamy-spicy peanut butter dressing. The flavors were really good (though Sean requested that I de-tangy the sauce a little for next time), and the slaw was actually quite filling. Plus it was a nice cool salad, which was perfect given the weather. Believe it or not, here in Texas it was 90 degrees outside yesterday, and I hear it's supposed to be the same today – happy first day of fall!
Believe it or not, even after all that cooking, I still have enough food for a few more meals before I have to hit the store again. I'm sure there are people reading this who are wondering why I insist on torturing myself this way, but to me, this was a banner weekend. I got to cook lots of good food, I got to feed my spouse and my friends, and I got to enjoy the fruits of my labor. (Of course, this morning I'll have to deal with the mountain of dirty dishes I created yesterday that I couldn't cough up the energy to deal with last night, but it's worth it.)