I have been hunting around for a decent fish cookbook for a long time. I love well prepared fish dishes, but I have had difficulty making them myself (outside of grilled salmon) to my satisfaction. You can only imagine my glee in discovering in my June edition of Gourmet that not only is Gourmet starting a cookbook club but that the first book they're suggesting is a fish cookbook!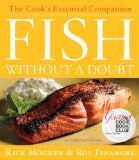 Okay, so maybe the notion of a cookbook club is a little bit corny, but seriously, these folks see and test a lot of cookbooks. I feel comfortable that they will know a good one when they see one. Plus, I went to the bookstore and checked it out. The book is called Fish Without a Doubt: The Cook's Essential Companion
by Rick Moonen and Roy Finamore, and it is a work of art. The photography is gorgeous, and a quick browse through some of the content showed me that technique was amply discussed and that the recipes read well. The final nudge I needed to purchase the glossy hard-cover book was the 15% off coupon I had brought with me just in case.
In giving it a more thorough look at home, I discovered even more reasons to love the book. There's a well-photographed section on how to prepare whole fish and shellfish for cooking. Theoretically now I could (semi-) comfortably clean a squid. This is new information for me. It provides buying and cooking tips for various fish types. The authors applied a fair amount of environmental savvy and health consciousness to the fish choices suggested in the recipes in this book. Also, one of the biggest problems I contend with is having a recipe in mind, going to the fish counter, and then either having the required fish not be available or looking like the two or three pieces left had maybe been around for a while. Substitutions are listed out for the fish in each recipe.
The book is organized by preparation method (poached, sauteed, etc.), and some of the preparations can seem elaborate. This is particularly true when you realize that a couple of your ingredients are actually references to other recipes in the book. For instance, there are sections toward the back that cover things like relishes and spice mixes and side dishes. There's even a dessert!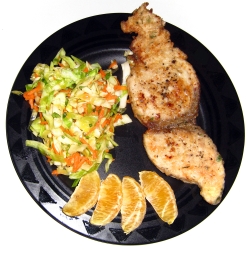 Naturally proof of the book's greatness must be obtained, so here's what I made for dinner. Chicken-fried Trout was the main course. As it happens, I couldn't find trout I was happy with, so armed with my list of substitutions, I let the guy at the fish counter talk me into something else anyway. (I believe it was labeled Naigiri, but my memory could be failing me.) It called for marinating the fish in buttermilk and a variety of aromatics for a while before breading it and frying it. Additionally, this recipe referenced a Green Tartar Sauce that sounded very good, so I prepared that as well. In looking at the photos in the book, the chicken-fried trout was pictured with an Asian Slaw, so I went for that also. And that recipe referenced an Asian "Vinaigrette", so I also prepared that. See what I mean about this recipes referencing other recipes thing? In an effort to reduce the seemingly daunting task, I spaced the preparations out over a day or two, and that seemed to work pretty well.
The meal was an absolute knock-out (pictured here without the tartar sauce). The fish was perfectly cooked and you could really taste all the goodness that went into the marinade. A tangy, herbaceous note was provided by the tartar sauce. And last but not least, the Asian slaw provided a crunchy, flavorful counterpoint to the rich fish and sauce. On the strength of this meal alone, I would recommend this book. However, I will be trying more recipes and will let you know how they turn out.