Johnson's Backyard Garden CSA (Community Supported Agriculture) Box 5 brought us several new items. We received a couple bunches of mustard greens, an avocado, and a big fat rutabaga (a vegetable I haven't tried before). This is part of why we decided to go the CSA route - to be forced to try veggies we wouldn't ordinarily think to buy. With this post also, I'm going to shift from explaining every little thing I do, to just relaying the recipes that were most interesting.
![CSA Box 5 group shot](/images/CSABox5Group_small.jpg)
Box Contents:
2 grapefruits
4 oranges
1 avocado
small bag of lettuce (about 2 ounces)
bag of broccoli (about 8 ounces)
bag of small red potatoes (about 14 ounces)
small bunch of radishes
2 big bunches of mustard greens (I swapped our dill for one of the bunches)
1 rutabaga – about one pound of rutabaga and a half pound of rutabaga greens
small bunch of green onions
small head of cabbage (about 8 ounces)
carrots (about 1 ½ pounds)
All the mustard greens and the rutabaga greens went to make Brown-butter Creamed Winter Greens, which we enjoyed with a big slab of savory southern cornbread. The mustard greens made this a tad bitter, but I found the bitterness pleasant when paired with the cornbread.
The avocado was diced and used to top big, steaming bowls of red posole. The posole was a mildly spicy, warming dish and the creamy avocado was a nice textural addition with strips of crisp fried corn tortilla.
Then I thought better of it and thawed out the carrots (which had sadly become limp and kinda spongy). With them, the potatoes, and the rutabaga, I made Roasted Root Vegetables with Rosemary. As I only used those vegetables, I reduced the olive oil, rosemary, and garlic by half.
We had sort of worn ourselves out on coleslaw with the last cabbage we had gotten, so this time I tried an interesting version of cooked cabbage. It's fortified with apples and laced with cream and mustard. It may sound strange, but it turned out very nicely for us. (We made the Mustard-Cream Cabbage portion of this recipe from Serious Eats.)
We went savory with the oranges and tried out this recipe for Orange-Soy-Braised Pork Ribs. This is mostly an excuse to offer up my most recent oxymoron: boneless ribs. When the meat counter guy asked me if I wanted them, I grinned and told him I'd try 'em out. But serious, a rib is a bone. I just ordered boneless bones. Anyhow, the orange-soy-braised ribs were nice and tender and vibrantly flavored, but I think they would have been more succulent had I used bone-in ribs instead.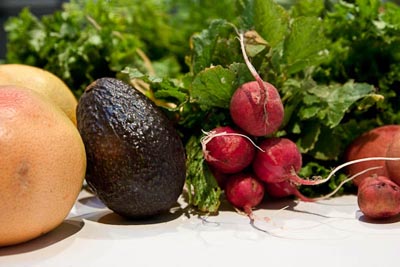 And finally, it pains me to admit this, but I stored my radishes and green onions badly, and consequently, by the time I wanted to use them, they were brown and soft.