The bacon brownies from last November were fantastic, and now that we're curing our own bacon, I thought I would take another stab at using bacon as a dessert ingredient. I decided to go a different route this time. A very simple recipe for blondies can be found at the Smitten Kitchen site along with a laundry list of suggestions for flavorful additions to the base recipe. Two additions popped immediately to mind: bacon and bourbon.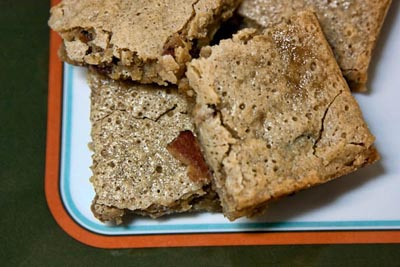 But about the bourbon … We only had a little bit left, and it's kinda swank (at least for my budget). So … I used the not-very-swank-at-all rye and saved the bourbon for drinking – heh.
In the end, the blondies were very good. The rye added a nice flavor without making the blondies taste too boozy. And of course, the bacon lent a smoky-salty flavor that offset the sweet blondies very nicely. Both of us felt like the rich chocolate flavor of the brownies from last year held up a bit better against the strong flavor of the bacon than the caramel / molasses of the blondies did, but I would happily make either of the recipes again.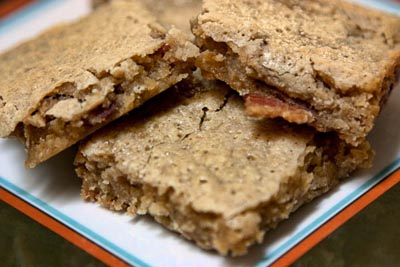 BACON BOURBON BLONDIES
_adapted from [Smitten Kitchen](http://smittenkitchen.com/2006/11/blondies-for-a-blondie/) (who adapted from How to Cook Everything, by Mark Bittman)_
8 tablespoons butter, melted
1 cup brown sugar
1 egg
¼ cup bourbon or rye whiskey
1 teaspoon vanilla
pinch of salt
1 cup plus 1 tablespoon flour
3-4 ounces bacon, fried crisp and broken into roughly ½-inch bits
Preheat oven to 350-degrees (F).
Butter an 8" x 8" metal baking pan. Fit with a parchment paper sling if desired to aid in blondie removal post-baking.
Beat the melted butter with the brown sugar until well blended. Add the egg, bourbon or rye, and vanilla and beat till smooth.
Add the salt and flour and stir just till blended. Gently stir in the bacon pieces, and spread the batter evenly in the prepared baking pan.
Bake 20-25 minutes or just until set in the center. Cool completely before cutting.