We decided to try out Blue Star Cafeteria on a whim. The first surprise on entering the restaurant was that it wasn't a cafeteria at all. The aesthetic was a blend of mid-century modern and reservedly industrial – the place looked nice.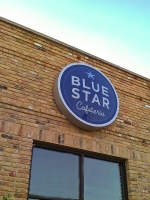 We were seated and brought our menus promptly. Despite the high ceilings, the noise was a little overwhelming, and it was difficult to hear our server. On looking at the menu, we noticed a variety of home-style favorites intermixed with fancier fare as well.
For my appetizer, I chose crispy artichoke hearts. They were ever-so-slightly breaded in semolina and fried and served with a garlicky anchovy dipping sauce. This dish was incredible – I think I could've eaten it all night. The artichoke hearts were tangy and succulent and the breading wasn't heavy at all – really, it added a little texture and let the artichoke flavor take center-stage. I also snaked a bite of Sean's grilled cheese appetizer. It too was quite delicious, though there was a lot of it. Had I gotten that for my appetizer, I'd have been too full to go on.
For my main course, I went with the crunchy cod with tartar sauce. It was served with carrots and green beans as the side dishes. The cod was perfectly cooked and true to the name of the dish, had a wonderfully crunchy crust. The tartar sauce it was served with was well-balanced – not too tangy, not too heavy on the mayo. The carrots were nice – they were still firm, but not raw and had a pleasantly sweet and citrus flavor. The beans on the other hand, while having a good flavor, were rubbery and not very fun to eat.
One thing I must compliment the restaurant on is the involvement of their staff. Our server was very attentive, offering suggestions when asked and making sure we had everything we needed throughout our meal. The restaurant's manager, Kim, came and spoke with us as well and made sure we were having a good experience. I'm normally one who wants to be left alone to enjoy her food, but in this case, I thought the effort extended was sufficiently thoughtful without being intrusive. I was left feeling like a valued patron who hadn't just had her dinner interrupted unnecessarily.
For dessert, I settled on the lemon sorbetto. It was lemony sweet and not too heavy – the perfect ending to a very decent meal.