By this past Friday, we needed a break … in a bad way. (Without belaboring the point - in addition to dealing with The Ongoing Medical Adventures of our Cancer Cat, our outside kitty has now been missing for nearly a week. It may not sound like much, but for us, these things are a big deal.) Generally around these parts "take a break" translates to something not unlike "seek Tex-Mex food and margaritas".
We wound up at Maudie's Milagro with a couple friends for Friday evening drinks and dinner. The atmosphere at Maudie's is, like many Austin joints, casual and there's a very nice deck for enjoying the lovely "fall" weather. Our wait was lengthy (go figure on a Friday night), but we had beers and margaritas while we waited, and since the evenings have finally cooled off to more tolerable temperatures here lately, we were able to sit outside and enjoy some friendly conversation for about an hour while we waited for a table.
After finally getting seated (we chose "first available" and unfortunately didn't get to sit on the deck), we munched on chips and salsa and perused the menu. The menu is fairly extensive and includes all the things your Tex-Mex heart might be longing for. You could have breakfast if you were so inclined. The old standards (tacos, burritos, enchiladas, fajitas) are well represented here. Heck, if you really needed to, you could even have a plain old cheeseburger. By the way, Maudie's has fantastic salsa. Thick and rich and deliciously tomatoey, we could've eaten it all night. You might elect to be wiser than we were and order an appropriately small main course (or share one) to account for all the chips and salsa you will fill up on while waiting for your food to arrive.
We placed our orders without too much fanfare, and proceeded to wait what felt like ages for our dinner. I ordered the chipotle shrimp stuffed avocado – which was an avocado skin filled with mildly spicy shrimp and diced avocado tossed in a poblano cream sauce. Sean ordered Josie's Enchiladas – which were cheese enchiladas baked in a chile con carne sauce and then topped with chile con queso. I absolutely loved mine (and probably would've loved it even more if I wasn't already full of chips and salsa by the time the dish arrived). It was rich and creamy and well seasoned, and the tender bites of shrimp and avocado simply melted in my mouth. Sean's enchiladas were sufficiently good, but he felt that he had had better elsewhere. Our friends had breakfast tacos and migas and they both seemed very pleased with their food.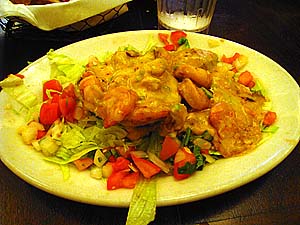 For Maudie's Milagro, I'd be inclined to say that you're mostly going there for drinks and atmosphere, and both of those are pretty good. But you could certainly do worse than eating there as well. My stuffed avocado was really tasty, and the bite or two I had of Sean's enchiladas were, in my estimation, sort of subtle but certainly delicious. My only recommendation might be to avoid a Friday night if you can't tolerate the wait.