In any medium to large city, at least, here in the United States, you constantly hear about which restaurants are shutting down and which new ones are opening up. It's a difficult business, to be sure. We are a fickle public, constantly interested in something new, and less than forgiving of an occasional bad experience. For that reason, I was fascinated to find that tucked away in Bessemer, Alabama (near Birmingham), is a restaurant that's been around for more than a hundred years – The Bright Star.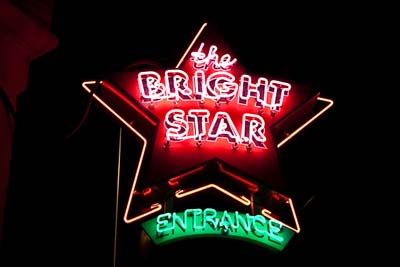 I had been looking through old issues of my cooking magazines, trolling for good food adventures to partake of over the holidays, and I saw The Bright Star listed. After suggesting it to my husband Sean, he pointed out that it was his mother's favorite restaurant, and we decided to work it into our itinerary.
The Bright Star opened humbly in 1907 as a small cafe, a horseshoe-shaped bar providing its only seating. Today, in its fourth location, it has grown considerably. Even when we visited shortly after Christmas, the tables were full and the service was bustling. The friendly wait-staff were chatty and attentive, and even though they were obviously very busy, we were never made to feel rushed.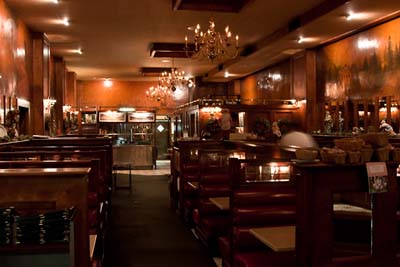 The restaurant serves steak and seafood, incorporating flavors from a range of sources, (the Grecian roots of the owners are often evident here). Squash casserole rubs elbows with Greek-style tenderloin. Blackened fish makes an appearance. There were plenty of options for our very large party to choose from.
We began our meal by sharing a gigantic plate of Fried Beer Battered Mushrooms. The mushrooms themselves were wonderfully prepared, their light crispy coats in perfect balance with the meaty mushrooms hidden within. The "special sauce" was a fantastically creamy, wickedly pungent horseradish affair – it was incredible – and it's a shame lapping it up straight from the bowl would have been frowned upon.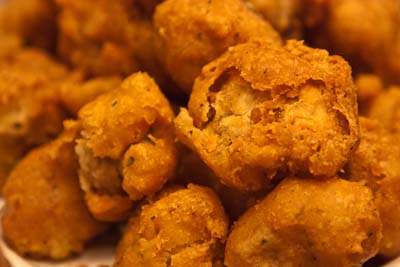 My husband Sean, amusingly enough, had the Texas Special (we've lived in Texas for a number of years now), which included Fresh Snapper – Greek Style, Lobster and Crab Meat Au Gratin, and Tenderloin of Beef. He was in heaven. His thin-cut tenderloin had an exquisite flavor (which can be tough to achieve in such a lean cut of meat). It turned out that there was no snapper served in the restaurant that evening (owing to its less than perfect freshness). To ensure the ability to serve fresh product, grouper was offered up instead. The oregano-dashed and lemon-kissed grouper was light and flaky and perfectly cooked. Creamy and decadent, the lobster and crab au gratin was a delight to consume (and the best part is that I have the recipe).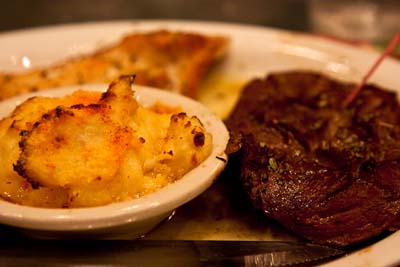 Given my propensity to try new things, I ordered one of the evening's specials, blackened snapper throats and shrimp. As you already know, my snapper throats turned out to be grouper throats, but that didn't keep them from being easy to enjoy. With their meatier texture and more pronounced flavor, the grouper throats were delectable. The shrimp were divine as well, and the accompanying rice and squash casserole held up their end of the meal admirably.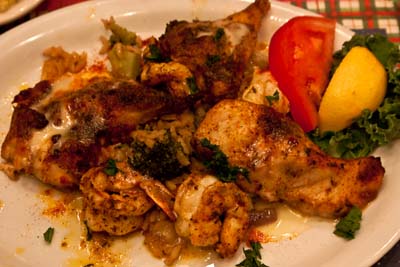 Owing to the fact that we were all so thoroughly stuffed, we ordered desserts to go. Of course, a scant couple hours later, we decided our dinners had digested sufficiently for us to cram in some more food. Sean had coconut cream pie, which he was quite enamored with. I had the bread pudding, which came with an exquisite vanilla bourbon sauce.
Thanks to the fine folks at The Bright Star, we had yet another fine holiday meal. The food was outstanding, the staff were friendly and accommodating, and the restaurant itself has a fascinating history. And I would happily eat there again come next Christmas.