It all started with Eat Local Week this past December. It got me thinking that I often didn't consider the bounty that central Texas has to offer – and that extends beyond organically grown produce and ethically raised meat. It includes talented people producing all manner of wonderful food items. So, in the spirit of Eat Local Week, we placed our very first order with The Soup Peddler.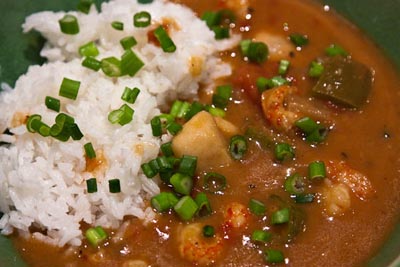 The Soup Peddler started small – just a man (David Ansel), a bicycle (Old Yellow), and few south Austin friends and neighbors to whom he'd deliver soup. The business has since grown substantially to cover a large swath of the greater Austin area. And the food offerings have grown as well. In addition to a range of interesting soups, there are also casseroles, quiches, salads, desserts, and any number of other offerings.
I placed the first experimental order with the Soup Peddler and eagerly awaited delivery. The soup came minimally but securely packaged and the ingredient list was blissfully devoid of anything I couldn't immediately recognize as food. That first night, we dined on roasted carrot bisque. That night, we officially became regular Soupies.
Since then, we've ordered any number of delicious dishes. The leek and Swiss chard quiche was lusciously creamy and had a nice buttery crust that withstood reheating nicely. We enjoyed this crazy Tuscan Polenta Soup that was thick and hardy and brightened up by spicy chunks of homemade sausage. Another favorite was the Shrimp Maque Choux – chunky and vegetable-laden, we served this with rice and made a meal for two twice. The menu changes weekly, and the website is equipped with a rating system so you can see which menu items customers have enjoyed in the past.
Recently, we opted for the seafood gumbo, and it is officially my favorite soup to date. The flavor was incredible – deep and complex, but not overpowering. And the seafood – I can't overstate this – it was perfectly cooked. Every water creature in the gumbo: shrimp, crawfish, oysters, fish – all of it was meltingly tender. I loved it so much, there might have been tears when we finished it off.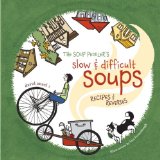 Let's say you're outside the delivery area. Heck, let's further say you're beyond driving distance. You can still get a dose of the Soup Peddler. Several years ago now, David Ansel wrote a book: The Soup Peddler's Slow and Difficult Soups: Recipes and Reveries
. It's part cookbook, part narrative, and I have read the silly thing cover to cover at least twice over the years. (Come to think of it, I ought to read it again now as a motivational text, since I quit my job a seemingly very long time ago and still haven't come up with a good grown-up plan for myself.)
Slow and Difficult Soups follows David through his second season as The Soup Peddler, his diverse and delicious seasonal soup recipes marking his course through the year. While his sense of humor and excellent prose make this a fun read throughout, one of my favorite bits comes early on. In the introduction, we get a bit of background. Ansel is a degreed electrical engineer, and it was a software job that brought him to Austin. Walking away from that job opened the way for Ansel to eventually find his path as The Soup Peddler … "Then I uttered the seven words that changed my life. 'I think I quit.' I paused thoughtfully and drew the middle of my bottom lip up. 'Yeah, I quit.'"
Today David runs a successful right-sized business that employs a handful of people and delivers, as he says, "the most lovingly made food in town." I can't personally vouch for that, but I can say the food we've received is as good as homemade – both in recognizability of ingredients and quality of finished product, and offers me the occasional night off cooking – which, believe it or not, even I enjoy.