A shamefully long time ago now, we were invited to a food blogger happy hour at Parkside. It's shameful in one respect because I had every intention of reviewing it and it's now more than two months later. It's downright unforgivable in another respect – the food was inventive and generally very well executed – I really should have told you all about it sooner.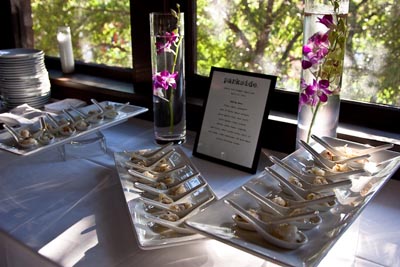 The décor has an interesting urban-chic-that's-crumbling-at-the-edges feel. The patio upstairs is, like many downtown patios, comfortable and great for people-watching. The staff at Parkside, at least the ones we came in contact with, were helpful and seemed to be genuinely excited about the food they were serving. (Though I hear that the upstairs bar staff were less than prepared for a horde of hungry food bloggers to descend, asking for specialty drinks and interesting ingredients.)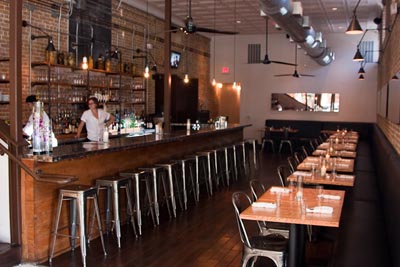 Chef Shawn Cirkiel presented an interesting variety of dishes for us to taste. Challenging to comforting, familiar to exotic, fresh and vibrant to slow-cooked and rich, there were few culinary stones unturned in the evening's menu.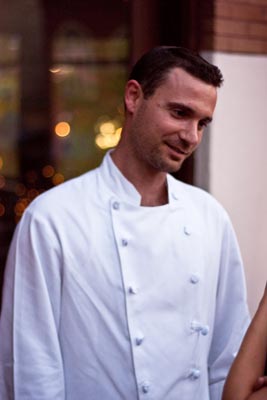 The fluke with lemons and almonds was beautifully presented in spoon-sized portions. It's flavor was light and bright, the crunchy almonds adding the right amount of textural contrast. Highly recommended.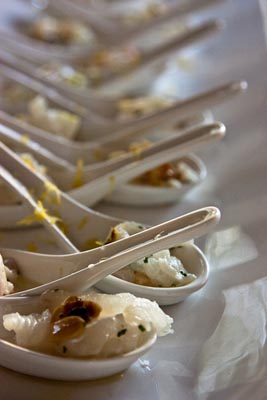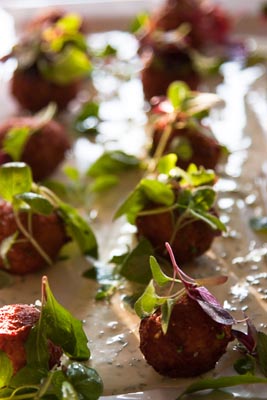 The crab fritters, while not terribly exotic, were well prepared. The crispy exterior held up well against the moist and tender interior. It's hard to go wrong with crab, and Parkside did a good job here.
My absolute favorite of the night was the green garlic soup with duck confit. We both liked this so much in fact, that we bought more of it to take home with us after the event was over. The creamy yet deeply vegetal garlic soup was offset nicely by the salty duck confit. Even though we had eaten a decent amount of food at the event, I had salivation issues after inhaling the soup's garlicky aroma all the way home.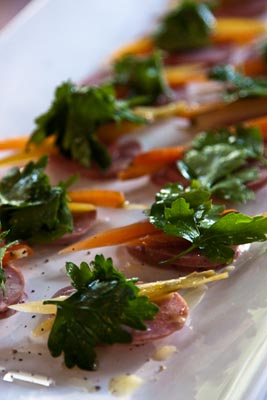 The cotto salami and house pickle was … all right. The pickled vegetables were actually very tasty, but I don't think the salami had the flavor backbone to hold up to them.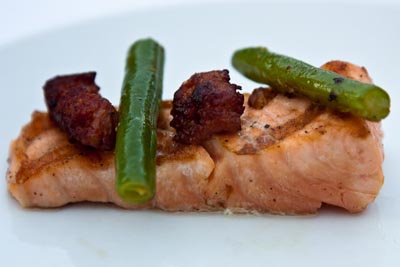 Salmon, green beans, and linguisa was also very good. The beautiful fish was only lightly seared and paired very well with the green beans and spicy linguisa. I would happily order this dish again.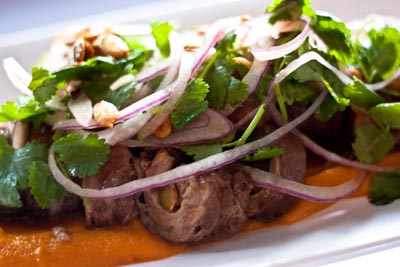 The lamb belly with sweet potato puree and chili oil was interesting. There were plenty of bites that were divine. The lamb paired well with the sweet potato (where the relatively mild flavor of pork might have been lost), and the onions and cilantro provided a refreshing contrast. But there were a few bites in there that were very fatty. Sometimes bites of fat can be wonderful, but these were not.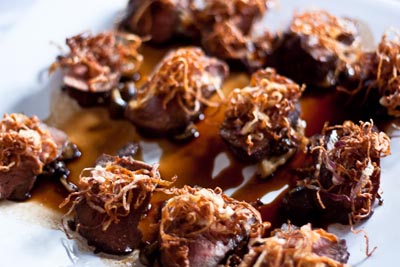 The bar steak with roast mushrooms and red wine sauce made me think of pub food. The flavor combination was delicious. I could probably have eaten a basket of the roast mushrooms all by themselves, they were so intensely flavorful. I'm not much of a red meat eater, but otherwise, I would definitely consider ordering this dish again.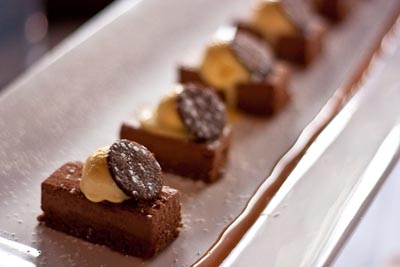 It's becoming something of a trend for me to tell you how I don't eat dessert and then to go on to tell you how much I liked the dessert, but I can't help it. I'll go one further and point out that I really don't eat much chocolate, and generally the only banana flavored things I eat are … bananas. But the Petite Chocolate Crunch served at Parkside was incredible. Rich chocolatey mousse with its crispy chocolatey base was nicely offset by a little dollop of banana ice cream.
All told, we had a great time at Parkside and would happily go back on our own dime. The spare aesthetic and polite servers step out of the way and let the fantastic food do the work.