I have sort of a love/hate relationship with some of the new eco-friendly restaurants that have been opening around here. On one hand, I love what they're trying to do. Energy-efficient appliances, green building materials, grass-fed meat, local produce – these are all things I can happily embrace. But when I tell people about the food, I catch myself adding qualifiers. Not bad … for low-fat, grass-fed beef. Pretty good … for healthy fries. I'm happy to report that Promise Pizza, a new "green" pizza joint up in Round Rock, is actually just good pizza – no qualifiers required (well, almost no qualifiers).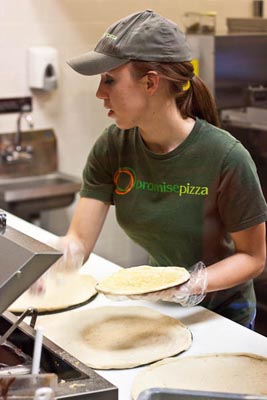 We were invited to a recent blogger event up at Promise Pizza and thought it would be fun to see what they're all about. Their store is smallish, but they do offer delivery (via Smart cars, of course). From the dining area, you stare through the big windows at the restaurant employees producing the lovely pizzas.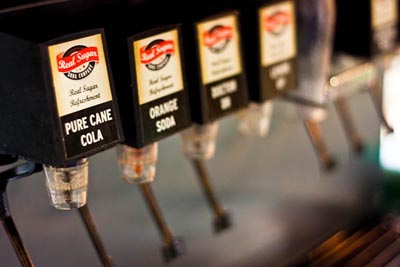 The sodas are all cane-sugar sweetened (no HFCS here), and the cups and utensils are all cornstarch based. Yeah, you can compost your soda cup.
The facility is equipped with energy-efficient ovens (the "most energy efficient ovens on the planet" they say). They make their organic crusts daily and use local organic veggies and cheeses whenever possible.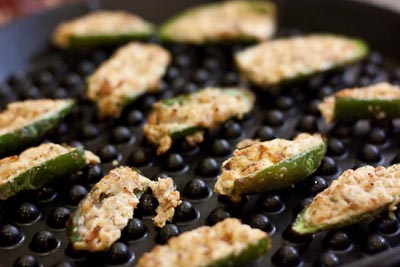 We started our evening with a couple of appetizers – stuffed mushrooms and stuffed jalapenos. Simply filled with cream cheese, Italian sausage, and pepperoni, these were both delicious, uncomplicated morsels to whet our appetites.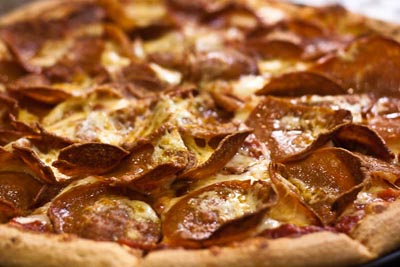 But the real story (the one most folks are going to care about, anyway) is the pizza. To put it simply, the pizza was very good. The first pizza we got to try was the pepperoni. Huge circles of pepperoni with crispy curled edges covered nearly the entire pie. I thought that I didn't like sweet pizza sauces. I was wrong. That sweet sauce was the perfect foil for the spicy sausage. And the whole mess was held together by a healthy smattering of cheese. That pepperoni pizza was so enjoyable that I had two slices.
This was a mistake.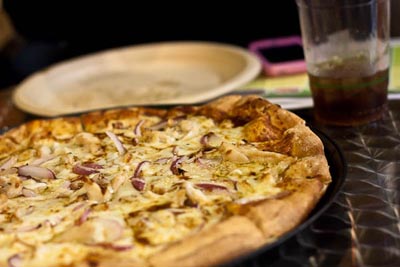 The folks at Promise wanted us to sample as much of their menu as possible. There were lovely veggie-topped pizzas. Another of my favorites was the Napoli Special (prosciutto, cheese, black olives). Sean was quite smitten with the BBQ Chicken pizza and "The Range" (pepperoni, Canadian bacon, Italian sausage, beef). There were garlicky cheese breads that were also delicious.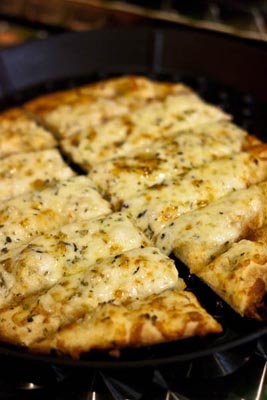 I'm fortunate that my body and conscience allow me a fair bit of freedom when eating out, but not everyone is in the same boat. Those with certain restrictive or particular diets may find options here. Celiacs rejoice – Promise Pizza offers a gluten free crust, and it's actually really good. It's cracker-crisp, but not hard or crumbly, and the flavor is nice.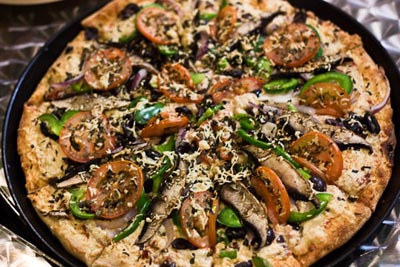 Till I visited Promise, I hadn't heard of Daiya cheese. It's a vegan-friendly lactose-free cheese. If you're vegan or lactose intolerant, you could still have cheese on your pizza. Sean looked at me like I had lost my mind when I said I wanted to try it – I usually pretty staunchly anti-faux-food (no seitan or textured vegetable protein for me). The Daiya cheese was … not bad. It's definitely not the same as cheese, and I'll probably never go out of my way to eat it, but it melts nicely and provides that creamy taste that might otherwise be missed.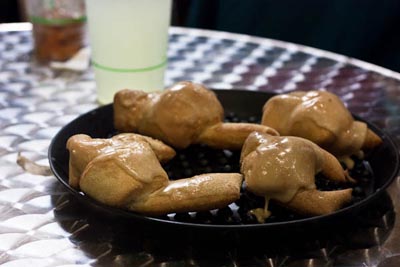 At the end of the evening, cinnamon knots were supplied. Thought most of us were in a carb-coma by then, several of us pulled it together to try the dessert. Like the appetizers, it was tasty but uncomplicated. Sean tried a gluten-free brownie. Well, okay, I had a nibble too. It's chocolate flavor was fantastic, but I guess there's no room in my heart for an un-chewy brownie.
All in all, I'm a fan of Promise Pizza. Their pies are top-notch, and their values are spot-on.