Well, to be fair, calling Grape Vine Market a liquor store may be the understatement of the century. Sure, their liquor selection is extensive, but they also have an incredible array of wine and beer, a neat little market area full of gourmet treats and a well-stocked deli counter, and a really delicious and cost-effective lunch menu. This is where a couple friends and I found ourselves for lunch late last week.
The conversation went down like this:
friend: Hey, you wanna go to lunch?
me: Sure, howsabout we go to Grape Vine Market?
friend: Ummm … I don't drink over lunch when I'm working.
me: me either!!
friend: uhhhh
me: no, seriously, they serve food there, and it's really good.
(he's heard this all before, and I'm pretty sure he doesn't believe me, but like the good sport he is, he went along with it anyway)
The whole experience of the place is fun. Naturally, it houses an incredible array of liquor, wine, and beer, and nine times out of ten, the staff here have been perfectly happy to answer any numb-skull questions that popped into my head. You place your lunch order at the check out line and then hang out till your number is called. You can spend that time browsing through wine or you can mosey back to the deli counter and help yourself to some of the samples they seem to always have sitting out - yummy cheese, sometimes some sweets. And if you ask really nicely, they'll let you sample some of the deli goods as well. You can while away the next few minutes wandering through the aisles of gourmet foods and snacks that crowd the area around the deli counter. It generally doesn't take very long before your number is called and you can grab your food and park yourself in the sunny seating area and dig in.
![](/images/SAZ_small.jpg)This is one of those places where I'm guilty of nearly always ordering the same thing. They have this wonderfully tasty sandwich called the SAZ. It starts with roasted garlic bread (like with big chunks of roasted garlic - yummmmm), crusty on the outside, tender on the inside. Then they fill it with [peppadew](http://www.peppadewusa.com/) hummus, field greens, roasted Spanish peppers, and grilled halloumi cheese (this cheese is similar to mozzarella, though saltier - and its high melting point allows it to be grilled and browned while remaining relatively solid). It is incredible. And you aren't served silly fattening stuff like chips or fries with your sandwich. You are served grapes … yeah, at the Grape Vine market … go figure.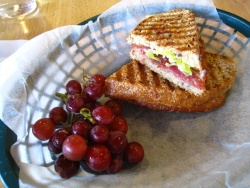 The dishes my friends ordered were as follows. The friend who was worried about boozing over his lunch hour ordered a rather disappointing pepperoni pizza. From what I understand, it just wasn't what he was hoping for … the flavor wasn't quite right. I've had some of their other pizzas in the past and thought they were okay, so hopefully this was a fluke. (So yeah, not only had I badgered him into going somewhere he didn't really want to go, he didn't like his food either … go me!) My other friend, however, let me talk him into El Finocchio, which was, from what I was told, quite delicious. El Finocchio is a wholegrain bread sandwich that has finocchiona salami (salami seasoned with fennel), pepperoncini, cheese, and aioli.
I love going here for lunch. The atmosphere is nice. The lunch selection is really good. You can entertain yourself while you wait for you food to be prepared. And most of the food is quite delicious.