My husband's family remembers Zoe's Kitchen as a local restaurant in their home city of Birmingham, AL. Zoe was often in the kitchen, and the chocolate cake was moist and topped with fudgy icing. Well. Zoe's Kitchen is all grown up and several locations now dot the southern United States (though as I understand it, Zoe is still heavily involved). And now, Zoe's Kitchen has a location in Austin.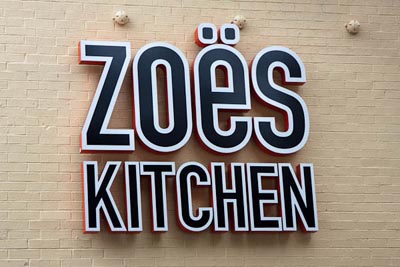 We were invited to sample Zoe's culinary offerings at a recent media event. The perky (but not annoyingly so) color scheme and outdoor seating blend in with Austin's casual-hip style, and the big windows and high ceilings add a feeling of openness to the restaurant.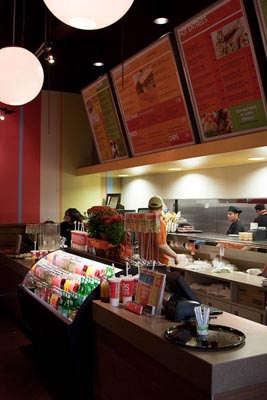 This is a fast-casual kind of a place, and the quality of the food, in my opinion, is at the upper end of the spectrum for those sorts of establishments. The variety of menu items is good and the "Mediterranean-inspired" food is interesting. Here were some of our favorites.
The Steak Roll-ups were wonderful. Tender, thinly-sliced tri-tip wrapped in a tortilla was served with a creamy dipping sauce.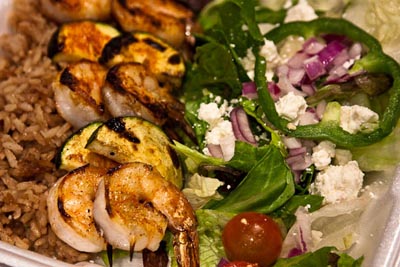 The Shrimp Kabobs (which we tried on our own, not during the event) were nicely cooked – they managed to get a nice char on the them without turning the shrimp into rubber.
The White Beans were creamy and rich tasting and would make an outstanding side dish for any of the entrees.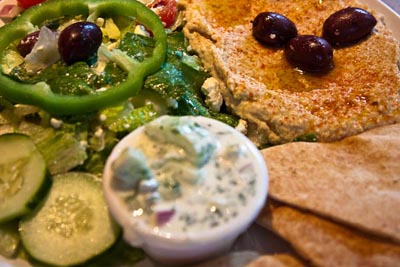 The Hummus was light-textured and lemony – perfect for shoveling into your mouth with toasty pitas.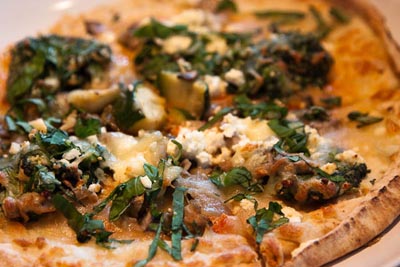 The Pita Pizza was surprisingly good. The pita crisped up beautifully and provided a solid platform for delivering tender chicken and tangy feta.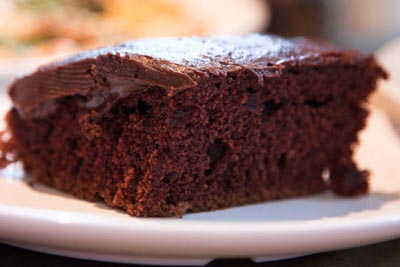 Finally Yaya's Hand Made Chocolate Cake. Sean's mom insists that the cake was better before Zoe's became a chain. The icing was baked in such a way that it was almost like eating a layer of fudge on top of a layer of cake. I don't know how it used to taste when Zoe was in the kitchen, but it's pretty darn good now. I'm not a big icing person, so most of my enjoyment comes from the incredibly moist, not terribly sweet slab of chocolate cake hiding underneath. Sean, on the other hand, insists that the thick, chocolatey icing is critical to cake enjoyment. Either way, it's delicious.
Zoe's Kitchen is tucked away in the Arboretum area of North Austin in what strikes me as a relatively discreet location. I'm hoping like crazy that they don't suffer for this, because I really have enjoyed the food I've gotten from there. To encourage more of you to visit, I have a couple pairs of coupons to give away if anyone would like to give Zoe's a try. First come-first served. If you'd like the coupons, email me at aprilATthehungryengineerDOTcom with your name and mailing address and I'll send them to you. (The coupons are only good at the Arboretum store, so please don't email if you live too far away to make use of them.)
UPDATE: The coupons have now been spoken for. That was faster than I expected!