I don't know if the practice is now considered a tradition for us, or if our arrival in Missouri for the holidays simply provides a good excuse for the family to make the jaunt. But for the past several years (weather permitting), we've headed down Interstate 55 to Sikeston to eat at Lambert's Cafe, where we happily duck the flying rolls and settle in to ingest ridiculous amounts of food.
That's right. I said flying rolls. At Lambert's Cafe, the most wonderful fresh-baked dinner rolls are carted around the restaurant, announced with a loud call of "Fresh rolls!" from the server. When you want a roll, you lift up your arm and he or she will casually fling them your way – across the restaurant, if that's what it takes. And they are so-o-o good. It's tempting to think of this as a silly gimmick, and I guess it is. But I subscribe to the belief that those rolls are especially delicious when laced with the thrill of having successfully saved yours from falling to the floor.
Naturally, rolls aren't all they serve. They have a goodly sized menu of (apologies for the cliché, but …) down-home favorites. Their roast beef is melt-in-your-mouth incredible. And I'm sure this is heretical of me given that I'm now a nearly 10-year Texas resident, but their chicken-fried steak is some of the best I've had (and it's what I ordered when we ate there this past Christmas). My father's a big fan of the char-broiled chicken breast as well. One thing that bears mentioning though is that the portion sizes are ridiculous. Even Dad's relatively healthy sounding chicken breasts are the stuff of legend; I'm not sure how these poor chickens walk upright with such ample proportions! And as much as I'd like to eat two or three of those divine rolls, I rarely have room for more than one. I have found that when ordering the roast beef in the past that I can easily make three large meals out of it. The crazy thing is that if you eat all of the food they set in front of you, they'll give you second helpings. Were you to actually consume that much food in one sitting, I'm certain you'd be doing yourself bodily harm. (Pictured below, my chicken-fried steak with white beans and sliced peaches and Sean's meatloaf with corn and turnip greens.)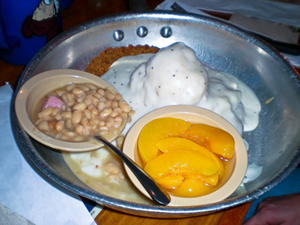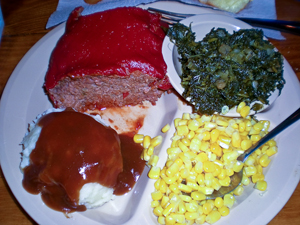 There are a good variety of side dishes to choose with your meal. And as if that weren't quite enough, there are also the "pass arounds". These are the things that, in addition to the much-lauded "throwed rolls", are casually offered up by servers roving amongst the diners. There are (the world's best) fried potatoes and onions. Additional items include black-eyed peas, fried okra, macaroni and tomatoes, and sorghum (for your rolls).
Everything is so wonderfully tasty, you really do wish you had the stomach to contain it all. But alas, the call eventually must be made to end your meal and pack up as much of the food as you can to take home. Don't be shocked if they come by offering pass-arounds to add to your doggy-bag as well. That's just how they do things at Lambert's.