The definition of a guilty pleasure. That's how I've been referring to the food at The Trailer at The Gibson Bar. And I refer to it often. We were recently invited to experience firsthand the wonder that is the Trailer Burger (a burger whose bun is a Round Rock dough-nut), but let me assure you, that wasn't even the most decadent item consumed.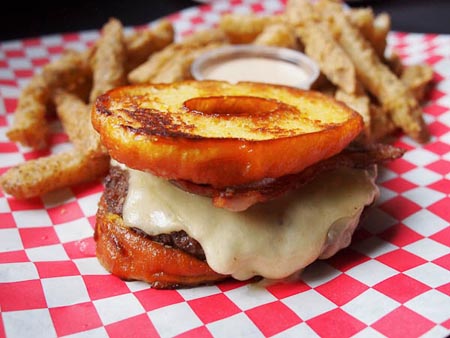 Gibson Bar is the kind of bar I'd like to drink at, if I made it out to a bar more than once a quarter. It's kinda dark but very clean. It doesn't seem to be run amok with the trendy and purposefully beautiful. And it has a good wine and beer list.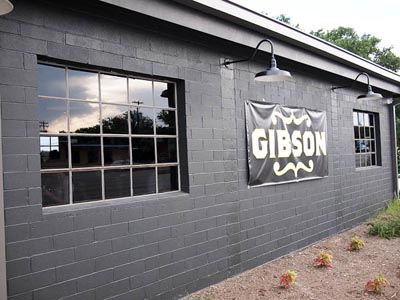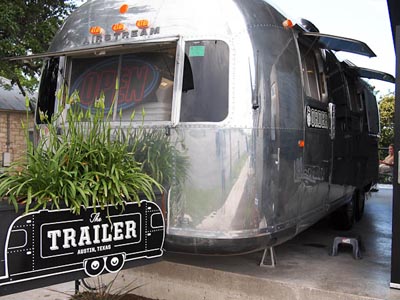 But let's up the ante by pulling an Airstream trailer up next to it and have it crank out some crazy delicious food that demands to have a condensation-dappled beer served along side. Currently it appears to be referred to as The Trailer or The Official Muncher Trailer - I guess time will tell which name sticks. (In lieu of their website being completed, here's the only place I've found a copy of the menu.)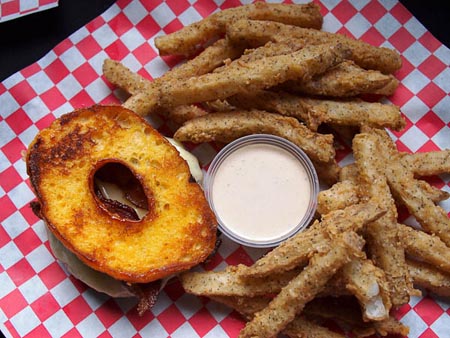 I didn't know what to expect. Honestly, the notion of a burger served on a dough-nut smacked of gimmick, but holy gawd was the Trailer Burger delicious. The lightly toasted bun/dough-nut added just the right kind of sweetness to complement the oozy, well-seasoned burger, but it wasn't so sweet as to be cloying or intrusive. This, I believe, was Sean's favorite dish of the evening.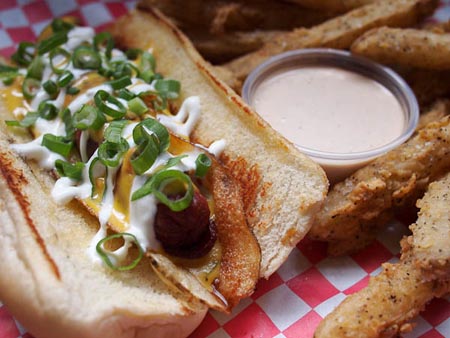 Next up, we tried the Loaded Baked Potato hot dog. This one was probably my favorite. It is exactly what it sounds like: a hot dog with crispy bacon, russet potato, queso, sour cream, and green onions. I can't tell you how wrong this sounded and how right it tasted. I'll never eat a baked potato again without feeling a sense of loss at the absence of a hot dog and bun.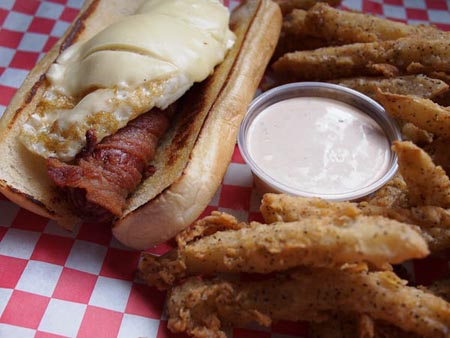 As if all this weren't enough, we were then served another hot dog, the Buenos Dias. Brace yourself. This hot dog had bacon, a fried egg, and a topping of melted cheese. There was a cardiologist in my head jumping up and down and screaming at what I was about to consume, but somehow I managed to tune her out and wolf it down anyway.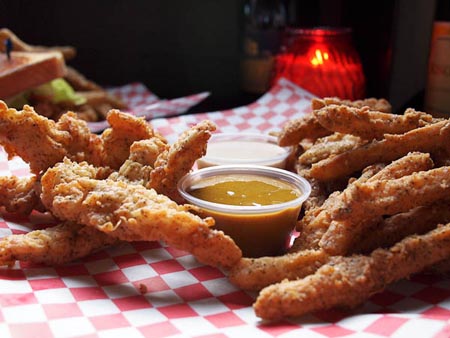 At this point, I was feeling it. But for you, dear readers, I sucked it up and kept eating. Next up was a big tray of Dedos (chicken fingers) and Tater Sticks (fries). Both the fries and fingers are coated in a blissfully crunchy, flavorful buttermilk batter. For my part, I enjoyed them sans sauce, but for those of you who prefer less spartan food consumption, they were served with Trailer Sauce (which I don't remember very well) and Cousin Leroy's Mustard Mop (which was excellent).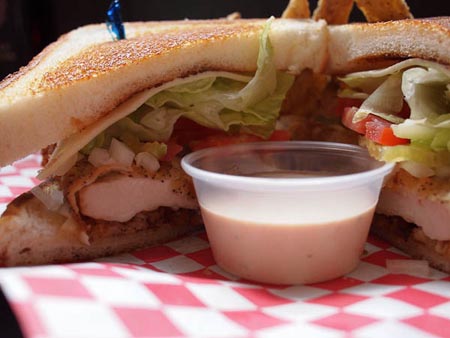 And then, as if to convince us they could prepare food that wasn't tailor-made to amp up blood cholesterol levels, they brought out their "Welcome to Texas" Chicken Sammie. Now, I'll admit to cringing at calling a sandwich a "sammie" (kind of the reaction I have to the word "foodie"), but this really was a good sandwich. The chicken was coated with that same lovely buttermilk batter that graces the dedos and tater sticks and was topped with lettuce, tomatoes, and pickles. If anything, it suffers only for the company it keeps. Unfortunately, a hot dog topped with the guts of a loaded baked potato and a hamburger sandwiched inside a dough-nut are tough to beat for my affections.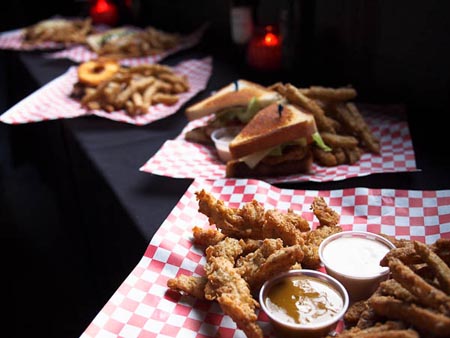 I would absolutely go back to this place, and I would drag any number of my friends with me … unless of course those friends were on a diet, or following the advice of their doctor, or otherwise more nutritionally mature than I am.