There's a little pizza joint in a small shopping center in sort of a fancy-pants part of town. We don't go there too often because it's so far away (that was sarcasm – I think it takes less than 20 minutes to drive there). It is a family-owned business called Marye's Gourmet Pizza, and it is certainly worth the drive.
On one particular evening this past weekend, we hopped in the car and made our way down to Marye's. It is finally starting to cool off a little (sort of – our days have been pegging at 90 degrees now instead of 100) here in Texas, and it was actually nice to get out of the house and enjoy the relatively cool evening air. Once you get past the mercedes- and beemer-studded parking lot, you walk into a dark and unpretentious little place. You order at the counter from a chalkboard menu on your left, grab your drinks and wait for your food. There are a few ways to order your pizza pies here. You can take the assembled raw pizza home and bake it yourself, or you can get a fully baked pizza to eat there or to take away with you.
We began our meal by splitting a Marye's salad (there are several other varieties as well). Topped with pecans, apples, red onions, feta cheese, and a tangy vinaigrette, it was a very pleasant way to begin our meal. The wait for the pizza is typically sort of long here, so the salad kept us from gnawing at our own fingers out of hunger as we waited.
The pizza is one that we often get. It's called the Turkey Diablo. The pizza is topped with a chipotle cream sauce (presumably shoring up the "diablo" end of the moniker), onions, tomatoes, sliced turkey, and avocado. The spicy smoky sauce is cooled and evened-out by the vegetables and turkey making for a flavorful and well-balanced pizza. The real draw for us is the crust. Marye's crusts are cracker-thin and wonderfully crispy. They hold up really well to the sometimes heavy toppings. I will say, this crust is more adequately achieved at the restaurant than at home, so we'll typically eat our pizza freshly made on the premises.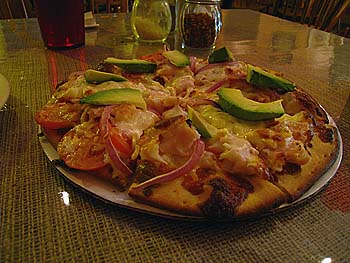 In the past, we've tried several other of Marye's pizzas as well, and they've all been good. Their cheese pizzas are fantastic, and in my opinion, they leave the most room to enjoy that phenomenal crust. We've had the Southwest Chicken pizza with its wonderful ancho sauce, and again, the flavors were balanced and super-delicious. You can get fountain sodas or a variety of bottled beverages (alcoholic and otherwise) from a cooler near the counter. If you're so inclined, you could also order from a good sampling of delicious-sounding sandwiches as well, though I've only ever ordered pizza and salad.
This place can take a bit of time, but it is worth it for the quality of the pizza. If you can make the temporal investment, it is worth your time to check it out.