We were recently sent on a treacherous errand, full of drudgery and malcontent. We were forced, practically at gunpoint, to go eat doughnuts for lunch earlier this week because our friend needed us to pick up a fancy doughnut for her husband for his birthday. Fine, who am I kidding. I've been lusting after these doughnuts since I heard about Gourdough's and this week we finally had an excuse to try them out.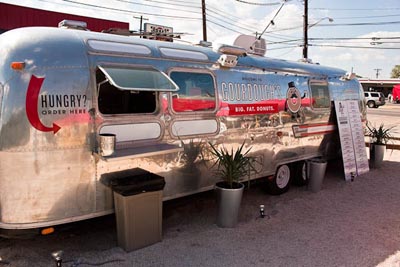 My only other real experience with interesting doughnuts was at Voodoo Doughnuts in Portland. They win for the name and their doughnuts were really good, but either my memory has faded, or Gourdough's trumps them soundly.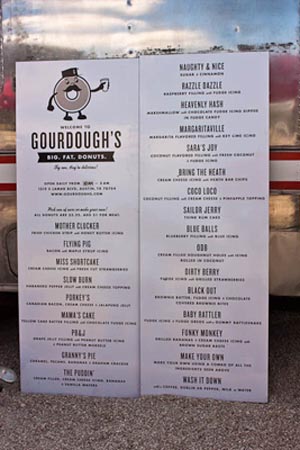 The Gourdough's menu is extensive, running the gamut from a simple cinnamon-sugar doughnut (the Naughty & Nice) to one topped with a fried chicken strip and honey butter icing (the Mother Clucker). And if you can't find something you like, you can even design your own doughnut.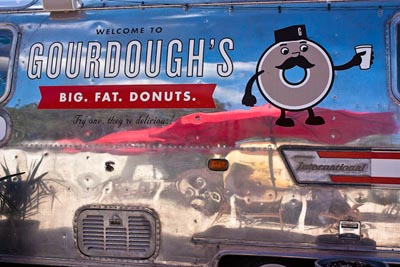 Since we visited for lunch, we adopted the following strategy. We would choose an entree doughnut and a dessert doughnut. We decided an entree doughnut could be anything with meat on it, and the dessert doughnuts were, naturally, everything else. Our doctors would not be pleased.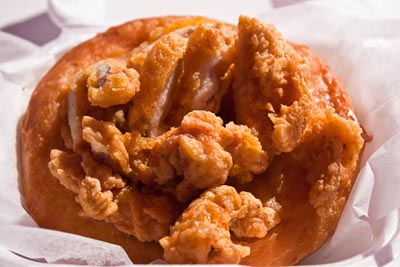 Sean started his "meal" with the Mother Clucker. He enjoyed the fact that the honey butter icing was only sparingly applied, allowing the crispy chicken finger slices and the luscious doughnut dough to stand front and center.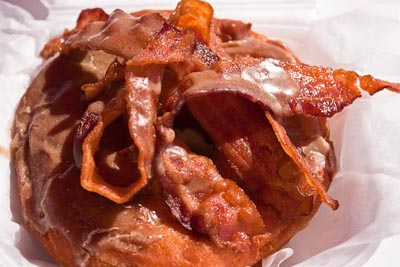 I personally preferred my own. It should come as no surprise that I chose a doughnut with bacon on it. I ordered the Flying Pig, a simple doughnut with bacon and maple syrup icing. Interestingly enough, mine was much sweeter than Sean's (contrary to our normal preferences). The two main ingredients provided a perfect balance of salty and sweet atop a light and every-so-slightly crispy doughnut. I was in love from the first bite.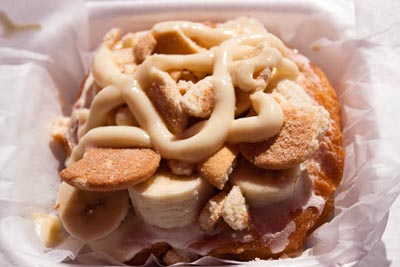 Sean's chose for his dessert The Puddin', a cream filled doughnut topped with cream cheese icing, bananas, and vanilla wafers. He tells me he liked it and would order it again, but I suspect he was suffering a bit from doughnut fatigue at this point. They're huge, and we probably over-ordered. In fact, Sean only made it through half his dessert.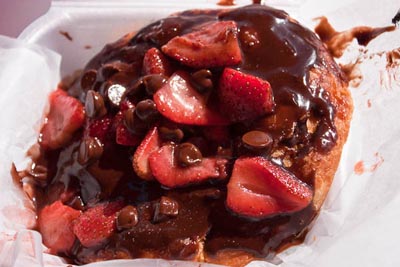 Our over-ordering didn't slow me down though. For my dessert, I ordered the Dirty Berry. Topped with fudge icing and grilled strawberries, this particular doughnut was crazy-messy to eat, but wow was it delicious. Everything was hot and the flavors all kind of melted into each other. I don't want to know what I looked like eating it, but it made my tummy happy (and my blood vessels scream in agony, no doubt).
If you visit Gourdough's (and I highly encourage it), give yourself a little time. They make the doughnuts fresh and it takes a few minutes. Besides, now is the right time to go and lounge around for a little while. They have plenty of outdoor seating, and the weather this time of year is generally pretty nice. Business hours are extensive, though not for the morning crowd. Currently the Gourdough's website lists daily noon to 2a.m. hours, though the sign when we went by on Tuesday showed them now opening at 10a.m instead of noon.