When you hear the name Dan's Hamburgers, you naturally think you should go there for the burgers. And that's true, you should definitely go there for the burgers - they're some of the best in Austin. However, Dan's also serves up some lip-smacking good breakfast food, and every once in a while, I get a craving for their biscuits and gravy.
Dan's Hamburgers has several locations throughout town, though we inevitably find ourselves at the Lamar location. The atmosphere leads one to believe that this restaurant hasn't changed since the 1970s. It's a cross between a fast food joint and a diner (thankfully, shifted more toward the diner end of that spectrum), and is definitely kind of kitschy with its fake woodgrain tabletops and its big bench seats. The service is friendly and efficient, and they treat their regulars like family (and their regulars seem to treat them like family too).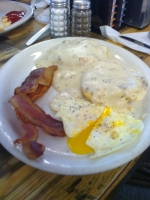 Yesterday morning, we went with our friends Jeff and Sharon for breakfast. The food was great. When I go in for breakfast, I show up craving the biscuits and gravy, so I consisently order the #19 with bacon instead of sausage. The #19 (at the time of this post) consists of one split biscuit, doused in sausage gravy, one egg any style, and (in my case) 3 strips of bacon. The eggs are always cooked perfectly, the biscuits are always tender, the gravy is always hot and delicious, and the bacon is almost always thick and cooked to complete crispness. Eat your heart out Dennys!
Others at the table had pancakes, biscuits, and cheeseburgers in various combinations (that's right, you can get burgers for breakfast if you want), all proclaimed to be delicious. And did I mention that it's all incredibly cost effective? There's new news for folks who've been to Dan's before and been caught off guard by their cash-only policy. Dan's Hamburgers (on Lamar at least) now accepts credit cards. Happy breakfasting!!!