We walked into the dark foyer of III Forks (three forks) from our sunny Austin afternoon stroll, and were temporarily blind as we waited for our pupils to adjust to the dim new surroundings. Even after a few minutes, we were still having some trouble, but gingerly made our way over to the happy hour festivities. Details unfolded as our eyes caught up with the dark room. Light paint and dark wood adorned the walls. Antler chandeliers hung from the ceiling. A big piano anchored one wall of the bar area. And a table full of appetizers and wine held center stage.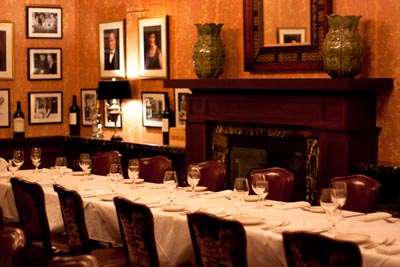 III Forks dining at its swankiest - This isn't where we ate - we were in the bar
We were at III Forks that afternoon to sample the new happy hour offerings. The restaurant is primarily a steak house, both in its menu and its aesthetic. We've been there in the past to partake of some of their more traditional offerings, and the steak is certainly very well prepared. While I enjoy a steak once in a while, it's really not my default food choice (in fact, in the past, I've ordered fish here – you can laugh at me now, if you'd like). The happy hour menu, however, is just my speed.
(Disclaimer: The lighting was very dim - that we eked out pictures at all is a testament to my spouse's patience - please forgive the quality of some of the images.)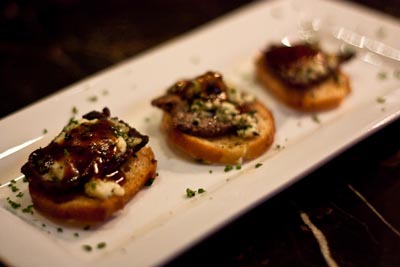 We were presented with five appetizers, and there wasn't a dud in the bunch. The Blue Cheese Beef Croustade, my husband, Sean's favorite, was rich and meaty and exactly what you'd have expected from a prime steak house.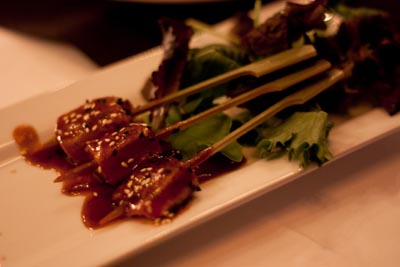 The Ahi Tuna skewers, on the other hand, were light and refreshing, and a very nice counter to the beef.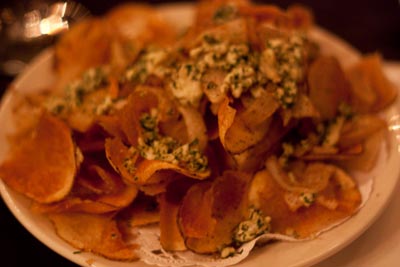 Deep fried and topped with blue cheese and onions, the III Forks Chips were bar food at its finest.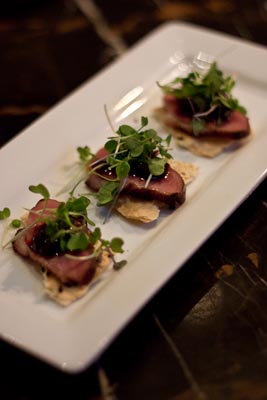 My favorite dish was the Cured Blackberry Duck. The duck had been coffee cured and was topped with a blackberry relish. Served atop a little cracker, it was a tender, sweet morsel.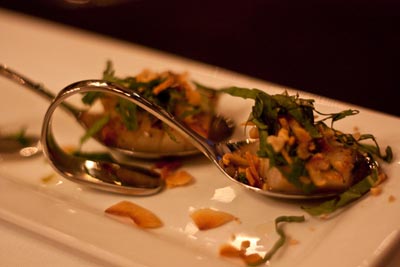 My almost favorite dish was the seared Golden Sea Scallops, and the only thing that may have kept it from winning in my tally was the fact that it sported shaved coconut. It's silly, I know, but that just isn't something I enjoy eating (food is so subjective!). Sean, a content coconut shaving eater, liked them just fine. And to be honest, their spicy sweet and sour sauce was so tasty that I endured the dreaded coconut and had several servings.
All of this wonderfulness was accompanied by a selection of very drinkable wines that managed to pair beautifully with all the courses offered.
The III Forks happy hour is currently offered from 5-7p Monday through Saturday, and I've been campaigning to go back, just to drink wine and nibble appetizers. The flavors are inventive and delicious, and the wine offerings are thoughtfully selected. Go for the steak, if you must, but for my money, the happy hour's where it's at.