My husband and I aren't big event celebrators. However, we are always on the lookout for an occasion to justify a nice restaurant meal, and one such occasion presented itself recently – my birthday. So we celebrated the fact that I've managed to survive another year by having a four-course meal at Ventana, one of the two student-run restaurants at the Texas Culinary Academy here in Austin.
The aesthetic at Ventana is understated elegance. The restaurant is high-ceilinged, beautifully lit, and not overcrowded. While the service may have been a bit awkward, the students manning both the front and the back of the house appeared to be more than capable of filling their assigned posts for the evening.
Our waiter explained to me that the students create the menu each term. The number of selections is small, but there were options that I expect would have suited most palates. Our waiter was charming, in his way. He kept apologizing and explaining that ordinarily he was a cook. However, he got us our food, spilled nothing on us, and answered all our silly questions without an iota of pretension.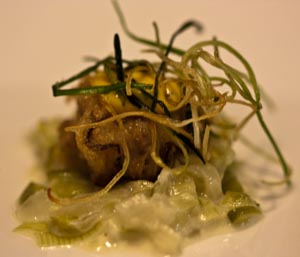 The food was pretty darned tasty. I started my meal with Oyster Beignets. They were wonderfully light in texture, and the flavor was incredible. Melt-in-your-mouth oyster goodness rested atop buttery leek nests, and the whole concoction was drizzled with a mildly spicy remoulade. This was easily my favorite dish of the evening.
Sean started his meal with a Grilled Chicken, Pearl Onion, and Mushroom Brochette. While the chicken was very flavorful, what he loved best about this dish was the tangle of red cabbage and apple slaw with which it was served. Sweet and crunchy and redolent of cinnamon, the slaw elevated the dish to excellence.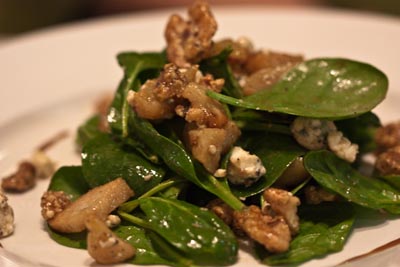 Sean won the salad contest. He ordered the Baby Spinach Salad with candied walnuts, bleu cheese, roasted pears, and balsamic vinaigrette. The varying flavor and texture components made for a delicious salad indeed. That's not to say that mine was bad, by any means. My Salade Maraichere consisted of field greens, grape tomatoes, apple-wood smoked bacon, fried goat cheese, and roasted shallot-red wine vinaigrette. I would have called mine salad comfort food – it was warm and delicious and filled with familiar flavors.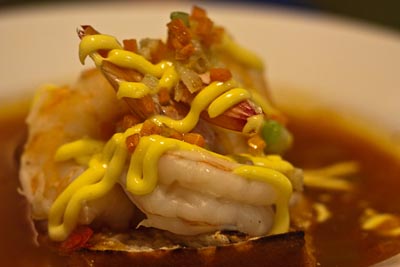 For my main course, I had the Poached Gulf Shrimp Bouillabaise, and it was wonderful. The fragrant broth was intoxicating, and the saffron aioli artfully squirted on top was a little odd to look at but absolutely divine to consume. And the big gulf shrimp were succulent and sweet and perfectly cooked. Between my big chunks of bread and my rapidly working spoon, I made short work of that fennel-infused broth.
Sauteed Chicken Breast Saltimbocca was Sean's entree choice. He was very pleased with his dish, though it was perhaps a touch over-salted (possibly the saltiness of the prosciutto wasn't accounted for in the seasoning of the dish).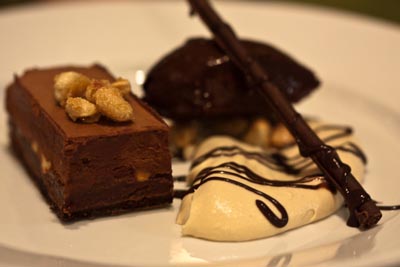 The desserts were phenomenal. Sean had what was essentially a deconstructed candy bar. In fact it was called "Candy Bar" and consisted of flourless chocolate cake, peanut caramel, bitter mousse, and dark chocolate sorbet. I had a luscious cinnamon crème brulee. The sprinkling of roasted pear and the pear chip tucked artfully into the bruleed sugar contrasted beautifully with the decadent, deeply cinnamon flavored custard within.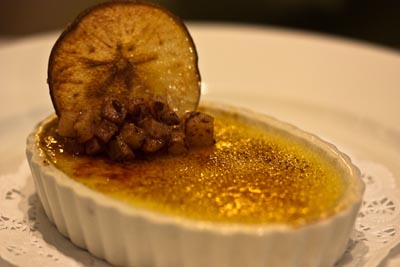 When it was all said and done, we agreed that we had had an outstanding dining experience. The food was first-rate, and it was amazingly affordable given the high quality of both the ingredients and the preparation. Our service was friendly, and it was actually a lot of fun seeing how the students were doing. I expect we'll be going again soon, possibly even without an occasion to celebrate.