07 July 2008 - This morning we were Pearl Harbor bound. We got there a little later than we meant to and wound up waiting around for a while before we could tour the Arizona Memorial. We killed time by strolling around, walking through the museum and checking out the various displays around the grounds (among my favorite was a conning tower that you could climb up into and see all the instrumentation).
Once our number was called, we went and watched a roughly twenty minute video depicting some of the events leading up to the attack at Pearl Harbor, and of course the attack itself. The most interesting thing to me was that they saw the first Japanese attacker on their radar, but since they were expecting our own craft from that location, they didn't give it another thought. We were taken completely and absolutely by surprise. The moment in the video where the USS Arizona actually gets bombed was explosively loud and sort of jarring to the senses. After the video, we were corralled onto a Navy-run boat and shuttled over to the actual memorial. Visiting the memorial was a sort of somber experience. The Arizona Memorial straddles the sunken remains of the USS Arizona. It was an enormous war-ship, and incredibly, it only took about nine minutes to sink once it was torpedoed. As can be expected, there were very few survivors. Some 900 soldiers were never recovered when the ship sank, so presumably a large number are still in the remains below your feet. Here's another interesting fact – many of the USS Arizona survivors have chosen to have their remains interred with those of their fallen shipmates. Brief accounts from some of the survivors can be found at the USS Arizona Memorial website.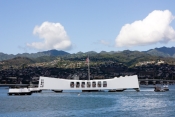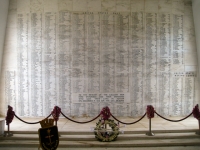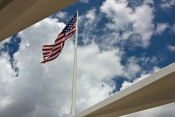 We visited the USS Missouri after that, and it was impressive. The last of the battleships ever built, its scale is immense. It was commissioned in 1944, decommissioned in 1955, and then brought back into service in 1986. In 1991, Tomahawk missiles were fired from the refurbished Missouri in Operation Desert Storm before it was again decommissioned in 1992. The ship is 887 feet long and has an unloaded weight of 45,000 tons. These are impressive statistics indeed, but get this: each of its sixteen inch guns (there are nine) was capable of hurling a 2700-pound projectile 23 miles. That is just incredible to me.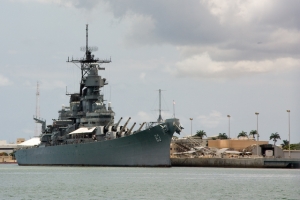 After we finished, we drove up to the North Shore to Sunset Beach to (you guessed it) watch the sun set and play on the beach a little bit. Ordinarily the North Shore is the premier surfing destination in Hawaii, if not the world. Unfortunately, that largely all happens in winter. For us, the waves were gentle and relaxing - no banzai pipeline for us. I know it sounds strange, but I found the sand here fascinating. I couldn't quite figure it out, but as we walked across it, we sunk nearly to our ankles in well-worn, pebble-like sand. We hiked sweatily to and fro on the beach, listening to the waves and snapping pictures. My favorite thing about watching sunsets is as the sun goes down, it almost feels like a deep quiet seems to settle in, neatly whisking away the petty noises of the day.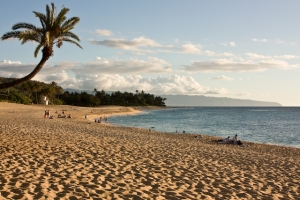 We stopped in for dinner at Haleiwa Joes. Sean and I tried poke for the first time (Emma's poke, to be specific), and it was incredible. This particular poke consisted of firm raw pieces of ahi tuna tossed in sesame seeds, soy sauce, and who knows what else, then mixed with cabbage and green onions – delicious! The rest of our meal was not so great – the food was passable, but nothing to really comment on here.